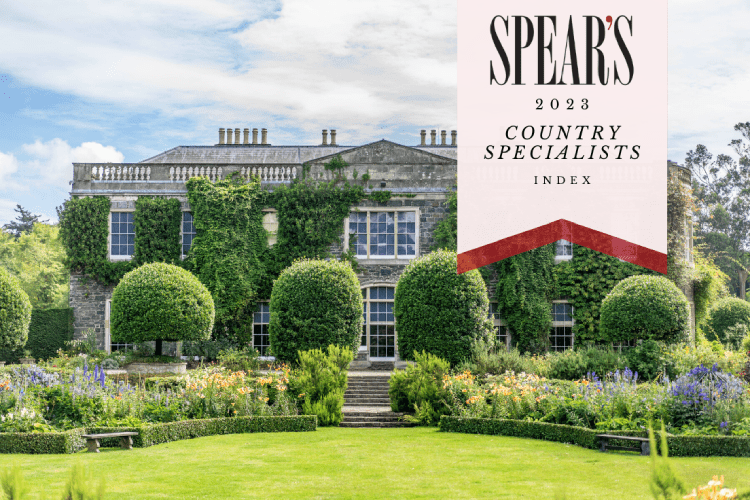 Welcome to the Spear's ranking of the best country property specialists, part of the Spear's Property Index in association with One Green Way, for high-net-worth individuals
For high-net-worth individuals in search of prime property outside of the M25, it's important to have an expert to source the best deals and protect your interests. That's where the best country specialists for prime property step in.
An expert country adviser will not only negotiate the best possible price on your behalf, they will also ease the administrative aspects that can bog down the deal making process. If you're looking to buy a georgian vicarage with views of the river Test, an Elizabethan manor that once hosted Mary Queen of Scots or an achingly modern glass and steel house that incorporates the surrounding trees into its structure, employing a country agent gives you the best chance of finding it. Equally, if you're selling up and moving to the city they can get you the best price from people moving the other way.
For buyers fond of the countryside, the best agents often source properties that are not publicly listed for sale. The very best may even be able to acquire a property whose current owner has no pre-existing intention to sell, all while maintaining an appropriate level of discretion.
So, when it comes to those properties at the very top-end of the market, the right adviser is worth their weight in gold.
Spear's publishes annual rankings of the top private client advisers and service-providers to HNWs. These are drawn up on the basis of peer nominations, client feedback, telephone and face-to-face interviews, data supplied by firms, as well as information gathered by the Spear's editorial and research teams.
The country specialists featured in the 2023 edition of the Spear's Property Advisers Index are included in the table below, along with their Spear's ranking, firm, and 'focus' areas of expertise.
Click on the individual names to be directed to more detailed profiles of each adviser in the digital version of the Spear's 500.
To explore all the Spear's indices, and to use our find-an-adviser tool to identify the private client adviser who is right for your specific requirements, go to the Spear's 500 website.
To receive relevant research updates from Spear's – and thereby give you and your firm the best chance of being included in future Spear's indices – please register here.
If you are an adviser featured in the index and would like to update your profile or provide additional information, please email rasika.sittamparam@spearswms.com.
Image: Shutterstock