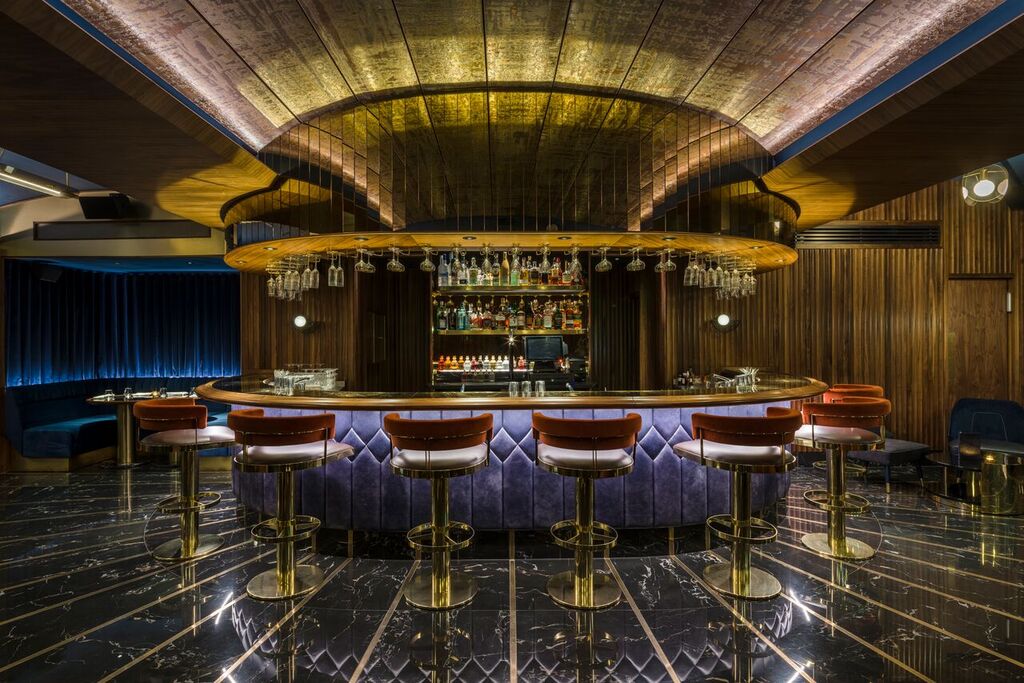 Arun Kakar sits down with Harry Mead, the founder of Soho's newest – and quite possibly coolest – private members club the Court 
The Bag O'Nails on Kingly Street is one of those Soho venues with a history that plays like the stuff of legend. A social haunt for the likes of Jimi Hendrix, Tom Jones, and the Who, it was the place where the Beatles would go to eat after recording sessions and where Paul McCartney would meet his future wife Linda Eastman. 'I ended up drunk in The Bag O'Nails with McCartney and [Neil] Aspinall,' recalls the band's former roadie Mal Evans in his memoirs.
The original venue, which was opened in 1965, shut in 1968, reopened in 2013 and shut again in 2018, is now being given a new lease of life thanks to entrepreneur Harry Mead.
A marketer by trade, Mead has assembled an enviable team for the venture. Rising New York artist Bradley Theodore is a co-founder, while renowned celebrity florist Nikki Tibbles is also assisting on the creative side. Food and drink come courtesy of Michelin-starred chef Tom Sellers and cocktail supremo Mr Lyan, a former winner of the world's best bartender award.
Resplendent in a new art-deco makeover, the underground venue has lined up a stacked program for when it reopens this month. Live acts will be performing every day from 9pm, and the club will be open six days a week from 9am to 3am. Mead will be on-site every night.
Spear's caught up with Mead ahead of the Court's autumn opening to talk about the ideas behind the site, the journey so far, and whether Soho really needs yet another private members club.
Spear's: How did you come to start the Court?
Mead: It was actually quite a lot of chance really. I was in discussions with lots of property agents at the time and someone gave me a call and said. "We've got this site in St. Christopher's Place. Are you interested?"
It was a ridiculously good rent deal. I always wanted to open a 1920s style piano bar that you read about and seen in old films. And I thought this could be a great opportunity. I had previously worked for Mr Lyan, so I had that relationship.
When I exited the previous role, I suddenly had a bit more time on my hands. I had Mr Lyan by this point, I had brought Bradley Theodore on board, and who's the artist. As the concept grew, I think the demand for the right home for it grew.
A lot of people actually go out and find a site and then fill it with the concept. We actually had it the other way around. As a start-up, we had this package, great team, and we were just looking for the right site. And I think I should have about 50 sites before I came across the Bag O'Nails.  When I came down here and took one step in the door, I said 'this is perfect'.
And so here we are. And it's grown. With all the partners who are all leaders in their own industries, you can't help but be ambitious. As that ambition is developed, so has the idea. It was a bit of chance a bit of luck and a lot of entrepreneurial spirit.
Does Soho need another private members club?
Every private member's club in town does something different and all of them do it well. It an interesting sphere because I'm not sure private members clubs compete with one another. You will join one that appeals to you.
For us, the private member's club was a way to ensure that a room such as ours is quite intimate. It's a sort of place out of time. It is just good company and people here aren't trying to show off how much money they have.
Yes, it an oversaturated market. But we sit here as the private member's club for escapism,  getting way from the world. There are people constantly rediscovering new approaches to it. And each new approach to appeals to a different market model.
What does it mean to be a private members club in 2019?
Networking is a huge part of it still. It's less so with us, although that the nature of everyone in the room means that people strike up a conversation. The fact that I host every night means I know pretty much every member and what they do. If a member says to me, "I desperately need to get into this or meet someone in this area, do you know anything like that?"  I'll arrange a coffee.
You're seeing a number of members clubs trying to shift to position themselves for entrepreneurs, that younger market or wealth qualifiers. You have that entry-level, or you have the slightly more expensive concepts, which are almost like the Amex and your Rolls Royce Phantom – they are there to qualify the fact that you have succeeded.
They are two different approaches. We try and set apart from those. Whilst we have extremely valuable bottles of wine and off-menu food items you can order that are not the cheapest, we don't celebrate it.
We're not going to send three women in bikinis down with sparklers to deliver your caviar. At the same time, we try and do loads of stuff for entrepreneurs, but that's not our target market. We naturally seem to attract that market, because of the fact that it's quite an open place. The model members club is a way to meet people you otherwise might not have access to.
Who are your members?
It's massively diverse. We've got motoring journalists to minor aristocrats, to painters, to bankers, lawyers and we've got chaps in the covering guard. The best way to describe it is it's like a wedding reception: you go and everyone's all different age groups, all different backgrounds, but just in a room having a fantastic time. That is basically our membership. They all buy into the idea that there are three things that make a night: good company, nice drinks, and good entertainment.
They're happy for us to provide the drinks and entertainment and they buy into the fact that they, and everyone else in the room, is going to be good.
Why did you go for a 1920s style? 
My father and I had this thing when I was growing up. We would always sit down once a week and watch an old film. In those films, and also in books like The Great Gatsby, there would be these venues with a mix of characters from all over.
They would just be all brought together by the idea that they wanted to have a good time and they wanted to listen to good music.
This is before digitisation. Before we had mobile phones where we are able to tell WhatsApp chats about where we're going or a Facebook event, you had to know that the venue was great. Off the back of that, you had to know that you could show up by yourself. And sadly, I felt that these places didn't really exist that much in London anymore. You have venues that are designed for social media and to be Instagramed.
You also have loads of places that dabble in a bit of live music. But one single place, that doesn't really care about you checking in [on social media]. It isn't designed for that it's actually almost the opposite. It's a place where you can go and forget the world, forget the fact that you're meant to be plugged into a nice conversation, where you know that you can come down every night, there will be entertainment of some kind.
Because we recruit our members on character and not career, there will be someone that you could just go and chat to. Our profile forever is dinner party guests. When you have a dinner party, you don't want people to do the same thing as you – it's unbelievably boring. You actually want the tech entrepreneur next to the artist.  That's where great conversation comes from.
How has it been with finding members?
I think it came to that using that kind of membership, purely and selfishly from what I want.
The nice thing is we're not here to celebrate wealth. You'll never see a sparkler or fluorescent label in here. We have the capacity for people to buy opulent bottles of wine and champagne, but we don't make a show.
That's has led to word of mouth spreading quite well, and our membership applications have been huge ever since we first opened. It was one of those lovely moments where the website went live, we announced that people could sign up and I had to put my phone on silent because I approve every single applicant.
People want this idea of a personal venue, they are tired of going somewhere where the service might be actually exceptional – which is the minimum requirement these days – but actually, they don't feel valued as an individual. You go in and you are "charming customer number 382" that day, even if you are someone even if you go to that place every week. That sense of personalization doesn't exist anymore. That's what people crave, and that's why they're really interested in this space – they just want to be treated like people. It's a very elegant execution of the local pub.
How did you go about assembling a programme?
It comes down to having the right partners and having the right people involved. I mean, early on, we found our lead singer, Raf, who knows pretty much every vocalist and pianist in town, and he helped us curate an amazing rotation of performances. I'd sit down with them weekly, and say what I wanted. Also talking to members and finding out what they like, and feeding that into the program makes it much easier.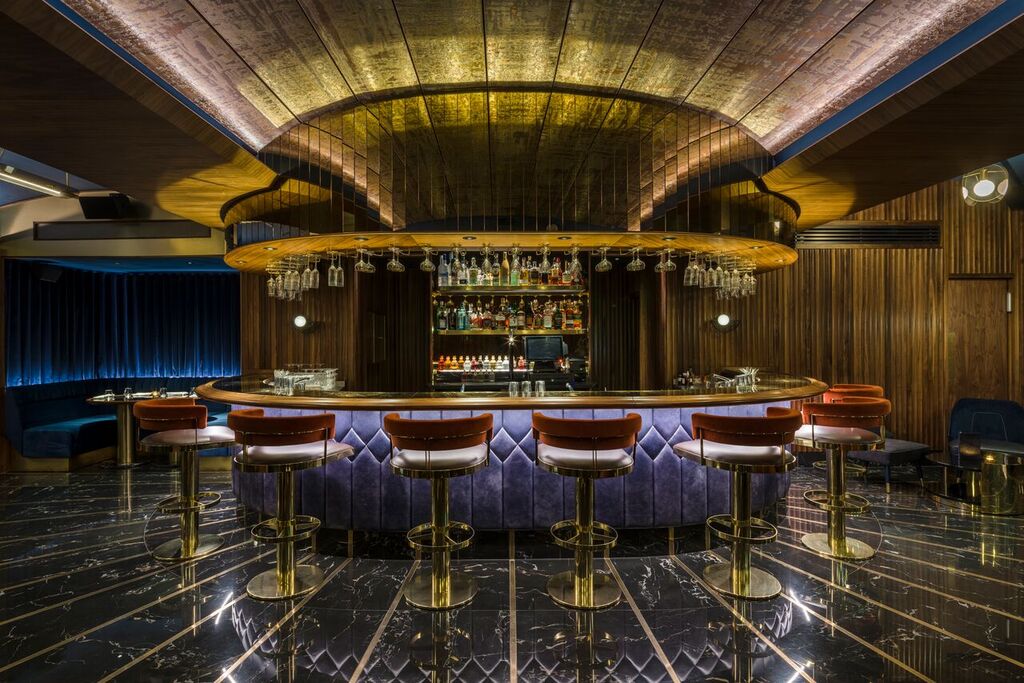 How about the wine selection?
It was working with Bibendum, one of our partners, sitting down and going through all the wines. I sat down with my general manager who has a really extensive history in the industry and we spent about half an hour getting all our issues with wine lists of our chests. They came back and it was quite a blurry collaborative day. One of the nice things is, no matter where you're looking at our menu there is a great wine.
Read more