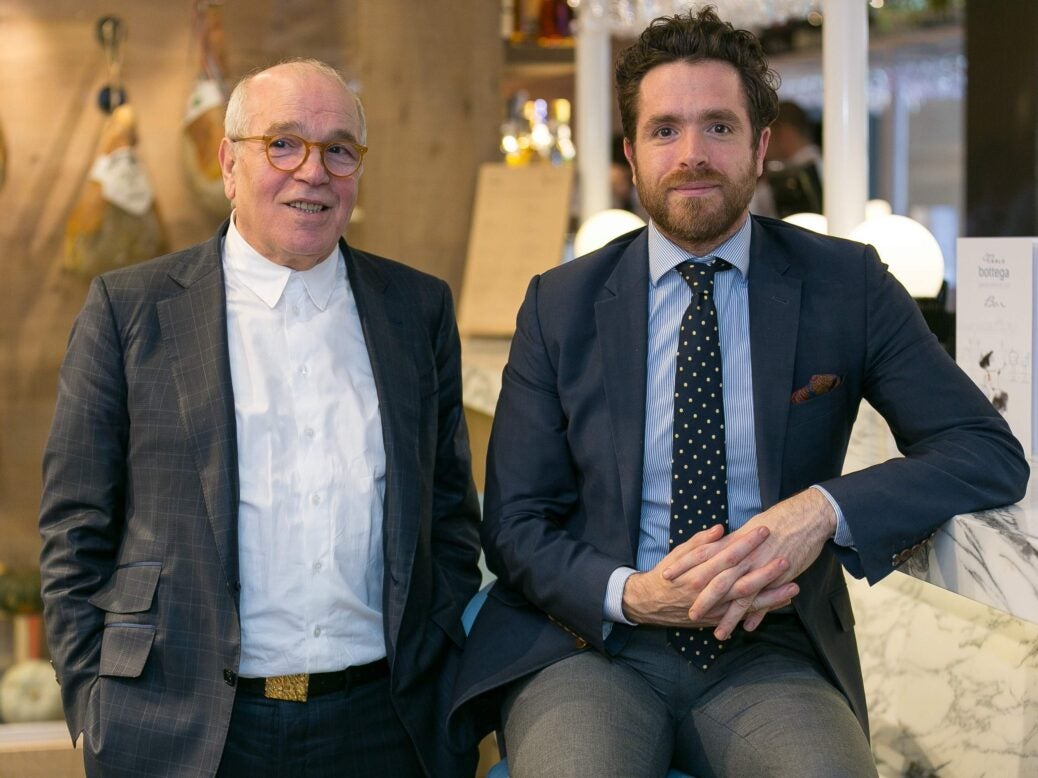 Birmingham is an unlikely starting point for a global Italian restaurant chain, but workaholic Carlo Distefano made it happen, writes William Sitwell
There's a roundabout on the outskirts of Birmingham where each morning, just after nine o'clock, a man in a chauffeur-driven navy-blue Rolls-Royce Ghost has his first and only moment of indecision of the day.
Sometimes the car swirls round the circle a couple of times before a rasping Italian voice in the back issues his command to John, the Falklands veteran driver. 'If we take the first left we go to London; if we go right on the third exit we to go Manchester.' So says Carlo Distefano, a restaurateur you've probably never heard of but whose company runs 25 restaurants in the UK and Middle East.
The San Carlo group operates a £60 million empire in cities such as Bristol, Manchester, Birmingham, Doha and Riyadh. The establishments in London include Signor Sassi in Knightsbridge, Cicchetti in Piccadilly and San Carlo on Regent Street St James's. Whether it's Liverpool or Leeds, Leicester or London, the places are united by three simple things: the owner is Italian, the menu is Italian, the staff are Italian.
On any given day, depending on what happens on that roundabout, the boss may be there. And if he's not, he'll be on the phone. Because every day Carlo wants to know exactly what the takings are and what the problems are. That's a lot of phone calls and a lot of miles.
Upwardly mobile
We meet in one of his more recent openings, on Regent Street St James's. This is a high-end Italian, a large San Carlo that contrasts with the more intimate and quirky Signor Sassi.
If Carlo has nailed the respectable mid-tier Italian market (and every one of his restaurants I have been in has always been rammed), he's now having a crack at the posh end. This appears to be more of a challenge.
And on the day we meet there's evidence of this: his son Marcello and daughter Sacha are also here (they work in the business), as is the chef Aldo Zilli, famed for his Soho restaurants of the Nineties and now the celebrity face of Carlo's empire. We talk first of his exhausting schedule, the mileage in that Rolls-Royce.
'I do 1,300 miles per week,' he tells me. 'I like it. I enjoy it, every day, seven days a week. I never go on holiday, I'm 75 now and I can't imagine anything better to do with my life.'
Carlo's day begins, he says, at 4am, when he switches on the news. He only switches off when he sleeps, but he does allow himself one little, unusual luxury every Sunday. On that day his driver knows to turn left and head for London, because by noon he is at Speaker's Corner in Hyde Park listening to debates, heckling and making his own arguments.
'I love it,' he says. 'I stay for two hours, have a quick lunch at one of my restaurants and then go home. My father was a conservative and I've been a conservative all my life. I believe communism is against nature. We were born to be free. And in politics, as in business, I stick to my guns.'
Carlo's determination was evident from a young age. 'I've been working since I was nine years old,' he says. His home was Ragusa in Sicily and he came to Britain looking for new opportunities at the age of 17 in 1962.
'I remember that first day in this country. I was at King's Cross station and no one could understand me. I was worried, but then I found the train I needed , and on the train I realised I wasn't alone. It was full of immigrants. From that first day I was happy. Maybe it was the air, but I felt free.'
He had just £12 in his pocket, but a family member had arranged a job for him at a barbershop in Leeds. He worked there during the week and at weekends he knocked on doors offering haircuts for whole families for half a crown. Soon he opened his own barbershop, and in the ensuing years he built a small chain.
By 1980 he was in Manchester, where he felt there was a dearth of good Italian restaurants, so he opened his own. 'I always felt confident,' he says. 'If you believe in what you do in life you enjoy it. I can't imagine what it must be like to wake up in the morning and think, "I don't want to get up." I feel for people who say, "Oh blimey, I'm looking forward to the weekend." I remember one Christmas Day being so bored, so I decided we needed to open all our restaurants.'
Spreading wings
In 1992, with a new home in Birmingham – and a growing family – Carlo opened his first restaurant in the city. Today, with 1,000 employees across the world, three of his five children also work in the business.
With Carlo as chairman, Marcello is managing director, Sacha a director and younger brother Alessandro a restaurant manager. I wonder if the boss allows them to take holidays – at which point Marcello reassures me that his father has relented.
'It's taken him a while,' he says with a smile. 'Actually I did once agree to go on holiday,' says Carlo, 'but I got to Dover and changed my mind.'
He has also bought a villa in his homeland of Sicily, but, he admits, 'I've never seen it. I'll retire when I die. In fact if I was ever ill I don't think I'd survive.'
I leave as Carlo, Sacha and Marcello gather to dine from a menu offering everything from lobster soup and fresh fish to pasta dishes, veal chops, steaks and classic Italian dessert.
Doubtless they'll discuss their empire and the pressing issue of how to get bums on seats in Regent Street.