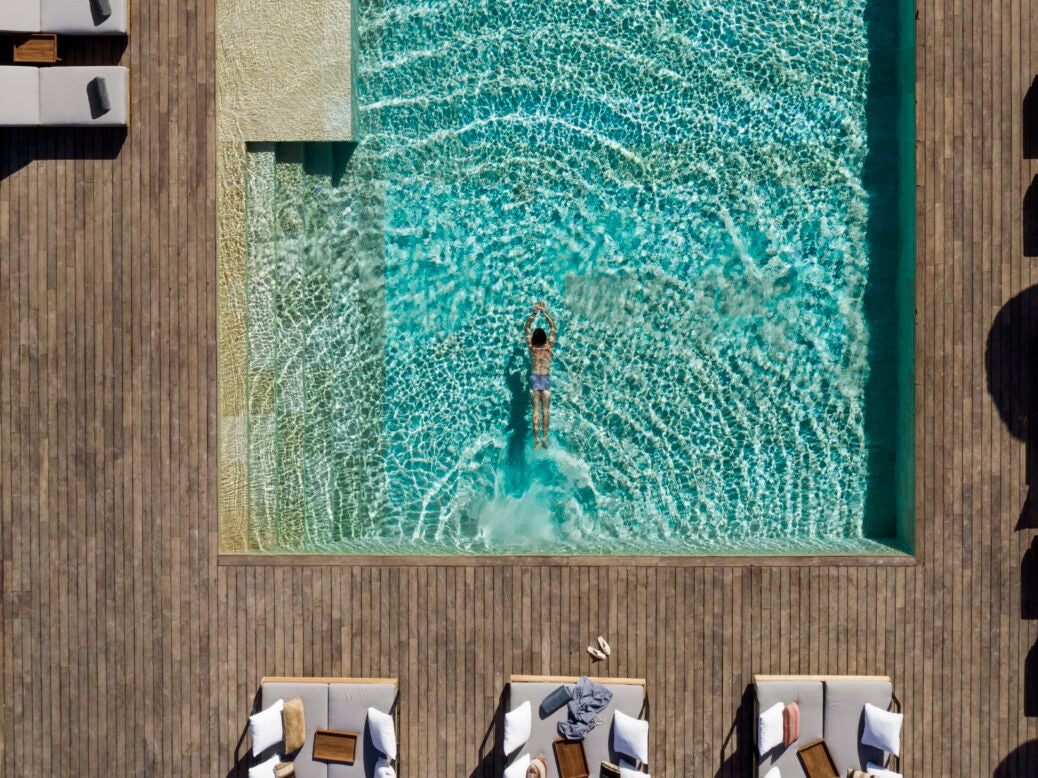 Oku is an impressive addition to Ibiza's bumper crop of new luxury hotels, writes Arun Kakar
Its nightclubs might still generate most of the noise, but listen carefully and you can hear the quiet murmur of Ibiza's luxury revolution. High-end hotels – designed for chilling out as much as staying up late – have become increasingly prevalent in recent years. Nobu Ibiza Bay opened in 2017, and two other major names have landed this year in the form of a W hotel and a property from Six Senses.
A third brand-new establishment, Oku, doesn't yet enjoy the same name recognition – but has the makings of a sleeper hit. Its name is derived from the Japanese concept of 'inner space', while the minimalist design by local architect MG&AG is inspired by the Japanese philosophy of wabi-sabi, incorporating earthy tones and natural materials such as wood and limestone. There are two pools, one of which has a claim to be Ibiza's largest (although this is somewhat contested).
The hotel sits just above Cala Gració Bayon the west of the island, half an hour from the airport and just outside San Antonio, home to much of Ibiza's nightlife – close enough to be accessible, but still comfortably removed from the island's hubbub.
It's not all peace and quiet, though. A stage at the main pool hosts a rotating cast of DJs and live performers, who keep the vibe up with a classically Balearic brand of deep house. This is a smart move and enables Oku to achieve its stated aim of 'laidback luxury' without eschewing the musical spirit of the island – something that clubbers don't have a monopoly on.
There's also world-class food on offer. Executive chef Mark Vaessen is an alumnus of Sushisamba and brings a blend of Japanese, pan-Asian and South American cuisine to the excellent restaurant, where the 'Taste of Oku' menu is a decadent feast of nigiri, wagyu, oysters and caviar. At the breakfast buffet and lunch – relaxed Mediterranean gourmet fare at the more informal To Kima restaurant – the quality is top-notch too.
Wellness is another prominent theme. Guests are invited to participate in daily yoga and Pilates sessions and the design-led gym is kitted out with sleek equipment from NOHrD. Naturally, there's a serene and low- key spa that offers a full suite of treatments and products that make use of local ingredients.
After a morning here it's easy to see what the brains behind Oku mean when they say 'laidback luxury'. The place really does hit all the right notes.