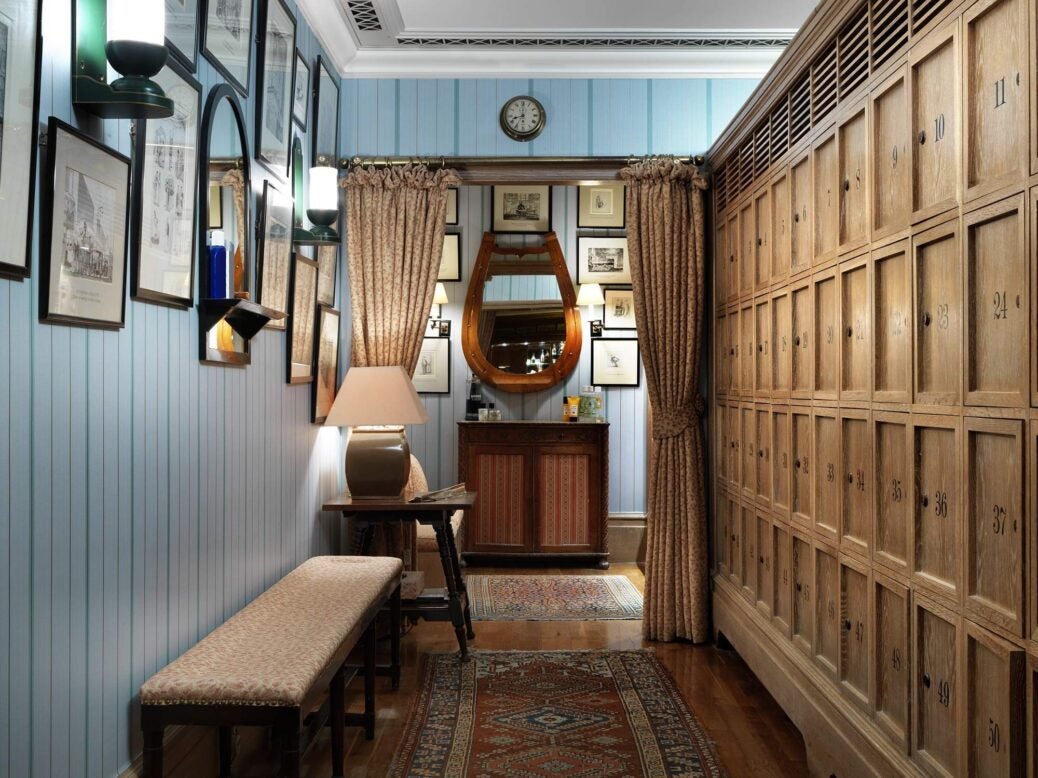 The prestigious mens-only health club has world-class coaches, impressive heritage and its Turkish baths have even been the site of high-profile business meetings. On the occasion of its 30th anniversary, Arun Kakar visits the Bath & Racquets Club and discovers a safe haven of sports and relaxation
Hidden away on Brooks Mews in the heart of Mayfair, the Bath & Racquets Club is a stone's throw away from Claridge's and a short stroll from Grosvenor Street.
The Bath & Racquets, founded in 1989, is one of those special London safe havens: detached from the frenetic city outside and yet providing something totally understanding of its culture and rhythm.
Conceived by Mark Birley, it was envisioned as an extension of his clubland brand into the world of health clubs. The result is a location with acute attention paid to wellness whilst retaining the luxury and class expected of its pedigree.
Set over two floors, it houses a bang up to date gym space (yes, there are Pelotons), squash courts, and a smart members lounge. There is also a lavish marble steam room and a tiny barber's shop which resembles a ship's cabin.
It's all in a setting that is resonant of the sophistication and elegance of the Birley brand as was, which as Spear's readers will know, also encompasses Harry's Bar, Annabel's, Mark's Club, and George and is today in the custodianship of Ivy impresario Richard Caring.
The Bath & Racquets is neither stuffy nor over-polished. Its traditional styling is distinctively country house: there's wood panelling, and wooden squash racquets and plaques adorn the walls. Antique rugs, comfortable sofas and Bateman cartoons are set amid plasma screens. Phones are banned. And so are women.
This, then, an all-men's club – although ladies are permitted to watch squash games 'from the gallery' which only adds to the sense of exclusivity. There was the time in 1997, for instance, where then-Conde Nast managing director Nicholas Coleridge brokered peace with Mohammed Al Fayed after the former Harrods owner threatened Vanity Fair with libel action. In a meeting reported by the Independent in 1997, the two men sat naked 'on a marble slab and amid the heat and steam, sweating profusely' in the clubs Turkish bath. It's quite an image.
The club is staffed with an army of top-class personal trainers who patrol the gyms, and there are also physiotherapists and squash coaches too (one of whom is a former world number two). All the staff know the membership by name. All kit, towels and dressing gowns are provided and laundered on-site, so there's no need to bring a kit bag.
Perhaps the most surprising thing is that there are only 'around 300 members', and a lengthy waiting list and significant wait, according to director Mario Pederzolli. He's careful not to be drawn to how one might raise ones chances of joining. 'Members share the values of the club and by doing so, contribute to club life,' he notes. They are also spread across various professions and age groups: 'By being proposed and seconded, the club's members are effectively handpicked,' he adds.
As well as a tour, Spear's is here to get a haircut, and, it turns out, a manicure too. 'You wouldn't get one of those 30 years ago,' Pedezolli jokes. The trim is provided by Martine Cardoso, who joined the club recently and is a Mayfair maestro. She's cut the hair of everyone from CEOs to Mel Gibson (very nice guy, apparently). 'Attitudes have definitely changed when it comes to men looking after themselves,' Cardoso says as she gives me my first manicure. 'Most guys who come for a cut will often get a manicure as well.' The hour is quite simply indulgent, and the hair cut was a cut above the ordinary. And my nails have never looked better.
As I make my way out, it occurs to me that this isn't the sort of place you go to for the facilities alone – the Pelotons notwithstanding. All that can be found at a decent gym near you. Rather, The Bath & Racquets Club is a curious, rarefied hybrid of gentlemen's club and sport's club, one with arguably the most exclusive squash ladder in the world. Climb that, and the world is your oyster.
Read more