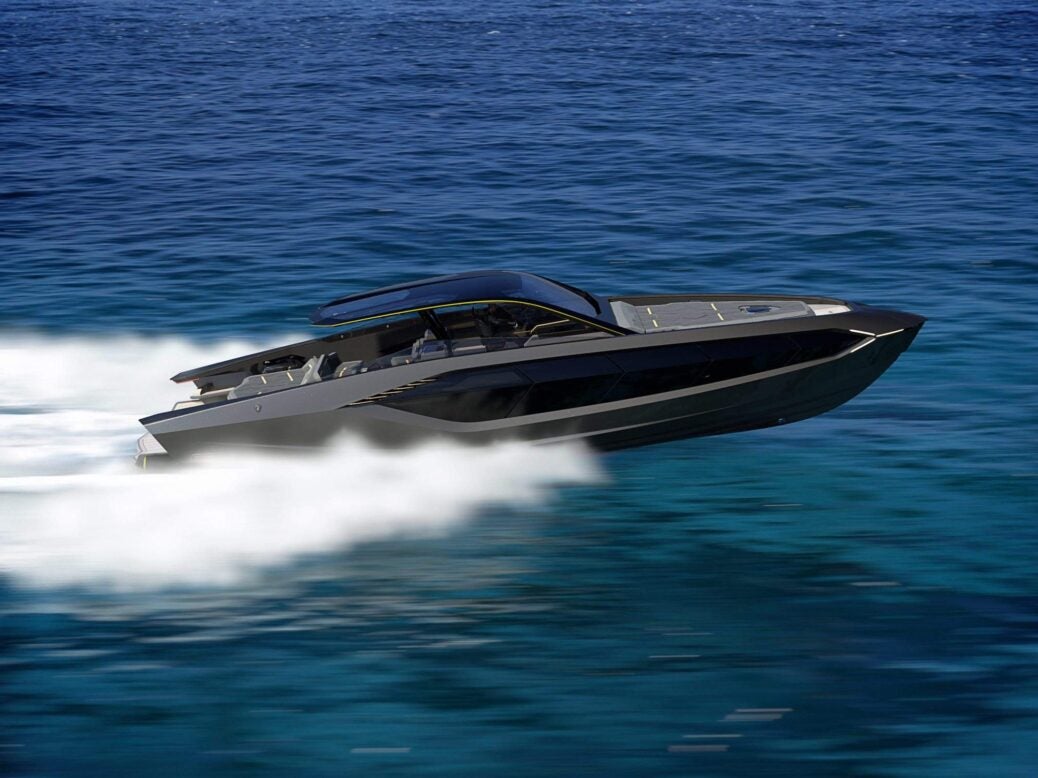 Lamborghini's logo is now on a yacht – and it's no slouch, writes Gareth Herincx
The snappily titled 'Tecnomar for Lamborghini 63' might not rival the 200mph-plus top speeds of its land-dwelling cousins. On the water, however, 60 knots (around 69mph) is fast enough to put the Italian carmaker's collaboration with yachting giant the Italian Sea Group firmly in 'superboat' territory.
Inspired by the styling of the Sián FKP 37 hybrid hypercar, as well as icons such as the Countach and Miura, Lamborghini's boat – its first – starts at a price of around £2.7 million. Just 63 examples will be manufactured, in a nod to the year the brand was founded.
Customers can choose from three opulent interior layouts: the open-plan 'Lounge' configuration features sofas, a fully equipped kitchen and a private bathroom, while the one- and two-'Cabin' options can accommodate up to four berths.
The team from the Italian Sea Group's Tecnomar division worked closely with Lamborghini's designers and engineers to ensure the yacht's DNA reflected both brands. 'If I had to imagine a Lamborghini on water, this would be my vision,' Stefano Domenicali, chairman and CEO of Lamborghini, has said.
Everything from the yacht's aerodynamic silhouette to the Y-inspired bow lights and hexagonal side windows reference Lamborghinis past and present. To keep weight down, carbon fibre is used extensively in the construction – just like the supercars – while the boat's instrument panel re-interprets a Lamborghini car cockpit in a nautical style, integrating all the navigation and control systems. There are even unmistakable start/ stop buttons (one for each engine), which are exactly the same as those used to start a Lambo road car.
Buyers can also customise their boat, selecting many of the same vibrant colours and materials that drivers choose from Lamborghini's Ad Personam programme.
Lamborghini isn't the first car manufacturer to extend its brand on to the water.
Ferrari has been at it since the Nineties, while Mercedes-Benz, Bugatti, Aston Martin and Lexus have all gone nautical in recent years with high-end collaborations.
'For the first time we are targeting a bright new audience which is not strictly linked to the yachting industry but also ranges between automotive and jet set,' Giuseppe Taranto, vice-president of the Italian Sea Group, tells Spear's.
He describes his handiwork as 'primarily a day cruiser' but adds, charitably: 'We don't exclude the possibility that many owners will buy her as a tender for their gigayachts.'
We shall see which of these uses proves most popular when deliveries of the yacht begin in early 2021.
Read more
'It's a Daniel Craig Bond, not a Roger Moore' – Land Rover's new Defender reviewed
The Beechcraft's King Air's reputation for longevity is 'more than justified'
Meet the electric Taycan, Porsche's silent thriller