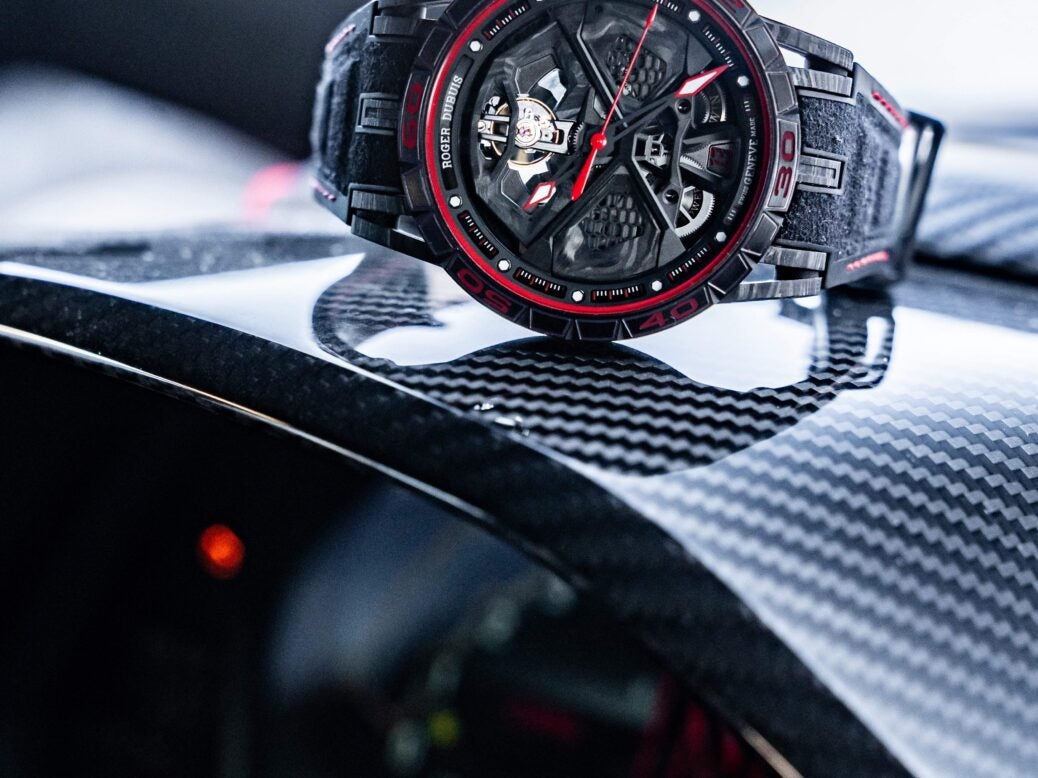 Its watches may feature strange figurines of gold knights, but the Roger Dubuis brand certainly knows how to make a killing, writes Timothy Barber
I met Roger Dubuis just once, six years ago, while visiting the huge Geneva factory of the watch brand bearing his name. Though in his seventies and several years retired, he would from time to time be brought out in the role of eminence grise to offer his quiet, professorial – and, one suspected, rather bemused – benefaction to what had become, in his absence, one of the most peculiar Swiss watch businesses.
I don't say that lightly: that year, at the SIHH watch fair in Geneva, the Roger Dubuis stand was decked out like a theatre set for Game of Thrones: the Musical; amid swords, huge trees, and a vast golden eagle statue, there were models done up as punky knights and Valkyries, and a bloke walking around in medieval clobber with a live eagle perched on his shoulder.
What had it to do with watches? Sometimes it was hard to see what the watches had to do with watches, despite their evident workmanship. One featured a dial that recreated the Arthurian Round Table, with the figurines of 12 microscopically detailed gold knights, their swords functioning as hour markers.
It was the flagship of the 'Excalibur' line, and brought to mind the line in Monty Python and the Holy Grail: 'Let's not go to Camelot. It is a silly place.
Mr Dubuis, who earned his reputation in the workshops of Patek Philippe, and then as a restorer of important antique clocks and watches, died in 2017. The brand he founded in 1994 as a kind of repository of haut de gamme horological technique was sold to Richemont Group (home of Cartier, IWC and Montblanc) in 2008, and has since twisted every which way in search of a recognisable but unconventional style and personality with which to attract today's mega-rich.
In Mr Dubuis's day, that meant a kind of exoticised version of traditional Genevoise craft. The watchmaking was beyond impeccable, with every movement carrying the stamp of the Poinçon de Genève (Geneva Seal), a measure of finesse whose austere requirements add countless manhours to the creation of any timepiece. The aesthetic was retro-on-steroids, taking 1940s and 1950s templates and adding size and swagger.
The fast lane
Modern Roger Dubuis is something else altogether: freaky, macho, high-tech. The eagles and Valkyries have gone (though the knights remain: there's a new version of the Excalibur Round Table, with the table formed by carved cubes of gold and red enamel). Creative stimulation now comes from canny partnerships with Lamborghini and Pirelli.
A shop on Bond Street has opened, full of watches that mix the techy, high-octane ambience of a supercar with audacious complexity and six-figure price tags. CEO Nicola Andreatta, who moved to the brand from the jeweller Tiffany & Co in December, has an interesting connection to the 'old' Roger Dubuis: his father's Geneva business made the cases for the original watches in the Nineties.
However, he has no wish to turn the clock back to those days. 'What we did 20 years ago is not really relevant. It makes sense for some brands, but for us, going back to our past would mean going back to something we are not any more. To remain relevant, we need to innovate and disrupt. Our heritage is the future.'
It's a very 'Roger Dubuis' thing to say, and Andreatta has a twinkle as he says it: he's perfectly aware that plenty of people will find the brand and its audience – 'a tribe who are not only rich, but are hedonists, they live larger than life' – absurd. He doesn't see it as a problem. 'It's good for us to be polarising.
The moment you start pushing people away, that's when other people are going to be coming to you, because they understand what you do.'
According to Andreatta, there's been a sea-change around demands and expectations in recent years. 'They're very informed now, and they're not going to be fooled by something just because it seems a bit crazy, which wasn't the case a few years ago,' he says. 'Normally when they get to the store, they know already what they want, and why.'
Hyper Market
One thing they want is exclusivity. In January, Roger Dubuis announced an edition-of-one example of 'hyper horology': a complex, futuristic piece (stamped with the Poinçon, mind) priced at more than £1 million and inspired by a Lamborghini track car, the SC18 Alston. It sold immediately, and the brand is planning more one-off offerings, packed with technical and aesthetic invention.
Meanwhile, across the road from the tiny Bond Street shop is another soon-to-open store from Richard Mille, which has set the benchmark in selling outrageous super-watches at outrageous prices to people for whom outrage is a remote and unfamiliar sensation.
For that cohort, riding out in their gold-plated Lambos, Camelot really has come to Bond Street. Whether it's a silly place is beside the point, but it sure can make watches.
Read more