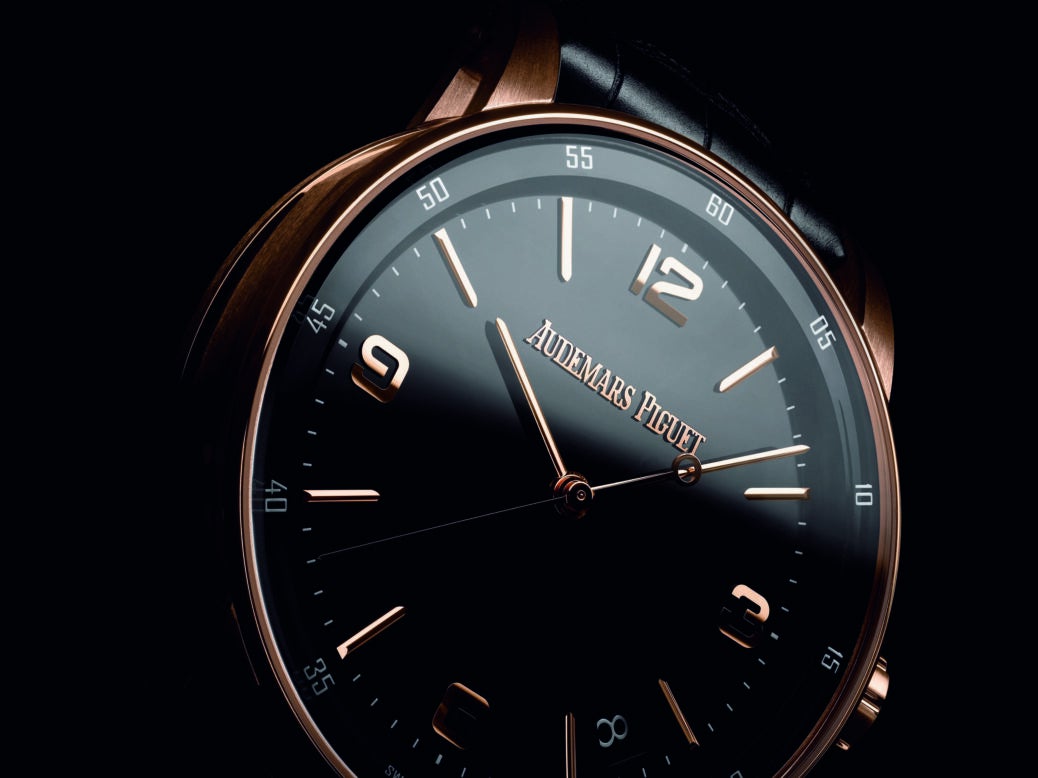 Audemars Piguet has finally moved on from its octagonal Royal Oak with a distinctive round new model – but not everyone is happy, it seems, writes Tim Barber
In 1970 Audemars Piguet, a watch firm then approaching its centenary, engaged a designer named Gerald Genta to create a watch aimed at a new generation of buyers – ones who viewed it as a marque more fit for their grandparents.
The challenge was to offer a counterpoint to the action-ready, bracelet-bound watches of Rolex and others that dominated the market, but with all the handcraft, finesse and style of an old watchmaking powerhouse. Genta had his design licked in one day flat. The watch would be made from stainless steel – a metal considered infra dig among the brand's traditionalists – and dominated by a radically modern octagonal bezel, with a bracelet that was seamlessly integrated with the case.
It was both streamlined and visibly robust. Its name was the Royal Oak (after the tree in which Charles II had evaded Cromwell's forces in 1651, for the allusions to nobility and toughness); and it would prove the most influential watch design of the postwar era. On launch, though, it was a bomb. Retailers didn't know what to make of it, while long-term clients were outraged. But the market gradually swung behind it.
Soon other brands started producing their own versions, including Patek Philippe's Nautilus, also designed by Genta, who had effectively invented a new genre of wristwatch – what the Swiss would call 'sports luxe'. The genre remains the definitive watch-as-status-icon, whether you're a banker, rapper, movie mogul or a cabbie who saved wisely.
That's been very good news for Audemars Piguet and Patek Philippe, which could exclusively make Royal Oaks and Nautiluses and be wildly successful. The problem is that, in Audemars Piguet's case, its other designs mostly faded away while the octagons, in every style, complication, size and material, proliferated. In January, however, Audemars Piguet did the unexpected and unveiled an all-new design.
A round watch, but also very much more than just a round watch: this design was to be seen as something radical, a maze of angles, surfaces, contours and finishes. In fact, the brand described it at the SIHH watch fair in Geneva as its most important launch since the Royal Oak in 1972. It called it Code 11:59, to symbolise the last minute before a bold new dawn. And as with the Royal Oak, it didn't go down well.
Fair comment
The immediate response in January from industry and aficionados ranged from frowning befuddlement to apoplexy of a kind that might have been familiar to Genta, though at least back then he didn't have to deal with the kind of brittle vitriol that now inevitably consumed social media.
This added a background of chattering drama to the SIHH: at every stand from every brand, the conversation inevitably turned quickly to Audemars Piguet.
'What were they thinking?' 'Just how bad is it?' Well, not that bad at all, really. As an exhibition of watchmaking crafts old and new, and how these can be aligned in new ways, quite exceptional in fact. The Royal Oak's octagonal bezel is reimagined to form the middle of the case, sandwiched between a thin round bezel and case-back, and connected by skeletonised, architecturally complex lugs for the strap.
The crystal curves ingeniously this way and that over a large, lacquer dial on stepped outer and inner levels, giving an unusual optical clarity to the display.
It is, very definitely, complexity for complexity's sake: the design creates myriad surfaces in a variety of handfinishes that possibly only Audemars Piguet could bring off with such precision, which is exactly the point. Even the logo itself was the subject of fierce R&D – instead of being printed, 3D gold letters galvanically grown in a chemical process are applied to the dial's surface.
Slow burner
But whether all that adds up to a pleasing whole is a different matter. The Royal Oak was designed in a day and brought to market in less than two years.
The Code 11:59, we're told, has been in development for seven years – and in my eyes it feels like it. Audemars Piguet loves to market itself as a breaker of rules, but the rule that design should be effortless and purposeful might have been worth hanging on to.
However, even after seven years' development, it's early days. The watch world adapted to the Royal Oak and may yet discover it loves the Code 11:59, and the company is playing it cautiously. Out of the 40,000 watches it makes a year, only 2,000 this year will be Codes, though the range spreads already from automatics to megacomplications.
Interestingly, none of these is in steel. One might wonder what Genta would have made of that. I'm always amused by the fact that watch brands insist every year on calling their new watches 'novelties' – particularly because, in such a hidebound industry, novel designs and ideas are frustratingly rare.
In its glamorous, peacocking way, Audemars Piguet has been as hidebound as anyone. So it may feel reasonable hurt over the scorn that met its decision finally to do something new, though the real test will be years down the line.
In any event, the brand's decision to give up on watch fairs from next year, and all the attending expense and hubris they invite, appears fully justified.
Timothy Barber is the telegraph's watch editor 
This article first appeared in issue 68 of Spear's magazine, available on newsstands now. Click here to buy and subscribe.