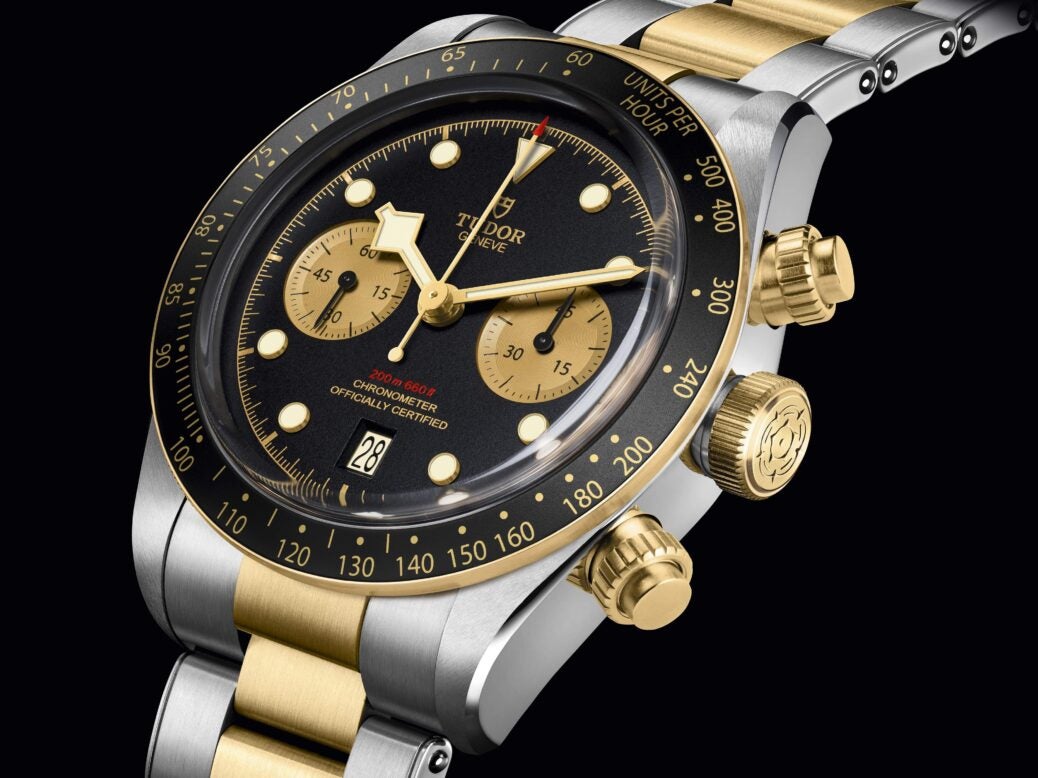 A watch style that had become déclassé in recent decades is back in favour with top manufacturers, says Timothy Barber
If your musical memory reaches back far enough, the phrase 'two-tone' likely conjures images of geezers in pork pie hats and skinny ties singing about ghost towns, baggy trousers and night boats to Cairo. In the land of the watchophile, however, two-tone refers to a look that was, until recently, associated with a different kind of geezer, and about as far from being fashionably on point as it's possible to get: namely, a watch in stainless steel with contrasting elements of the bracelet and case in bright, statement-making gold. That statement, for much of the past three decades, was something like: 'I've got a great little insurance policy for you, luv, now just sign here…'
Two-tone has been the symbol of smoothies, chancers and arrivistes, dodgy dealers looking to add jingle to their jangle, interlopers stuck with the watch they impressed their friends with in the Eighties. For a while, you were about as likely to come across a new and noteworthy two-tone piece from a major brand as you were a new and noteworthy digital watch. But times, inevitably, change.
Rolex has been one of few to cling steadfastly to this look, but it at least had the right to, having more or less come up with it in the first place (in the Twenties) and even coined its own name for it. 'Rolesor', the brand's name merged with 'or', the French for gold, was trademarked back in 1933. There are wonderful examples of 'Bubbleback' models, Rolex's original waterproof wristwatch, from the Thirties and Forties mixing steel and gold. The classic Rolesor, though, is the Datejust, introduced in 1945 and still the cornerstone of dressed-up Rolex watchmaking, available in multiple two-tone variations, in both yellow and pink gold.
It was in the boom days of the late Seventies and Eighties that two-tone hit its stride, amid the proliferation of bracelet-worn watches that needed to be smart enough to impress in the boardroom, but also durable enough for everyday wear. In his 1991 novel American Psycho, Brett Easton Ellis was precise about the stylistic obsessions of his Wall Street nutjob Patrick Bateman – including a Rolesor Datejust.
Cool couleurs
A recent smattering of high-profile outings for what the rest of Switzerland refers to as 'bi-couleur', however, has begun to snowball. Audemars Piguet and Patek Philippe brought the style back from the dead in 2015 with examples of their most high-status watches, the Royal Oak and Nautilus respectively, in steel and rose gold. Supposedly this was aimed at the Asian market, where the style didn't have the déclassé associations
it suffered from in the West. But it also served to emphasise the fact that such watches are as much bracelet as watch, and the colours bring out the boldness of the design and the dexterity of the craft involved. Unsurprisingly, both watches were stalwarts of the previous two-tone boom.
Cartier, another brand that enjoyed a watch heyday in the yuppie era, is having a return to form, particularly with its relaunch of the Santos. The square-form watch has experienced a few rebirths since appearing in 1904, notably in the Seventies, and it's that Seventies spirit that's the force behind the sleek latest versions, including several charismatic two-tone models.
Another proponent of the two-tone revival has been Tudor, Rolex's modish junior sibling, which brought out its all-conquering retro dive watch, the Black Bay, in two-tone a couple of years ago – David Beckham has been sporting it in the adverts. Tudor calls the style 'S&G' (steel & gold) and has just added a swaggering chronograph Black Bay S&G to the roster. Maybe consider opening your shirt to the waist if sporting that one this summer (no doubt Becks will be).
For a softer-accented take, there's Oris's Divers 65 – another retro dive watch, but it mixes steel with bronze, rather than gold. It's actually rather successful: I suspect the current popularity of bronze in watches is not simply as a low-cost alternative to the bling, but because it has a warm, roughed-up tonality that is all its own.
As it happens, a two-tone version of Rolex's underwater mainstay, the Submariner, has somehow survived in the catalogue for aeons, complete with dial and bezel in glossy blue ceramic – a cheery rebuttal to those (like me) who see any deviation from the Sub's purposeful steel/black original style as sacrilegious.
However, the hulking new Sea-Dweller that Rolex has just released in steel and yellow gold is, perhaps, a different matter. The Sea-Dweller is the Submariner on steroids: the ultimate action tool watch, a hardcore brute built for life at the ocean depths. The idea of an example pimped in yellow gold seems almost ridiculous enough to be worthwhile, and it has an undeniable charisma whether you find it to be in good taste or not.
The fact is, two-tone is the pariah of watch styles no more. Rehabilitation is under way. It requires handling with care, and those in doubt should probably keep a cautious distance. But, if not completely safe, it's out on licence at the very least.
This article first appeared in issue 69 of Spear's magazine, available on newsstands now. Click here to buy and subscribe.
Read more:
Audemars Piguet's controversial Code 11:59 watch is 'quite exceptional' – Tim Barber
Watches: Hublot's magic act