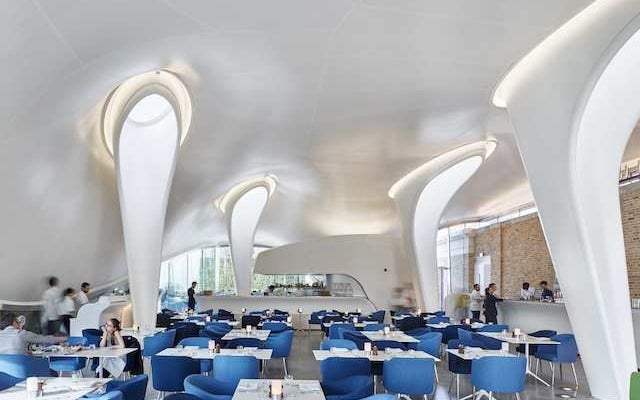 The dishes may come close to Italian authenticity, but the real winner is the late Zaha Hadid's astounding alfresco venue, writes Daniela Carati
After their Mayfair, Westbourne Grove and Harrods locations, clothing brand Chucs recently opened their fourth food venue, which is particularly convenient for art aficionados. Set in the middle of Hyde Park, the restaurant adjoins Serpentine Sackler Gallery's Magazine complex, designed by the late architect Zaha Hadid.
The white-dominated interiors are propped with futuristic, undulate columns that reminded me of Calatrava's Ciudad de Las Ciencias in Valencia, or of Madrid's Barajas airport. Blue chairs well complement the candor of the ceiling and the tables; the blue and white pattern is then repeated on the bright, white plates, elegantly decorated with a blue line on the rim.
Chucs' effort in reminding the customer of a Mediterranean country is quite successful, so more so when coming across a beautifully-trimmed, secluded patio that evokes feelings of backyard summer parties.
Blessed by glorious weather, my guest and I enjoyed aperitifs in the garden before moving inside for dinner. Although Spain and maybe Greece, with all the blue and white intertwining, sprang to mind before Italy, this was quickly rectified by Chucs' cocktail list, which presents Italian classics with original twists: my Negrappa, a version of a Negroni made with Veneto Grappa instead of gin, was exquisite and kick-started my evening quite potently.
When the sun went down, and our aperitifs with it, we said goodbye to the garden and made our way inside, to be seated in the middle of a not too crowded restaurant. The much longed-for spring weather influenced our decision to start with a zingy wild garlic and pesto burrata and a bottle of refreshing Sicilian Fiano.
With Chucs offering small portions of main course pastas for only a bit more than a tenner, my guest and I felt compelled to order two: a superb, creamy, delicate yet not pepper-shy Bigoli Cacio e Pepe, and – given my Emilia-Romagna origins – Maccheroni alla Bolognese, both served in a minimalist (over-simplified, if I might add) manner, that takes pride in not going above and beyond in pleasing the eye. Quite predictably, I was not completely satisfied by Chucs' ragù, which I found lacking in vegetables and overall flavour. But then again, I am yet to find a ragù that stands up to what I regularly eat in the Bologna vicinities, so I would not fault Chucs much because of it. On the contrary, Chucs managed to impress us with a well-balanced Tiramisu, which only lacked a tad more liqueur to reach perfection.
Service throughout our evening was friendly and attentive, although knowledgeable only up to a point, and we had to thank a few staff's mistakes – promptly rectified – for getting to try additional dishes, such as the Beef Carpaccio and the Tomato & Basil Spaghetti.
Chucs' dishes are dependable, elegantly understated, and close to authenticity – which makes it an ideal restaurant for a family lunch, when you need to accommodate the kids' desire for pizza and pasta, your younger brother's steak craving (Steak Bearnaise and Pommes Pont Neuf for £31) with  the East London cousin's vegetarian diet (to which I would recommend to steer clear of the boring Tomato and Basil Spaghetti, and dive into a big portion of Cacio e Pepe for £16).
On the other hand, if you have tried almost every Italian restaurant in town, in search of a new take on Belpaese cuisine, I would not expect Chucs to rock your world. That said, Chucs is definitely one of the most beautiful summer alfresco dinner destinations one can ask for, and it is not to be missed after soaking up either the sun in Hyde Park or the culture at one of the many Serpentine Gallery exhibitions.
Daniela Carati writes for Spear's
Related
Review: Quaglino's, St James's