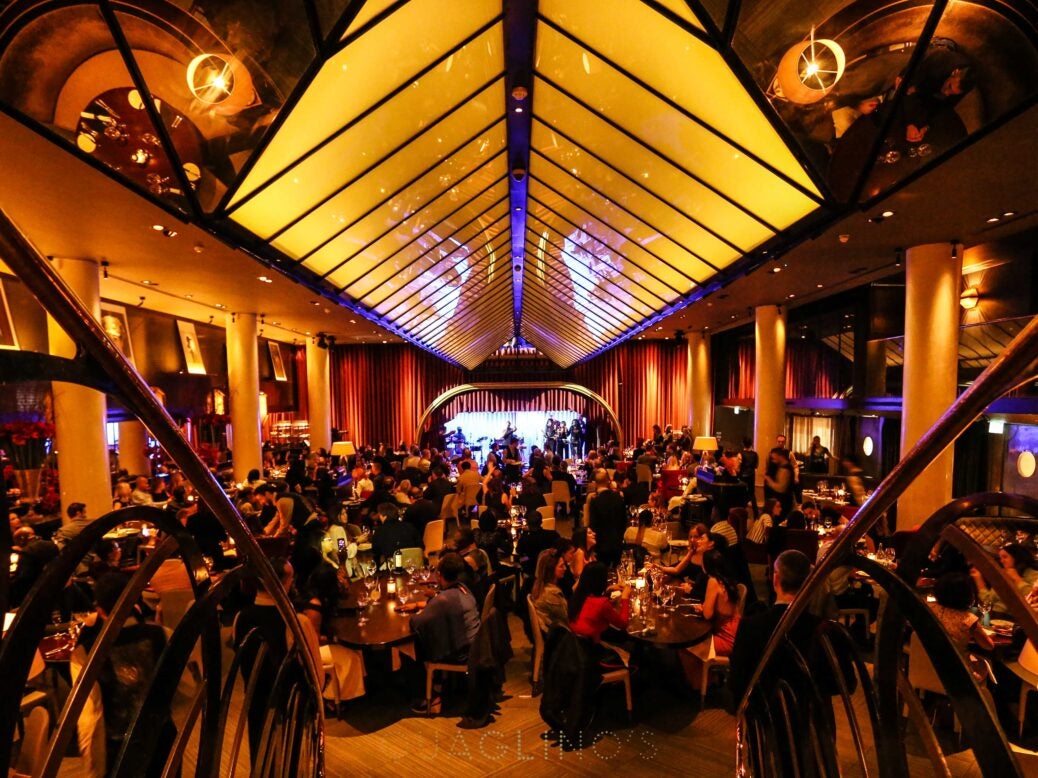 The esteemed restaurant's culinary flair and suave setting are not to be missed, writes Sarah Bonfield
Mysterious from the outside, a doorman welcomes my companion and me through the entrance and down the first set of stairs. Here, a mellow balcony bar overlooks the main restaurant which is decked with shades of amber, gold, mink and russet, the stage ablaze in violet lights. Quaglino's is a delightful sight to behold, and one should hope so too, with its £3 million Art Deco-inspired refurbishment in 2014.
The Mayfair restaurant and party spot dates back to 1929, but it became the 'place to be' when Sir Terence Conran revived 'Quag's' in the early 90s. Now under the ownership of the D&D group, it has continued to be nothing short of sumptuous.
After waiting slightly too long to be served our first drink at the balcony bar, we traipsed behind our waiter and down another set of stairs to a pleasant find: our table was one of the best seats in the house — the wait all but forgotten. We were positioned close to the stage but far enough away that we could still hear ourselves think.
Light pools over each table making diners look a couple of shades more glamorous than we really are, and sipping on a glass of Malbec — we assess the menu.
As we finish our order, a sommelier approaches our table to recommend a wine – we leave our fate in his hands. He arrives with a 2016 Pinot Noir from Alsace, France. Produced from organically grown grapes, the wine is fresh and characterful, a classic raspberry varietal with a crunchy acidity on the finish — we love it.
To start, I had the burrata, nutbourne heritage tomato, baby basil and taggiasca olives. A rainbow of red, yellow and green tomatoes adorned the plate covered in oil. Placed to the side was the burrata, which brought back joyful memories of holidaying in Italy. All in all, the dish was rich with flavour as the basil and taggiasca olives played their part as the savoury complements to the rather sweet tomatoes.
In contrast to the colours in my dish, my companion was served duck liver parfait, matbucha Moroccan chutney & za'atar brioche on a black mottled plate. With a slither of parfait in a beige colour and the red chutney dribbled in blobs around the edge, this made for a sophisticated dish. The soft brioche was served to the side and my companion didn't waste one bite. If I remember correctly, 'absolutely delicious' were the words used.
Once the plates were cleared and wine topped up, the music began. A band came on stage with a lead female singer to provide entertainment to the waiting audience. With chilled-out tunes and funky beats, the band were an instant hit as our fellow diners swayed in their chairs.
Humming along to Corinne Bailey Rae's 'Put Your Records On', the main course arrived. I had the 500g Dover sole, meunièred, with a lemon gently squeezed on top. The citrus gave the fish a brilliant sharpness to make it all the more mouth-watering. Paired with this were the sides: bowls of wilted young spinach, tenderstem broccoli, fresh chilli and crispy shallots, and mousseline potato. Amongst these tasty accompaniments, the crunchy, spicy and flavoursome broccoli was a winner. There was nothing to fault and our plates were empty.
My companion enjoyed the roasted rump of lamb, garden peas & mint, pointed cabbage and lemon curd. I must admit that I tried some out of jealousy. The meat fell apart at the slightest touch and the garden peas were a flavoursome combination of mint and citrus.
Final course came in a whirlwind of wine and song and suddenly an Eton mess appeared. Served in a margarita lookalike cocktail glass, the cream, strawberries and meringue where neatly arranged. Nothing was particularly exciting about this dish and if I were to go again, I would definitely choose something else. However, it was traditional, well-presented and tasted just as it should.
Once again, my companion hit the nail on the head: pistachio crème brûlèe. This was definitely the best-looking dessert of the evening: served with a pistachio biscuit, the caramelised layer revealed the olive-green filling. As one can imagine, it didn't last very long.
True to its reputation, Quaglino's music, excellent food and suave setting, is both classy and glamorous all in one. Stomachs full, we leave elated, vowing to return.
Sarah Bonfield is editorial manager of Spear's