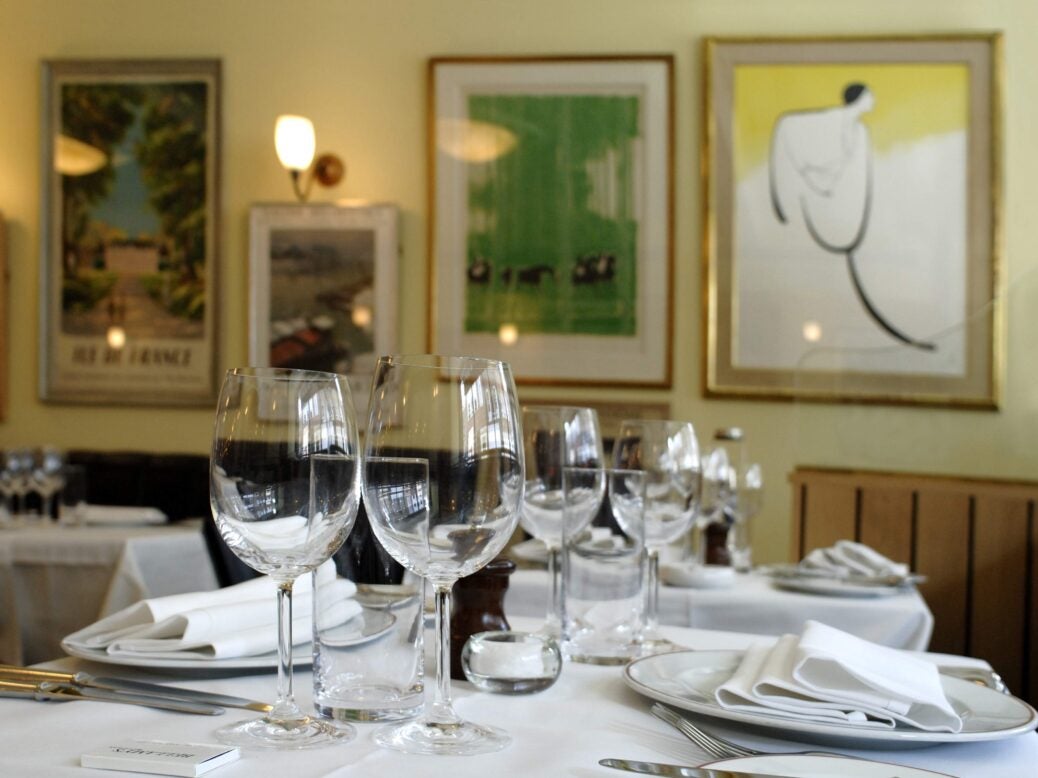 Christopher Jackson heads to Bellamy's on Bruton Place and encounters the unique hospitality of Gavin Rankin
The catering industry is such that it's possible to work in it for most of a lifetime and assume that, by an accumulation of handshakes, one has become indispensable to the very life of Mayfair.
It's an easy mistake to make perhaps. One person who gives every appearance of having made it is Bellamy's patron Gavin Rankin. It is true that Bellamy's – both a reference to the club in Evelyn Waugh's Sword of Honour trilogy and a pun on Maupassant's Bel Ami – is known as the Queen's favourite restaurant but perhaps only in the sense that she has never been to any others. In any case, it's important not to let success go to one's head.
The fact is that Rankin can be accused of being slightly rude: he purveys a lofty patrician air. Somewhat puce and with the thin politeness of a particular kind of Englishman when they have come to think of life as a social game, he says, 'This is for the website, is it?' sceptically, as if the invention of the internet itself were somehow an impropriety, either against him, or against the Queen, one couldn't be sure.
We begin in the bar area with champagne, which is perfectly acceptable although ever so slightly warm – like one of Rankin's tepid compliments which I hear him pay to a group of regulars as they enter, readying themselves for Rankin's inevitable embrace. They looked happy to be here, raising expectations of some imminent thaw.
We try to enter the spirit of the evening, and discuss the great issues of the day. Then, watched by Rankin – he is the sort of man who looks at everyone's back with a retired assassin's quizzical interest – we move through to the main restaurant and are parked next to the till. Behind us, Rankin seats himself at a table full of people he deems important. From this blessed station, throughout the meal, there will emanate the mirthless laughter of people who are pretending to be friends: Britain is a nation of acquaintances.
Resolved to enjoy ourselves, we scan the menu. There, as a sort of oasis in the deserty shouts of Rankin and his friends, we note the possibility of caviar – for which the place has a deserved reputation – and order that. Beginning to cheer up after our dubious initial reception, we order a becalming glass of Château Carignan Premières Côtes de Bordeaux 2012 as well.
Happily, the caviar arrives and we begin to think that the initial blip may perhaps be overlooked. But just as I am building my first bit of bread and caviar, a sort of Martian glow occurs over my first mouthful. This is the emanation Rankin's ruddy face makes under candlelight as it hovers into view.
He looms over us, frowningly, like a headmaster who has caught a pupil cheating in an exam. 'Caviar, eh?' he says. He looks as though the economics of the decision are distressing to him. And indeed, a few minutes later, we see him hunched over the till, prodding at it in the vexed way my grandfather used to handle an iPad in his early nineties.
Resolutely, we eat our caviar: it is delicious, although peppered not so much with pepper as with the enormous shouts of Rankin's table. By the time we arrived at our main courses – a picatta of veal with truffle oil, and an exceptional steak tartare, with pommes pont neuf – we were in no doubt that the place's chef, Stéphane Pacoud, was an artist of some note.
Even so, the evening had a certain drag to it, and pudding was beginning to have the feel of a consolation prize. That came in the shape of some caramel ice cream, which was somehow anticlimactic: we taste not just the food in front of us, but the experience we've had.
We chose to leave, having had an amusing but ultimately disappointing evening. Rankin, seeing us do so, rose from his throne at the head of a gust of hoary-headed guffaws, and sought to shepherd us out onto the street where, one felt, he would have preferred us to be all along. 'I'll look forward to reading your deathless prose,' he said.
One is anxious not to meet one rudeness with another in the shape of this article – except to say that once one has chosen to review somewhere one has the duty to tell the truth.
Christopher Jackson is deputy editor of Spear's