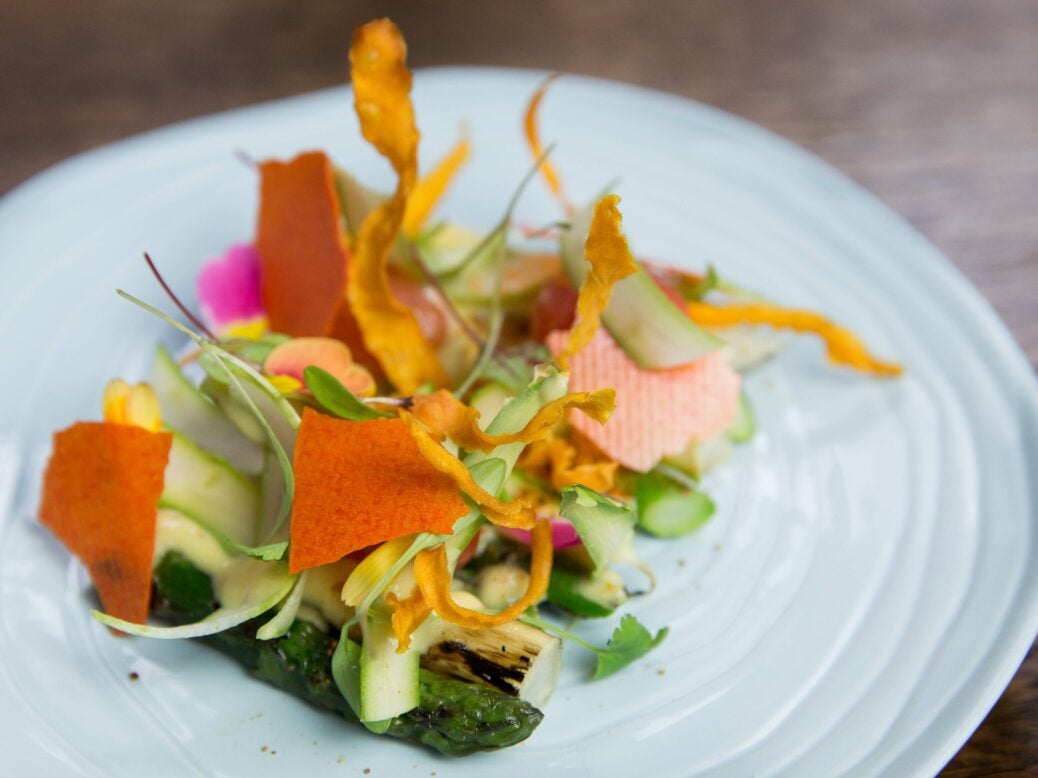 Christopher Jackson heads to Lima in Fitzrovia and is delighted by its Peruvian panache
Lima is on Rathbone Place, an evocation of Peru in the middle of Fitzrovia – just far enough away from Oxford Circus, where all is pain and gnashing of teeth, to be acceptably located. On the night I went there, summer had arrived. It would be bright inside throughout: diners would have that pleasant May-June sense of having somehow smuggled the afternoon into the night.
The décor at Lima is bright in any case – white as a good idea dawning. We were shown through to a nook at the back: this meant we were denied the chance to sit beside the front window and watch the world drifting up towards Goodge Street, or to see people screaming as they ran from the inferno of shopaholics at Zara and House of Fraser.
A flamboyant waiter – a motif of the place, everyone seemed very happy in their work – delivered us our menus, and began extolling the food. This is one of those places where the staff cannot help but opine on their favourite dishes – a sign of a happy ship.
The menu itself looked a dizzying affair with more information than four tired people could plausibly be expected to assimilate at the end of a long day's work. The waiter signalled that this was no problem and prescribed us not only some shots of tiger milk – which burst through my brain as Jeeves's hangover remedies did for Bertie Wooster – but also indicated that he would step in and supervise our decision-making.
Ten minutes later, in a flurry of colour and flair, a suite of meals arrived. Amid the general splendour, I discovered octopus with quinoa and Alfonso olives; sea bream ceviche with avocado and sweet potato; and suckling pig, which came with sofrito – a sauce consisting of garlic, onion, peppers, and tomatoes cooked in olive oil – pineapple syrup, and strategic sprigs of rosemary.
I took the decision to discipline myself by beginning with fish. Particularly vivid in memory is the salmon tiradito with coconut tiger's milk: from above it looked a bit like a margarita pizza with unusual dollops of tomato. To taste was another thing altogether: the party of the sauce swimming in and out of the sashimi shapes.
If all evenings have turning-points then ours was undoubtedly the decision to move from beer to piscos – these liquid rockets launched us into another stratosphere, and not always a predictable one. One friend, a lifelong liberal noted for his employment at the Guardian, after three or four of these started extolling the Trump administration.
But what are old friends but to tolerate the increasingly right wing tendencies that come to all those who start to earn enough money to pay tax? Besides, we were not really in any mood to discuss politics when there was the food to praise. Now I was moving onto the meat and was presented with my favourite dish: the beef pachamanca – basically beef cooked with the aid of an earthen oven – with rocket, olive oil and sea salt.
This was a fine evening full of freshness and fun – with the added bonus of being something of an education. It was a reminder that we are living, notwithstanding Brexit and Trump – whom my friend was still praising with pisco-fuelled vigour when the desserts came round – in a global world. Peru might be a twenty-hour flight away, but I don't find this fact distressing: its cuisine is twenty minutes from my office – and I plan to go there often.
Christopher Jackson is deputy editor of Spear's
Related
Review: Quaglino's, St James's
Review: Roux at Parliament Square
Review: Pied à terre, Fitzrovia