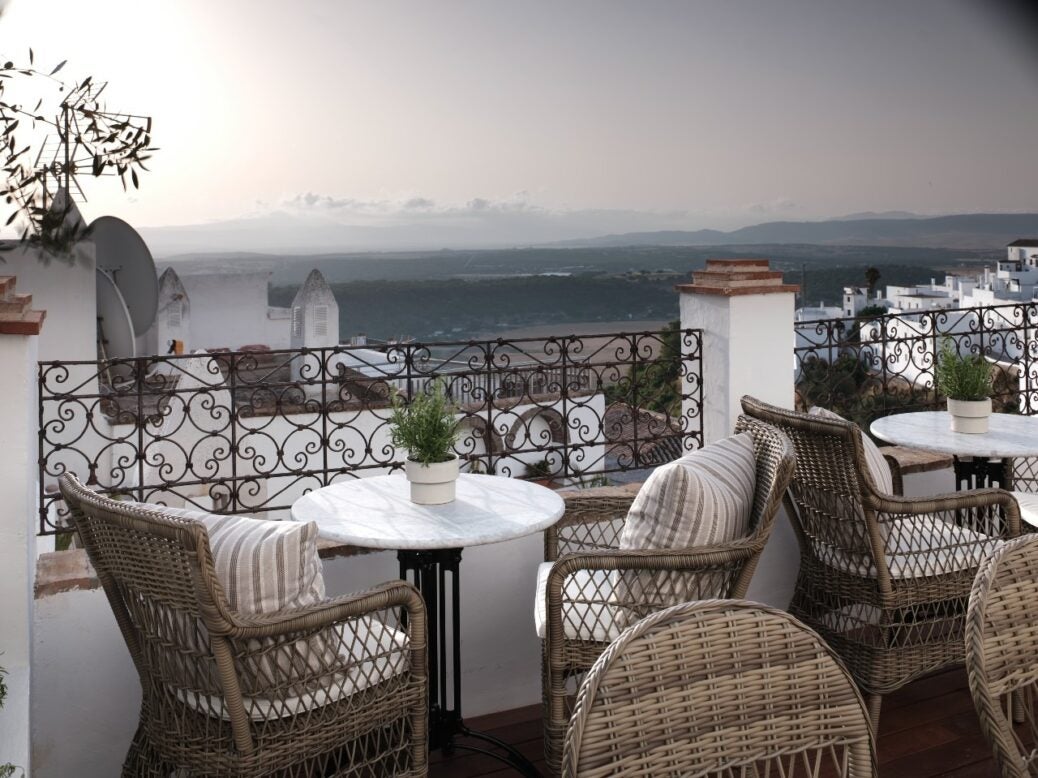 Califer Vejer's Plaza 18 is like visiting the ultra-chic country home of the A-list friends in Madrid you never knew you had, writes Andrew Harris
The early morning sunlight, so bright and fresh, is unceremoniously elbowed aside by the stupendous sight splayed out below as far as the eye can see. Like a gigantic grey lake that's filled up overnight, this massive misty panorama, viewed from my hilltop eyrie, is mesmerising.
No doubt, those down the bottom of the hill, fumbling their way around underneath this other-worldly wedge of grey, have a different perspective.
Up here though, nudging a cobalt sky, and still in bare feet, clutching a coffee I've yet to get around to drinking, it's difficult to imagine how any day anywhere begins better than this.
Spain's southern Atlantic coast, running from the Algarve down to Tarifa, displays a different demeanour to its Mediterranean counterpart. Less developed and incorporating large tracts of national park in place of manicured golf courses, a more measured pace of life determines the direction of travel here.
My morning love-in with the landscape was conducted from the private terrace of Plaza 18, a six-bedroom boutique offering that debuted pre-pandemic, in Vejer de la Frontera, one of the region's pretty white hilltop towns.
Vejer lies some thirty-five miles south of Cadiz, just inland from Cape Trafalgar. For over thirty years it's been home to the enigmatic James Stuart, an ex-pat Scot who has spent the bulk of his adult life, carving out a very tastefully interpreted hospitality fiefdom in this idyllic Iberian atoll.
Among various interests around town that include restaurants and a hammam, his principal hotel, the Casa del Califa, a twenty-room atmospheric warren of sprawling stairways, terraces and restaurants, remains the jewel in the crown. Perfectly situated on the little town square, where the splashes from the ceramic fountain compete only with the shouts of children running around it, first impressions are of an olive oil commercial rather than anything rooted in reality.
Plaza 18, right next to Casa del Califa, delivers a degree of opulence previously unavailable to Vejer's visitors. A substantial 19th Century townhouse, constructed like everything else in Vejer's old town, atop medieval Moorish foundations, it had lain derelict for decades. Instead of incorporating the building into the existing Moroccan-themed Casa del Califa, though, as Stuart has done for years with other neighbouring properties, London-based, award-winning designer Nicky Dobree, was engaged. Her trademark style that she articulates, as 'classic contemporary, timeless and elegant', is now draped all over the property.
Dobree hit the headlines when the Alpine farmhouse she restored twenty years ago, featured on Grand Designs Abroad, where the doyen of design critics, Kevin McCloud, praised her work to the exposed birchwood rafters, citing 'glamour, charm, and breath-taking beauty'. She hasn't glanced back since.
Check-in and administration of Plaza 18 is overseen by Casa del Califa, to which it is connected by a discreet doorway, albeit perhaps a little too discreet for anyone much over five feet nine, conveying an image of a serene, private hideaway. A large atrium, a montera, floods light into the downstairs internal patio at the base of a sweeping marble and iron staircase.
The restoration is as immaculate as it is impressive, with attention to detail, front and centre. Not least due to listed building constraints, the project has taken five years to complete. The montera, consumed a significant slew of time and attention alone after its removal revealed the original lead fittings as simply too delicate for replacement.
The black and white patio tiles were cleaned, and meticulously re-laid onto a new base, with other original features, like the ironwork around the main entrance all lovingly restored back to their 19th Century glory.
This new lease of life afforded to the fabric of the building is cleverly conflated with Dobree's inspirational expressions of elegance. The result is a style statement that's neither traditional nor contemporary, delivering a sense of restrained glamour that captivates from the first steps across the threshold.
Or in Dobree's own words 'the overall aesthetic is pure, elegant and comfortable', as is immediately evident in the downstairs lounge. A large portrait of Lord James de Saumerez, a British admiral and contemporary of Nelson, presides over the room, no doubt there to embellish the Trafalgar connections. Whilst it transpires that Saumerez wasn't actually at Trafalgar and he and Nelson couldn't stand each other, that's no matter, he definitely looks the part, with his patrician gaze trained on the well-stocked honesty bar.
Six bedrooms all run off the first floor, behind majestic black lacquered doors and their custom-designed big brass handles. They all have different layouts, are individually designed, and incorporate artworks and pieces curated by Dobree, like a Japanese Boro kimono or Peter Clarke collage.
There are Pierre Frey and Ralph Lauren furnishings, sumptuous Italian bed linens, as well as custom-designed pieces and marble work in the bathrooms. There's also underfloor heating. Room Six is particularly covetable having private access to a roof terrace around the montera, affording stupendous views, which on a clear day extend all the way to North Africa. Dobree also collaborated with a renowned perfumier to create a signature scent for the bathroom toiletries, incorporating the bergamot, lavender and geranium often found wafting through the streets and alleyways outside. 'Pure, elegant and comfortable' this all most definitely is, to which one might also easily add; supremely stylish.
This is a hotel. Technically, that is. In reality, it's more like the ultra-chic country home of the A-list friends in Madrid you never knew you had. With covered private parking a two-minute stroll away, it functions as an under-the-radar sophisticated private residence, lending itself, in particular, to a rental of the entire house. An anti-bling Andalusia, as distinct from its more familiar incarnation along the Costa del Sol, is right outside the door. From Vejer's own authentic, low-key gastro-culture to the beautiful beaches of the nearby Costa de la Luz, and the bodegas of Jerez, just a short drive away, it's all waiting for as much or as little exploration as is desired. Or one could simply stay on that terrace.
Plaza 18 has its own discreet terrace where breakfast and drinks can be taken. It looks down onto Casa del Califa's acclaimed garden restaurant, and as with Room Six's private terrace, also for miles out across the surrounding countryside toward Tangier. With that early mist evaporated, and morning coffee supplanted by pre-dinner sherry, the evening vista is proving to be every bit as hypnotic as the morning's. Alone on the terrace, we're probably already slotted into the two best seats in town and the notion of moving- as in moving anywhere at all- is registering zero enthusiasm. Risking the admiral's icy stare to pour another couple of glasses of what is a particularly fine fino, suddenly seems like the only sensible course of action.
Rooms at Plaza18 from £160-£190, including a la carte breakfast, dependent on season: www.HotelPlaza18.com
Ryanair flies London Stansted to Jerez: www.ryanair.com
Read more
Diving and sailing around Raja Ampat, Indonesia: One of the last few pristine marine reserves
Max Johnson on Amankila, Bali: 'Exudes luxury and comfort'
La Mamounia hotel review: More than ready to saunter out into the post-covid sunshine