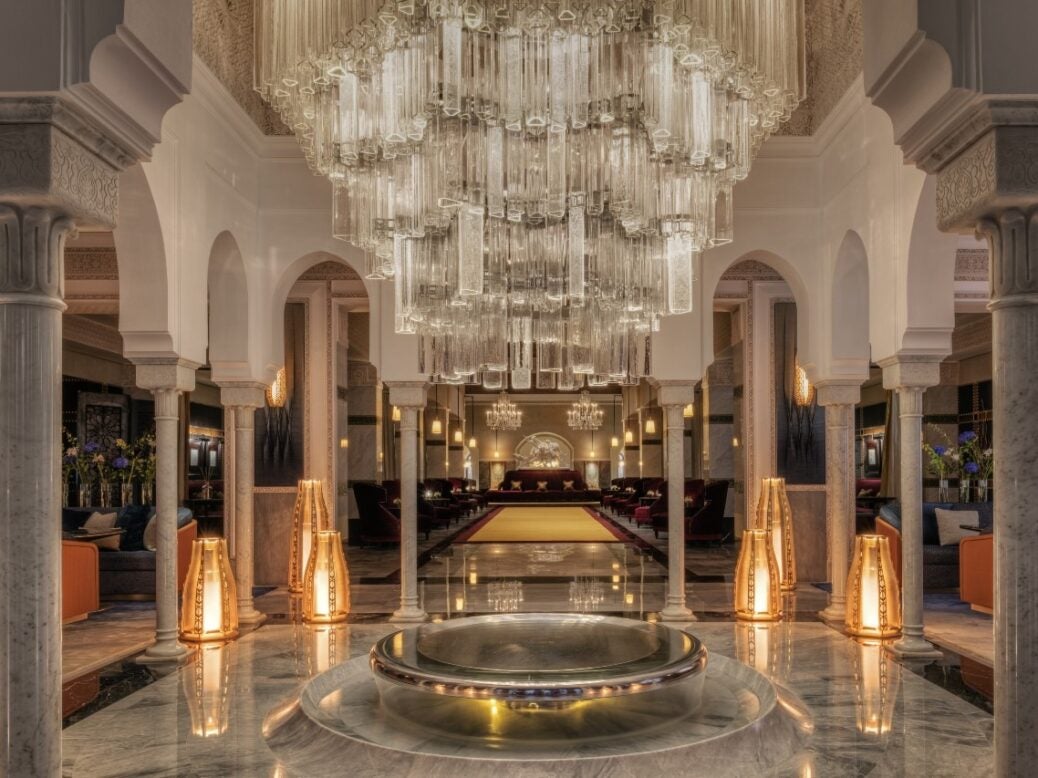 La Mamounia's latest suit of clothes has it looking as effortlessly elegant as ever, and more than ready to saunter out into the post-covid sunshine, writes Andrew Harris
If like me, you're a bit of a sucker for grande dame hotels, Marrakech's La Mamounia will suck you up in a heartbeat. The endless roll-call of celebrity stretching back to its 1923 inception often cites Winston Churchill as an ardent admirer. Gazing out toward the rose-hued Atlas Mountains, he famously remarked to Franklin D Roosevelt, who he'd lured there following the 1943 Casablanca conference, he thought it 'the loveliest spot in the whole world'.
Hitchcock was similarly smitten enough to film his 1956 thriller, The Man Who Knew Too Much, at the property, Churchill, was the man who knew a stunningly opulent grand hotel when confronted with one.
La Mamounia has undergone several transformations since its initial deco-orientalist incarnation, and the hotel has utilised 2020's year of living dangerously, where Morocco was quick to enforce strict covid counter-measures, to undertake its latest design overhaul from Paris-based JouinManku Studio.
Confined to communal areas, it inaugurates two new dining spaces under the tutelage of New York-based, Alsace-born, celebrated chef, Jean-Georges Vongerichten.
Patrick Jouin and Sanjit Manku, have forged a stellar reputation for strikingly imaginative conceptual design. I'd encountered them previously at the launch of a design-intensive cruise ship (a billion bucks worth of boat allegedly) setting sail amidst spectacular examples of their work. They were back at La Mamounia for its re-launch. As were Jean-Georges and Pierre Hermé; for many, the world's pre-eminent pâtissier.
The legend of La Mamounia begins with a garden; the 20-acre secretive oasis of serenity that still sits behind the hotel. A wedding present from Sultan Mohamed III to his son Prince Moulay Mamoun in the 18th century (from where the hotel's name derives), this timeless sliver of horticultural heaven encompasses 700-year-old olive trees, 5000 rose bushes, towering date palms, and an extensive arsat (kitchen garden).
Pitch-perfect birds chirp through shifting shafts of piercing sunlight as if rehearsing for ornithological Mercury Music Awards.
The gardens remain the heart, if not the soul of the hotel. Recent times have witnessed luxury hotel brands scrambling for a foothold in North Africa's emergent capital of cool. But with the Koutoubia mosque and the famous mad melee of Jemaa el-Fnaa square, just a short stroll away, La Mamounia, sprawled contentedly across the centre of Marrakech, owns its first mover advantage like a birthright.
Whilst tradition and faultless standards of service from the 600-strong staff are ingrained into the hotel's DNA, Jouin and Manku have introduced a design motif capable of speaking to the Instagram generation without disrupting all the Omar Sharif old-school glamour.
Lights are 'redesigned to remain forever suspended in a present without end', whilst 'everything must change so that everything can stay the same' (actually lifted from Di Lampedusa's, the Leopard). There's little doubt, however, about their ability to create mesmerising spaces, and, as demonstrated so succinctly at La Mamounia, to successfully embed them into existing ones.
Pierre Hermé's salon de thé has acquired one of their trademark objets extraordinaires, a huge glass chandelier dangling above the gentle murmurings of a new fountain. The simplicity of light and water ingrained into Islamic architecture, Sanjit explains, was fundamental to their inspiration for La Mamounia.
The longstanding Churchill Bar now transformed into a smaller yet seductively sensuous space venerating all things champagne and caviar permits the creation of a 20-seat cinema. Marrakech and environs have long been a favoured film location, with 'Le Churchill', becoming a nocturnal networking honeypot during the Marrakech Film Festival.
In its 20th increasingly successful year, the big beasts of Hollywood that it consistently pulls in, are now one small step from a sumptuously appointed screening room.
The 28 metre by 28 metre spectacular slab of swimming pool exudes an unassailable aquatic allure from its expansive verdant setting. As with the majestic spa and hammam (bigger than the average boutique hotel), design nips and tucks are deferred for now.
The poolside pavilion, though, where guests, over a shaded breakfast or lunch, study their fellow guests across the water, who nonchalantly study them straight back, is sprinkled with JouinManku fairy dust.
Another enormous chandelier hovers over lava stone serving stations, dominating a sleek space that wouldn't look out of place in an Emirati palace. An anteroom, showcasing Pierre Hermé's talents, the 'temple of sugar', as Sanjit labels it, has Hermé's and JouinManku's creativity synergising superbly as perfection in pastry is laid out atop hand-beaten copper like Bond St jewellery.
Beside the pool, three imposing structures resembling giant lanterns, immediately corral the attention. Unmasked as nothing more mysterious than super-stylish spaces of shaded seclusion, they form a dramatic demarcation between pool and property within which guests can also dine discreetly. A subterranean area below becomes an oenethèque, where up to 12 guests can mount a private-dining assault on some of the world's most covetable wines.
But the meat in 2020's re-design sandwich is undoubtedly the celebrity cuisinier and his two restaurants: L'Asiatique, specialising In South-East Asian cuisine, and an Italian restaurant, L'Italien. Seven years spent cooking in the Far East where, as a young chef he references a 'gastronomic epiphany', is as much a hallmark of Jean-Georges Vongerichten's work as the preceding seven-year grounding in the French culinary arts. This is a French chef, not necessarily guaranteed to be accompanied by a French restaurant.
'Somehow I felt that French food was destined to be merged with Asian food,' he explains to me over a hastily convened chat. Indeed, from Jean-Georges, his Manhattan flagship restaurant and one of only four in N.Y. to boast four coveted New York Times stars, he has emerged as perhaps the most prominent exponent of Asian-French fusion. Does he still regard himself as an arbiter of French haute cuisine? 'I am a citizen of the world,' he flashes back,  followed by, 'a cook of the world'.
And he's certainly that. L'Asiatique, and L'Italien, where covid constraints meant that Vongerichten coordinated their set-up by Zoom, represent restaurants 40 &41 in a burgeoning global gastronomic empire. He confesses that in normal times, almost a third of his life is spent travelling, but from which he draws constant inspiration. When he announces that he's been busy preparing us a 17-course menu for that evening's inaugural dinner at L'Italien, it seemed only right and proper to encourage his seemingly limitless energy back toward the stoves.
Any nagging concerns about over-stretched top-flight chefs spending too much time in the air instead of in the kitchen, vaporised somewhere between courses one and two as 'the cook of the world' dug deep into his métier to deliver some truly superlative cooking. At L'Italien, Jouin and Manku have produced a delightfully uplifting and light-infused space around an open kitchen that blends seamlessly into the adjacent gardens.
In L'Asiatique, they have opened up the original Moroccan backdrop, and allowed their sophisticated design skillset to remould the room into a gorgeous and irrepressibly romantic oriental restaurant.
Patrick Jouin had earlier indicated that an overarching ambition at La Mamounia had been to equal the standards Jean-Georges famously sets for himself. He can sleep easy.
La Mamounia's latest suit of clothes has it looking as effortlessly elegant as ever, and more than ready to saunter out into the post-covid sunshine.
Rates at La Mamounia start at 5,500 MAD(£450) p.n. in a Hivernage Classic Room. www.mamounia.com
Read more
Meet Pierre Hermé, the macaron maker so famous he has his own waxwork
The Fife Arms review: Hauser & Wirth founders' supremely sophisticated Highlands hideaway
Paradise found: On Lake Como's timeless appeal
An adventure through Sri Lanka, the 'land of serendipity'