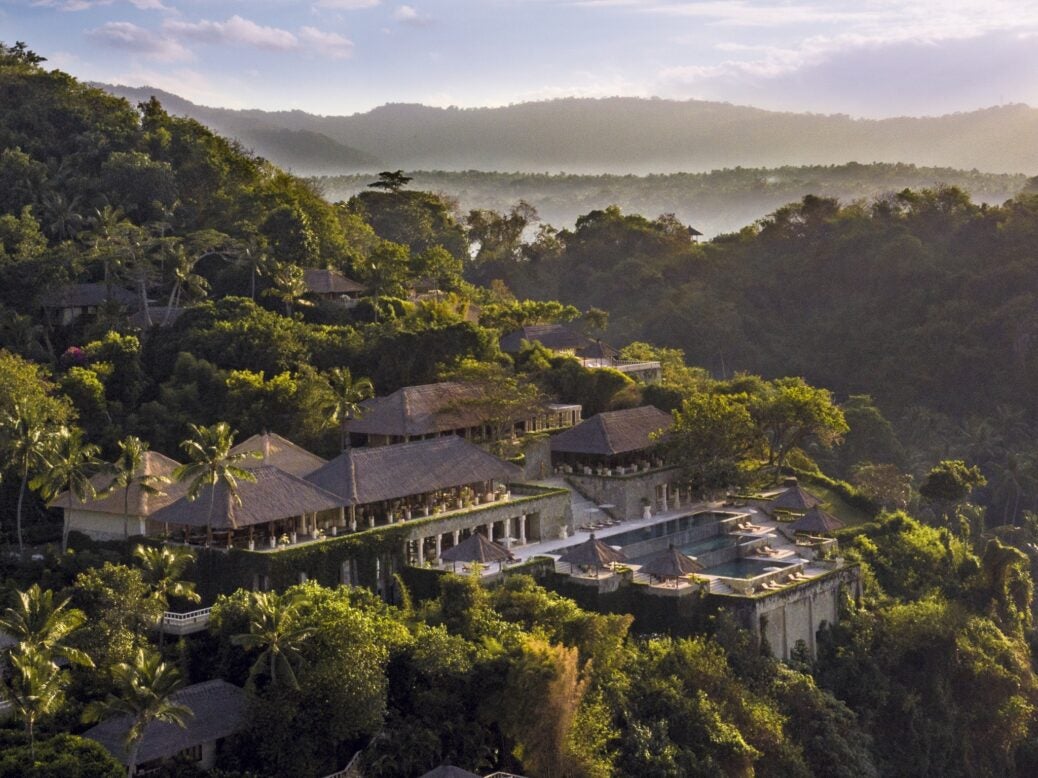 Set in the foothills of Mount Agung above a private beach, Amankila or 'Peaceful Hill' exudes luxury and comfort, combining exceptional food, engaging experiences and nourishment for the mind, body and soul, writes Max Johnson
East Bali is rarely explored but the resort is only an hour's drive along the coast from Bali's main airport Ngurah Rai. It feels like a sanctuary from the bustle of the rest of the island.
The sounds of scooters are blissfully replaced by birdsong. The suites are cool, spacious and quiet, all coming with private terraces. Elevated above the ground and surrounded by vegetation, looking out over the Lombok Strait.
In the distance is Lombok Island. In the mornings a salty mist floats over the water making way for a brilliantly clear sunny day. Then sunset fills the sky with a rosy glow. It's like this every day.
This is Karangasem, Bali's most traditional regency, home to many cultural and religious events.
Amankila has a classic feel. The suites are spacious and delightfully cool, spread out along elevated walkways that criss-cross the hillside. Trees, flowers and birds surround them and the unobstructed views of the ocean are magnificent.
Many of the rooms have long, infinity pools, and a shady terrace for whiling away the afternoons. The interior has recently been refurbished with the latest tech. iPads, quality speakers, and a delicious range of snacks and refreshments make staying in very enjoyable.
But then you would be missing out on all the fun that Amankila has to offer. Perfect for couples or families there is a range of activities to entertain. The cooking classes with sous Chef Jati are popular, starting from gathering the ingredients in the onsite vegetable garden, through to the private lunch where your loved ones can enjoy your creations.
Particularly enjoyable was how detailed the class could go if you wanted, down to understanding how to make the individual curry powders.
Along a short walk through the forest lies a private beach, dotted with secluded beach beds, and if the three infinity pools above were not enough, the property has its own beach club complete with sailing, SUP, bodyboarding, volleyball and another enormous pool.
The blue lagoon of Manggis is but 5 minutes by boat for scuba divers or snorkelers. On land there are treks, cycle rides, ATV tracks, yoga, a gym, and even bootcamp classes at the outdoor fitness course, or you could just sit back in the private cinema.
The kitchen here is one of the finest in Bali providing for three restaurants. A highly recommended meal is the rijsttafel – almost an Indonesia tapas if you like, an array of dishes to tease and tantalise. All delicious. Favourites were the Lulur Panggang – a chargrilled beef fillet – and the Ikan Bakar (grilled Mahi Mahi). Homemade sorbet was a joy to try, served in a beautiful frozen globe.
It is worth getting up at dawn to visit Tamansari Hill and from there looking at the awesome view of Mount Agung, one of Bali's active volcanoes, fortunately it's a safe distance away. The sun rises over the hills as you are served breakfast and Javanese mountain coffee, bathing the foothills in sunlight and bringing a smile to your face.
Bapak Ernst is not only the GM of Amankila but also Aman Indonesia's regional director. His experience shows.
Aman is rightly known for curating an entire in-country experience from Amanjiwo in Borobudur, to the three properties in Bali (Amandari, Aman Villas at Nusa dua, and Amankila) and Amanwana – a luxury tented experience on a remote island – to Amandira a two-masted Phinsi sailing yacht, perfect for exploring far-flung islands of the Indonesian archipelago Flores, Komodo, and Raja Ampat.
There is no one way to visit Bali, nor any way that is better than others, but if you are looking to connect with nature, your loved ones, the island's culture, and who knows maybe even enjoy a little me time, then there is no better resort than an Aman.
Suites starting from: GBP538++/night. Reservations: indonesia.res@aman.com. Privately curated Indonesia / Bali country packages in multiple properties also available. Getting there/away: Qatar Airways/ Cathay Pacific/ Singapore Airlines to Denpasar Bali. Then car ride to Amankila.
More travel from Spear's 
La Mamounia hotel review: More than ready to saunter out into the post-covid sunshine
The Fife Arms review: Hauser & Wirth founders' supremely sophisticated Highlands hideaway
Paradise found: On Lake Como's timeless appeal