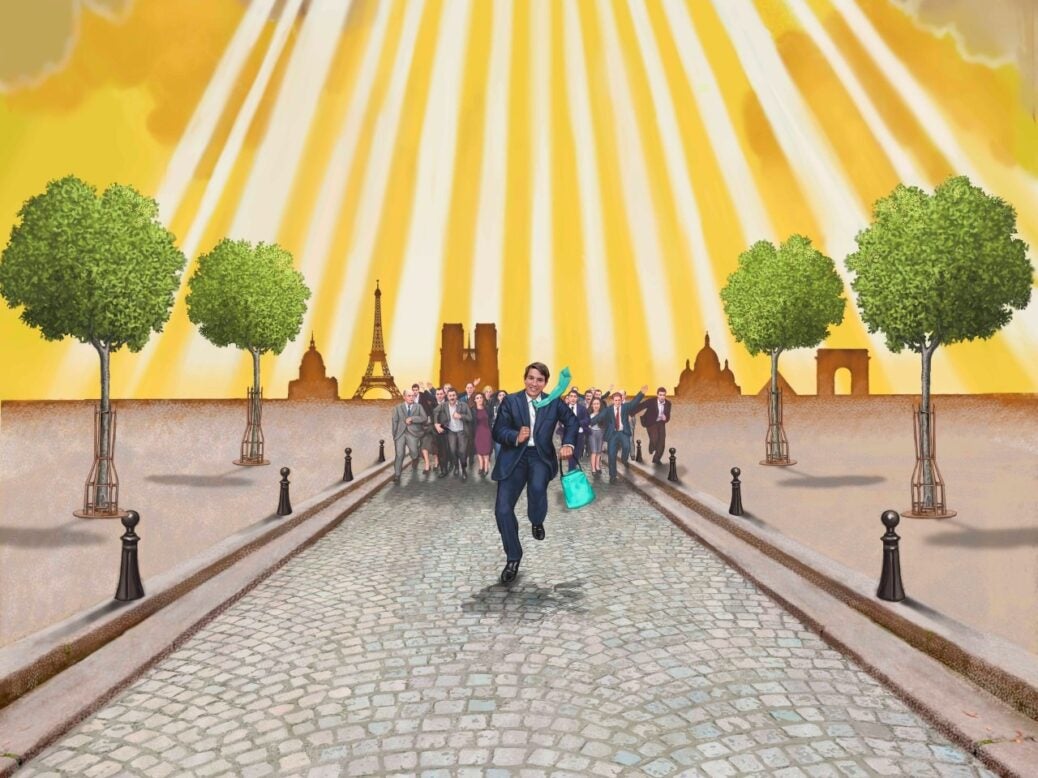 The corporate blessing received by one of Bernard Arnault's chosen sons earlier this year revivified an old stereotype: of silver spoons, corner offices and promotions beyond one's ability. But, for a scion, reality is often quite different, says James Ashton
When LVMH concluded its $15.8 billion takeover of the US jeweller Tiffany & Co in January this year, it was time for the hard work to begin. The French luxury goods conglomerate might have thought twice about the deal as the Covid-19 pandemic battered high-end consumer spending, but having negotiated a discounted price, the chairman and chief executive Bernard Arnault declared himself 'optimistic about Tiffany's ability to accelerate its growth, innovate and remain at the forefront of our discerning customers' most cherished life achievements and memories'.
To realise the ambitions of the so-called 'wolf in the cashmere coat', who over many years has assembled a luxury powerhouse that includes Christian Dior, Fendi and Veuve Clicquot champagne, Tiffany quickly shuffled its management. In came two trusted executives from LVMH's Louis Vuitton handbag brand and, arriving as executive vice president responsible for product and communications, Arnault's 28-year-old son, Alexandre.
Arnault senior has kept his friends close but his family closer over decades of business success that has made him one of the richest men in the world. Including Alexandre, who previously ran the Rimowa luggage maker, four of his five children have roles within LVMH.
Alexandre's younger brother, Frédéric, was last summer anointed as chief executive of Tag Heuer, whose smartwatch activities he had been overseeing. Meanwhile, Antoine, a 16-year company veteran, serves as group head of communication and image, and chief executive, of Berluti, the leather brand. Delphine, the eldest, is executive vice president of Louis Vuitton and joined the group's executive committee in 2019.
In an era when meritocracy and transparency are twin watchwords that many modern businesses live by, it is striking just how commonplace corporate scions remain. Dynasties including the Wallenbergs, Murdochs, Rothschilds and Botíns hand on the baton from father to son – and, increasingly, daughter – as if no one else can be entrusted with ultimate responsibility. These scions are the chosen ones, growing up knowing that one day all this will be theirs. But with a comfortable childhood and the trappings of wealth comes the pressure of living up to your name.
Envious outsiders may disagree, but this is a leadership type fraught with challenges. Scions often follow in the footsteps of founders who worry that their children are not hungry for success as they were. Some embrace their family empire and succeed in growing and improving it, by learning from their parent but modernising when necessary and perhaps surrounding themselves with cleverer lieutenants. Some divert from the legacy, moving quickly to take the enterprise off in a whole new direction – not always yielding the best results. They must be careful. It takes a handful of generations to build a business empire, but sometimes only one to sweep it away. And the tough decisions required by scions can be coloured by preserving the broader family's primary source of income and often navigating sibling rivalry, too.
That one of the Arnault offspring will one day replace their father at the helm of LVMH is no less predictable than the succession that took place at Banco Santander seven years ago. At 7.47am on 10 September 2014, the Spanish financial services group disclosed to the world that its powerful leader had died. Emilio Botín was a giant of the banking world. Known as 'El Presidente' to his staff, over almost 30 years he turned a little-known Spanish lender named after an unremarkable northern port city into a global brand, snapping up banks in the UK, US and Latin America.
At 4.44 pm on that same September day, a further statement was issued by Santander. While expressing 'deep sorrow' at the loss of Botín, the board of directors announced that, following a meeting of the appointments and remuneration committee that morning, they had unanimously agreed to appoint his daughter, Ana Botín, as Santander's new chair. The committee considered the 53-year-old to be 'the most appropriate person, given her personal and professional qualities, experience, track record in the Group and her unanimous recognition both in Spain and internationally'.
Despite the air of due process, it was written in the stars that she would one day succeed her father as he had succeeded his father and so on. Banco de Santander was created in 1857. A Botín had been managing director of the institution as early as 1895 and Ana's grandfather became permanent chairman in 1923. But to dismiss the move as pure nepotism is to forget about the years Ana Botín had already spent in the business, including in 2010 when she took over at the helm of Santander UK, a scale player in savings and mortgages stitched together from three smaller lenders: Abbey, Alliance & Leicester and Bradford & Bingley.
'My father said to me, "I'm going to bet five million Deutschmarks on you"'
Jean-François Decaux knows what it is to prove you are worthy. In September 1982, JCDecaux's bus shelters had become a familiar sight in many towns and cities, installed and maintained in return for the French company earning a fee from the advertising panels they incorporated. But in Germany, there was nothing: no advertising inventory, no office, not even a telephone line – which was why Decaux began making calls to drum up trade from the street. What he did have was a challenge from his father Jean-Claude, who had set up the company that bore their names 18 years earlier and had already expanded beyond its home market into Belgium and Portugal.
There is no job for you with me in France, the law graduate had been told. If you want to join the family firm, pick your own market and grow it from scratch. Decaux junior chose Germany because he had studied the language at school. What he didn't realise was that 60 per cent of the market was controlled by a company owned by the local authorities of Frankfurt and Munich among others, which meant his biggest potential customers were also invested in his greatest rival. Yet if he wanted to get on, he knew that failure was not an option.
'My father said to me, "I'm going to bet five million Deutschmarks on you,"' Decaux recalled. 'He said, "I don't speak German; I don't want to go there. You go there, you know how the business model works because you grew up in the middle of this. If you lose the money, you will still be my son, but you will not be fit for this business."' So much for scions' easy ride.
Now Decaux fils is the smooth and confident co-chief executive of JCDecaux, it is clear the bet paid off. Decaux said: 'I could easily have gone to work for L'Oréal or Procter & Gamble but proving to my father that I was capable of meeting the challenge was something which was very appealing for me.' Pleased with the results, it was no surprise that his father sanctioned sending his two other sons, Jean-Charles and Jean-Sébastien, to develop Spain and Italy respectively when they joined the family firm in 1989 and 1998.
Putting a scion at the helm of a company is often an emblem of long-term thinking from which all shareholders benefit – even if the boards of family businesses tend to be less diverse, as was noted in EY and the University of St Gallen's Global Family Business Index. In 2019 the same report found that total revenue of the top 500 family firms was up 9.9 per cent compared with 8.6 per cent in the Fortune 500. In a 2018 report, Credit Suisse found that family-owned companies – those where founders or descendants hold at least 20 per cent of the shares or the voting rights – had outperformed non-family-owned companies since 2006. They tend to exhibit better top-line growth, higher profitability, lower borrowing and make decisions with longer time horizons, the investment bank said. Many of those that emerge from the Covid-19 pandemic stronger – such as the Arnault clan's LVMH – will have benefited from investing in their products and routes to market over many years.
Superior returns are something the Wallenbergs of Sweden have understood for generations. Their dynasty is one of the most powerful business families in Europe. Through a holding company named Investor, the fifth generation of Wallenbergs manage an empire that includes significant stakes in many of the country's biggest companies, including appliance firm Electrolux and telecoms equipment maker Ericsson. Investor's portfolio was valued at 485 billion Swedish krona (£41 billion) at the end of 2019.
'It is only ownership that counts and not a name, however great and renowned it might be.'
Jacob Wallenberg, chairman since 2005, is thoughtful about how the family acts today and conscious of how the levers of influence have changed over the years. 'When my grandfather walked into a boardroom, regardless whether he owned a single share or not, he would command the day,' he said in one interview. 'His power was based on the strength of his personality and his position in society.' For his generation, he claimed, 'It is only ownership that counts and not a name, however great and renowned it might be.' The most self-aware scions – and some of the most effective – are constantly justifying their existence.
That extends to how they treat their family legacy. Some are subtle and successful such as the transformation of Pinault-Printemps-Redoute (PPR) into Kering. In a 2014 article, François-Henri Pinault, chairman and chief executive of the French luxury goods house, described the handover of power from his father François, who founded the company in 1963.
After a dinner in Paris one Thursday night in 2003 at which father asked son to take over running the family holding company Artemis, François-Henri arrived at the headquarters the following Monday to find the furniture had been switched over the weekend so that now he inhabited the corner office. Two years later when he also took over leadership of PPR, Pinault junior was faced with the familiar scion challenge of leaving things as they were or putting his imprint on them. PPR was a conglomerate involved in building products, mail order and retail and had begun to make in-roads into luxury goods with the acquisitions of Gucci and Yves Saint Laurent.
'I was concerned that our assets were too closely tied to Western Europe, and to France in particular,' he said. 'The company needed to become more international, more growth-oriented, more profitable. So I focused on our luxury segment – apparel and accessories – which had strong potential for long-term growth.' The addition of brands such as Brioni, Stella McCartney and Bottega Veneta, plus the exit from almost everything else, created Kering, a key rival to LVMH.
Less effective was the scion leadership of the Seagram group. That corporate name is a historical relic now, but it used to be one of the world's leading drinks companies with brands including Chivas Regal whisky and Mumm champagne. It was built by an entrepreneurial Canadian, Samuel Bronfman, who sold whisky to US bootleggers during the prohibition era. After he died in 1971 the firm continued to expand under his son, Edgar senior. Dramatic changes took place under the third-generation leadership of Edgar junior from 1994.
'I'm worried about the third generation. Empires have come and gone.'
The first sign that change was afoot came in April 1995 when Seagram traded the bulk of its 24 per cent stake in chemicals group DuPont to build an entertainment empire, first by acquiring film studio MCA in 1995 and later adding record label Polygram in 1998. When Edgar junior rolled the whole business into Vivendi, a French water business that was also aiming to transform itself into an entertainment and internet giant, the timing of the all-paper deal looked good. But it proved disastrous as media and telecoms stocks crashed following the bursting of the dotcom bubble. Despite the disbandment of the drinks portfolio, Vivendi's finances were in tatters.
The Bronfman family is far from broke today. But it is notable that the fears of the founder, known in the business as 'Mr Sam', came true. 'I'm worried about the third generation,' he said in an interview unearthed from 1966. 'Empires have come and gone.'
On the face of it, scions enjoy extraordinary advantages. Rather than having to fend off all comers for coveted roles, they are selected from a narrow field of applicants having been groomed for high office from a young age. They are likely to benefit from a first-rate education, not only at leading schools and universities but also at the dinner table, where insight into the way corporations are run is drip-fed from childhood. This time also offers the opportunity to decide whether such a path is the right choice. What's more, exposure to sink-or-swim challenges, such as the one faced by Jean-François Decaux, provide opportunities for development that the average twenty- something graduate trainee could scarcely dream of.
But there is another side to this coin. A scion's success is taken for granted; their failure magnified. It is not easy to separate a privileged background from the strategic foreground; their comfortable start from what they have done with it. The fact that family businesses so often thrive proves that the model can work. But now and in the future, the best scions will always be those that make thoughtful, far-sighted leaders, no matter what their surname.
James Ashton's latest book, The Nine Types of Leader, is out now
Read more:
How the Hermès tie became a byword for status and good taste
How fashion looks forward after a torrid 2020
The man baking ESG into Blackstone's $341 billion property portfolio