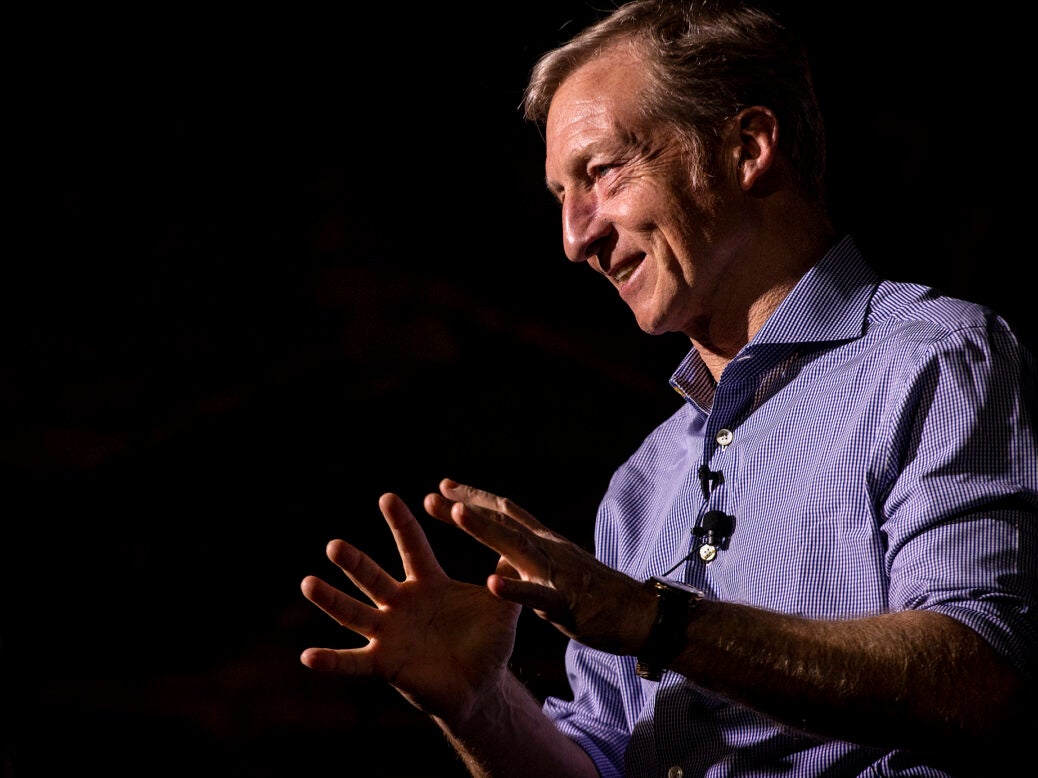 Hedge fund billionaire Tom Steyer failed in his US presidential bid, but his desire to change society – and Wall Street – burns stronger than ever, writes Tom Teodorczuk
More than a few eyebrows were raised in July 2019 when Tom Steyer became the first former hedge fund owner to try to become the Democratic Party's nominee for president.
Steyer's bid for the White House was expensive – the founder of Farallon Capital Management reportedly spent $342 million of his $1.6 billion fortune on his political quest – but it was ultimately undistinguished.
He quit the race in February 2020 after failing to win a single delegate in Iowa, New Hampshire or Nevada. Not that Steyer, 63, who subsequently campaigned for Joe Biden, views it as a failure. 'It was an incredible experience,' he tells Spear's over Zoom from his mansion in San Francisco.
Steyer's penchant for wearing red and yellow tartan plaid ties while out on the campaign trail became a sartorial social media talking point in early 2020, trending on Google and inspiring their own Twitter account. But during our interview he is wearing a blue buttondown shirt and sky blue crew-neck sweater.
Steyer might still dress as if he's ready to spend a Sunday afternoon at his country club, but the policies he espoused during his presidential campaign are anything but conservative.
'I was pushing for certain values, talking about systemic racism and the need for reparations, talking about environmental justice, climate and the need for us to deal scientifically with the future in a way that's just. The things I was talking about are front and centre… I'm incredibly glad I did it.'
Steyer, who now styles himself as an 'activist', says the failed presidential bid reinforced his determination to change the world.
'The great thing about being a candidate is the hundreds of thousands of conversations with people from different backgrounds,' he says. He illustrates this with a story about his daughter Evi, who works in London for environmental VC firm Astanor Ventures.
'She took two or three months off to go door-to-door,' he recalls. 'I asked her what she thought and she said, "I have more personal conversations at the door than I think these people have with their friends, and maybe with their families. Every day someone cries and I cry with them. It's made me a better person and made me more religious." I said, "Ev, you don't even believe in God." She goes, "I do now."'
***
Steyer's own spiritual leader, politically speaking, is undoubtedly Biden. In the run-up to last year's election, Steyer served as cochair of Biden's Climate Engagement Advisory Council, as well as overseeing California's Economic Recovery Council to Covid-19, which has since been disbanded.
During our interview, conducted before the 2020 election, he describes Biden as a 'very compassionate man… I think he's the restoration of American values and a healer of the American soul'. In the weeks after Biden's victory, rumours abounded that Steyer was eyeing an economic or environmental post in Biden's cabinet.
Steyer and his representatives did not respond to requests to comment further. Such an appointment, however, would represent something of a rapprochement after the two clashed on the campaign trail. Biden dismissively dubbed Steyer 'Tommy Come Lately' and criticised Farallon's historical stock, valued at nearly $90 million, in the Corrections Corporation of America, the US's leading private prison corporation, for which Steyer later apologised.
Now Steyer insists they share the same values: 'He cares about working people, he cares about jobs, he cares about environmental justice, and he cares about these things in a human way.'
Steyer believes the 2020 presidential election will come to be regarded as a 'historic' political event. 'Most of the time not much is happening and the world is changing on the edges and the margins,' he says. The 2020 election is 'an absolutely huge turning point'.
Did Donald Trump exceed his low expectations upon becoming president? 'Is he worse than what I expected? This is exactly what I was saying. I was saying incompetence, criminality, corruption…'
Steyer was not 'Tommy Come Lately' when it came to pushing for Trump to be removed from office. He formed the Need to Impeach political group two years before the failed impeachment.
Now he scoffs at the idea that Republican voters in 2016 were impressed with Trump's business acumen: 'Mr Trump's business acumen? This is a guy who has managed to go bankrupt multiple times with casinos! How is it possible to go bankrupt on a casino? You'd have to be extraordinary!'
Whether talking about Trump or climate change, Steyer is not afraid to show passion, frequently raising his voice as he clamours for his causes. His commitment to activism for what one might describe as 'progressive' political causes has become steadily more obvious since he left Farallon.
By the end of his time as a hedge fund manager, he had begun donating more and more to the Democrats and to environmental causes, notably being at the forefront of the successful campaign in 2010 to persuade voters in California to reject Proposition 23, which would have overturned the state's landmark global warming bill.
In a letter to investors in October 2012 upon leaving Farallon, Steyer said he wanted to 'focus full-time on giving back. I want my life to revolve around service in one form or another, including […] encouraging the advanced energy economy, and in specific policy initiatives here in California'.
Now he has rebranded himself as the billionaire who cares; his website proudly lists, under the banner of 'Tom and the People', his crusades against tobacco companies, big corporations and oil companies. Steyer also founded NextGen America in 2013, a progressive non-profit aimed at mobilising the youth vote. Until the pandemic, he says, 'People didn't understand the power of the connection between environmental justice and racial justice and economic justice and climate.'
***
Yet Steyer's Wall Street background still arouses suspicion among many Democrats as the effects of the 2008 financial crisis continue to linger. When he announced his presidential bid, rival candidate Elizabeth Warren scoffed: 'The Democratic primary should not be decided by billionaires.'
When I ask whether it's possible for anyone with a highly successful background in finance to become a Democratic frontrunner, Steyer deftly deflects the question. He grew up on the Upper East Side of Manhattan, the son of a lawyer who was a prosecutor at the Nuremberg trials.
He attended prestigious east-coast educational establishments such as Buckley School, Phillips Exeter Academy and Yale University (where he captained the football team), making his early life reminiscent of the privileged hero of an F Scott Fitzgerald novel. His professional career began with stints in the Eighties as an analyst at Morgan Stanley and Goldman Sachs, where he worked in the risk arbitrage division under future US Treasury secretary Robert Rubin, before moving to San Francisco in 1986.
Farallon, which is still going strong with $32 billion in assets under management, pioneered the concept of the event-driven hedge fund that seeks to capitalise on pricing inefficiencies in corporate events such as bankruptcies, takeovers and mergers.
Steyer also led the way with university endowment funds when Yale invested $300 million with Farallon in 1990. Rick Levin, the American economist and president of Yale from 1993 to 2013, told Institutional Investor in 2005 that Steyer was 'a brilliant investor', adding: 'He has been remarkably innovative and creative in his investment strategies over a long period of time.' When I ask Steyer about those heady days when he built Farallon up into one of the world's biggest hedge funds, he defends wealth creation.
'I love investing, honestly, because I love puzzles and it's a puzzle with infinite variables,' he says. 'To me it's still fascinating. I don't do it now because if you don't do it full-time you don't do it. But do I think investment is still an incredibly important part of society? I actually do.
'It's capital allocation,' he continues, 'and the question is: how do you have the most effective capital allocation in a society? I think investing is really fun and that's something that is part of any vibrant, changing, entrepreneurial, innovative society – backing new things and understanding what productivity is and value creation.'
But he shares the Democrat grassroots consensus that Wall Street must fundamentally change. 'I've been talking to people on Wall Street for a long time to tell them there's this change coming,' he says. 'It's inevitable change. We're going to move to sustainability and it's going to hurt some industries and create some industries.' President Biden, he says, 'will make sure people are protected'.
Steyer warms to his theme of financial overhaul: 'In terms of Wall Street, I've been saying this for a long time and people basically look at me like, "Isn't it interesting that we've got the zoo animals in here to talk?" It's like the talking dog. It's not that it's well done, it's that it's done at all.'
He continues: 'I'm somebody who is for a wealth tax. I think that the inequality in the United States is unbearable, unjust and un-American.' But will financiers embrace a Biden administration?
'Honestly, I don't know. I believe that people who are data-driven and objective understand that Joe Biden is going to be a million times better for the American economy as well as everything else. What he's talking about is actually reality-based, it's objective and professional, and he was part of the team that pulled us out of the 2008-09 recession. The Republicans are the crew that threw us into the Great Recession.'
***
Sebastian Mallaby's 2010 book More Money Than God quotes Steyer on the aftermath of Black Monday in 1987: 'I got no full night of sleep for six months after the crash… my wife and I would come in at like three and just walk around. No market was open.'
Now a rising number of hedge fund managers are having sleepless nights over the perception that Wall Street is perpetuating economic inequality. Last June, for example, Jeffrey Ubben left ValueAct Capital, the activist hedge fund he had co-founded, to launch a new impact investing company on the grounds that 'Elizabeth Warren was right'.
Does Steyer expect more hedge fund managers will follow Ubben's example?
'I absolutely do. We'll have a new world and I think people sense that, including people in capital markets, "OK, I see the train, I gotta get on it." We have a different way of thinking about investment. What you're seeing with Jeff, I think, is the tip of the iceberg.'
Even if Steyer fails to land a cabinet role in President Biden's administration, his fortune has barely been dented by recent political crusades.
He may have not come anywhere near the White House with his presidential bid, but he won't give up on spending big to 'make progress on social, economic, racial and environmental issues' within the American political circus.
Tommy Come Lately's most significant political act may yet lie ahead.
Main image credit: Christopher Dilts
This piece first appeared in issue 78 of Spear's, out now
Read more
Up in the air: Is the decline of airlines terminal?
The US has become a net exporter of instability
How Singapore's vision of the near-future is bringing Davos to the Lion City