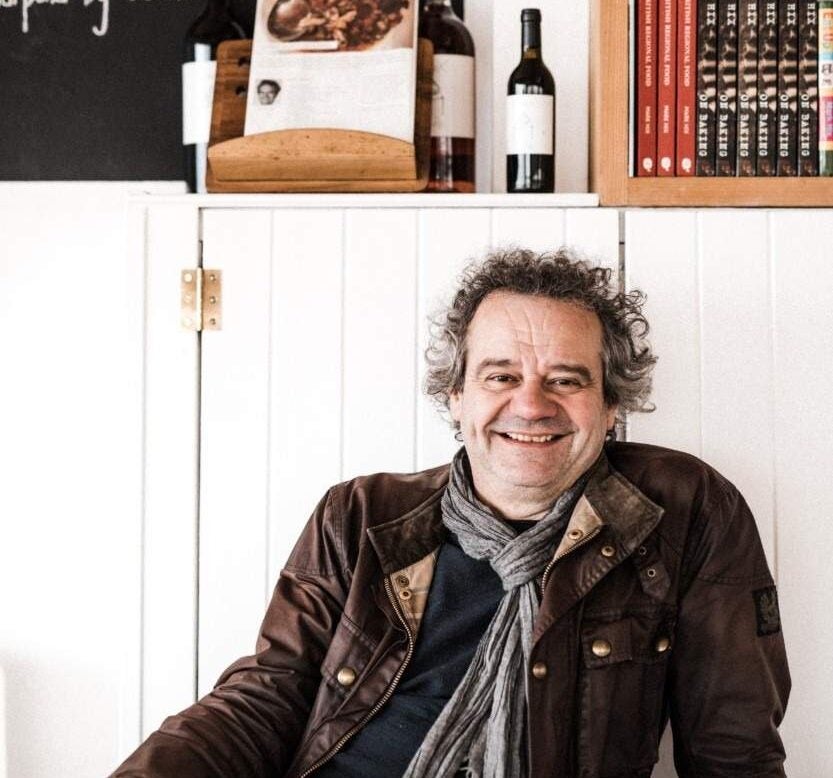 Chef Mark Hix has grand plans in store after a major setback
It seemed like the restaurant world's first high-profile casualty of the coronavirus crisis. On 16 March I'd been talking to Mark Hix as he surveyed the scene at his vast Tramshed establishment in Shoreditch.
'We've got ten for lunch,' he said; the vast installation of Damien Hirst's Hereford cow preserved in formaldehyde now towering over an almost empty restaurant. Days later, the announcement came that his restaurant business, co-owned by hospitality company WSH, had called in the administrators.
Half a dozen restaurants in London and Lyme Regis were immediately shut. Mark Hix, symbol of modern British food culture, a man whose passions were balanced between regional British produce, modern art and having a good time (a lot of the time), had gone bust. But in the ensuing days, friends of his and keen observers of the restaurant business wondered if this news really was caused by Covid-19.
It was known there had been a tussle between Hix's new business partners for some time and that he wanted out, and after 130 staff were made redundant it became clear that the plan was not his.
'This was not my decision,' he said in a statement. 'This was a board decision… done without my support.' It soon became clear that the team could have been furloughed. Instead it was all over and, like the team he had built, Hix was also out of a job.
 On the move
Those same friends who were surprised to see this business fold also sensed that this was not the end for Hix. He owns a large art collection, spread across his restaurants, and while he looks famously glum in photographs his energy and humour mean he doesn't sit still for long.
But in this, his first interview since the crisis in his business life, he is frank.
'I've lost everything,' he tells me from London, where he was hastily retrieving some of those artworks while the administrators combed through the buildings of his now dead empire. 'Suddenly my income has gone to zero and I'm probably five grand a month in debt. It's been a big shock.'
But he'll also reveal some cunning plans to get back up and running rather sooner than his ex-business partners at WSH might imagine. Hix was born on the outskirts of Bridport in the West Country.
Having trained at Weymouth Catering College, he motored through some of the finest London kitchens, becoming a head chef at the age of 22. He was soon chef director of Caprice Holdings, overseeing nine of the most iconic London restaurants, such as the Ivy and Le Caprice.
Then, in 2008, he launched his own business. In the ensuing years he built eight establishments, many stamped with his HIX trademark. And while at the time of writing he may now have none, he's moving quickly. First, he tells me proudly of one new investment.
'I've bought a food truck,' he says. It's a 1999 Chevrolet GMC converted from an ambulance, complete with a gas grill, burner, doubler fryer, two large fridges, a bain-marie and a water heater.
'There I was with no business, no restaurants, nothing, and thinking, "What am I going to do?"
Then I saw this beautiful-looking thing with a fitted kitchen on eBay so I bought it for £8,000,' he says.
'Just imagine: no rents, I just buy the food and flog it.' Hix will use the loyal cohort of suppliers he has built up, including fishmongers who, he says, have been landing amazing fish but struggling to sell them at full rates.
'I'll pay proper market prices and I'll sell teas and coffees, tied herbs and my cookbooks.' So stand by, especially if you live in Dorset, for the arrival of the Hix food truck. But expect also to see him back in bricks and mortar. 'This moment has made me think, "Was I extravagant? Should I have expanded quite so much?" But now I'm in a position where I could buy back some of the restaurants. All I have to do is offer for the fixtures and fittings.'
It transpires that he has been negotiating with administrators who, he says gleefully, 'are like car dealers', and having made two offers he could well be on the verge of signing and getting back his Oyster and Fish House in Lyme Regis and his Oyster and Chophouse in Smithfield.
And he knows of a backer who could help him get Tramshed back up and running. Hix also sees this time as an overdue reckoning for landlords.
'They need to engage with their tenants and become like business partners,' he says. He cites the example of his Hix Soho, which he closed after the landlord doubled the rent to £1 million a year.
'I went from making £100,000-£150,000 a year to losing £100,000,' he says. 'They're just greedy and so they're going to be left with loads of empty buildings.'
No rush…
As he considers fruitful new relationships with landlords based on shared percentages of revenue, there's the big question of when any of this could actually start happening.
'People go to restaurants for atmosphere, ambience, food and wine,' he says, 'and if staff have to wear masks then you are simply just not going to see restaurants open until the outbreak is properly over. Which, I'm afraid, for the most part means hospitality is fucked.'
None of that will stop Hix planning and dreaming. His Instagram videos, filmed by his daughter Isla, have been a hit and he has a new book on the go, a biography tentatively called From Credit Crunch to Coronavirus.
But he also, technically, needs to wrest ownership of his name back from his former business partners. Meanwhile, he's pondering a neon sign for that food truck; in inimitable witty style: Fish and Hix. The Mark Hix story is by no means over…
This piece first appeared in issue 75 of Spear's magazine. Click here to buy and subscribe 
Images copyright Matt Austin/Mark Hix
Read more
William Sitwell meets Olivia Burt: 'A chef with a dream and she doesn't have a restaurant'
William Sitwell meets the family behind Marylebone's Carousel – 'If you join our tribe you get indoctrinated'
William Sitwell reconnects with Sipsmith's gin masters, a decade later