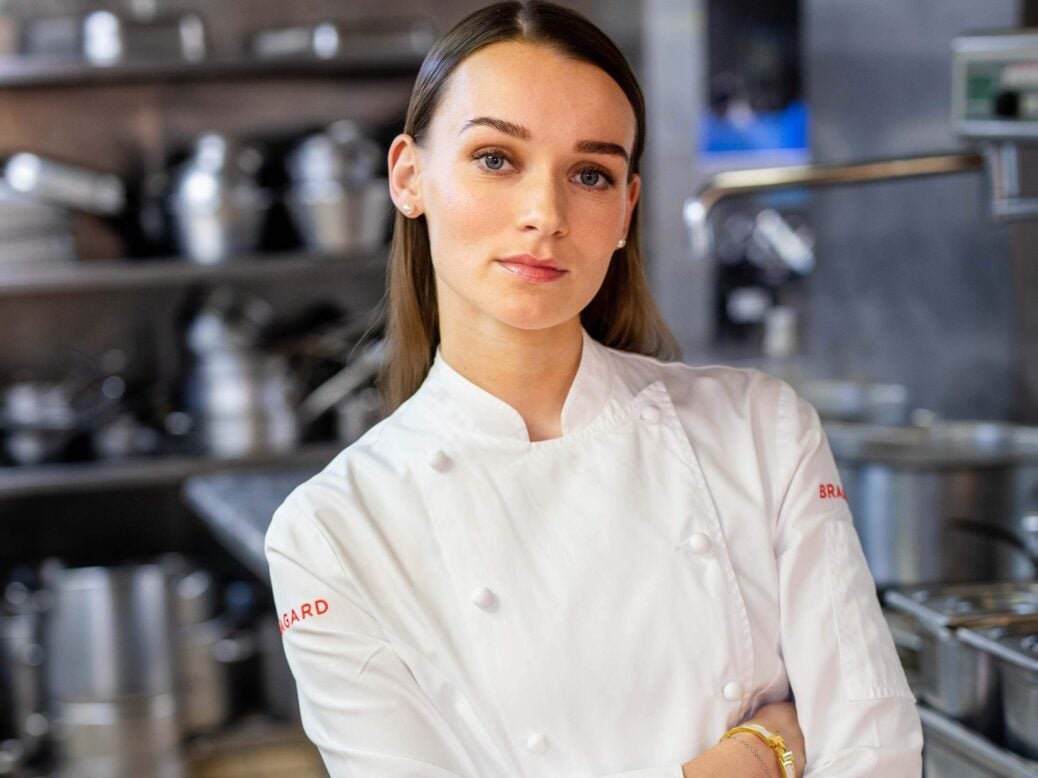 After impressing on MasterChef: The Professionals, Olivia Burt of Claridge's will be a young chef to watch when our restaurants finally open up again
This could be a good moment for Olivia Burt. She's a chef with a dream and she doesn't have a restaurant. So as the hospitality industry settles into its induced coma, or reinvents itself as a delivery service, those who don't have a current business to worry about can dream.
In due course, out of the ashes will come familiar faces, but it's likely that not every restaurant will resurrect. So one of those stepping into the carcasses of eateries that thrived pre-corona will be Burt.
She was bustling along merrily as sous chef at Claridge's when producers from the BBC show MasterChef: The Professionals made contact in early summer last year. Within days she was on the show and, broadcast before Christmas, she lost out in the final to Stu Deeley. But it is Burt that viewers remember, the well-heeled girl with hair tied tightly back and a confidence that matched her cooking precision. I had a taste of her food during one of my own appearances on the show. She brought a memorable plate of steak tartare into the critics' room and I declared it 'the finest I can remember', while a monkfish dish was 'poetry made flesh'.
The MasterChef team had heard about her when she became the only woman to reach the final 18 in the 2019 Roux Scholarship competition. 'People were saying, "Who's this girl?"' she laughs. 'They rang through to the kitchen at Claridge's during service and I told them, "No." They then rang again about nine times and within five days I was filming.' Claridge's was very supportive, letting her work for 30 days on the production. When it was over, she was firmly back at the pass with occasional forays around the country to cook at pop-ups and supper clubs.
Now she has her sights on a solo venture. Her culinary training began at the famous Irish Ballymaloe Cooking School after she'd left school aged 18. She then enrolled at the Cordon Bleu School, studying in both London and Paris, and worked at a variety of places around the world before getting a job at Fera, the then Claridge's restaurant run by Simon Rogan.
She stayed for three and a half years, working on every section, before coming to the attention of the long-standing Claridge's executive chef Martyn Nail, who appointed her as sous in his kitchen.
In at the deep end
She was a 23-year-old in charge of a 24-hour kitchen in a male-dominated environment, many of whom were considerably older then she was. 'It was daunting telling older men what to do,' she says. 'So I might be at the pass and I'd issue some instruction and then be told to my face, "I'm not listening to what a girl has to say."' The answer, she explains, is to 'join the boys and be top dog, to tread a fine line of being with their banter but not involved in it'. Now, at least in non-corona times, she looks after a team of 60 chefs and overseas supplies, ordering and costs.
She runs the pass at lunch and dinner and sometimes breakfast. At just 25 she shoulders considerable responsibility. But it's why she has the confidence to focus on her own project, which, she hopes, might bear fruit in 2021. 'I think there is pressure on chefs who have been on MasterChef to prove themselves,' she says. 'You need to be realistic. There are a lot of boys aged between 23 and 30 who have left the show and want to do the same thing, and you can't separate them.' So being a girl helps… 'But,' she adds, 'the more I look at the industry, the more I feel the need to prove that I can cook and I can run a business. Doing pop-ups and having a few articles written about me is great, but it's not enough.'
Which brings us to that dream, which is in Notting Hill. 'I'd like a place with 40 covers – beyond that I think standards can slip and the team becomes too big. It's modern, but cosy, the colours are grey and white and there'll be art on the walls painted by me… portraits of friends and family.
The tables will be wooden, with tablecloths at night and I'll do great brunch dishes at the weekend.' She muses on coconut porridge with hazelnut butter and maple syrup, almonds and raspberries. A dish of asparagus would come with English cobnuts, aged English ham and Westcombe cheddar sauce. There's a main dish of rack of lamb hogget with mint, hispi cabbage and pickled shallots. For pud she'll serve her recipe for plums and custard.
'I put my recipe online a few months ago and it broke the internet,' she laughs. We revel in a game of imagining opening our own restaurants. She won't offer a name for hers, but I'll put my money on this one happening. It'll be called Olivia's, and I'll have a table for two in the corner, please.
Read more
William Sitwell meets the family behind Marylebone's Carousel – 'If you join our tribe you get indoctrinated'
William Sitwell reconnects with Sipsmith's gin masters, a decade later
How Caravan took over London: William Sitwell meets the founders