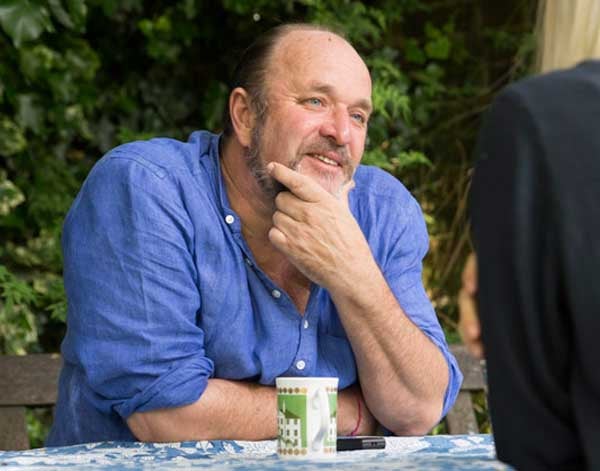 Olenka Hamilton chews the fat with William Dalrymple, the historian and writer whose heart belongs in India
We have a problem. William Dalrymple has already had lunch when I arrive at his house in a leafy yard in Chiswick, his residence for three months of the year.
The front door is open, leading straight into his homely if rather chaotic kitchen, where he stands wearing jeans and a blue linen shirt, which is the same colour as his really quite astonishing blue eyes. He is surrounded by people, papers and musical instruments, in the midst of rehearsal for an evening of words and music he is starring in at the Globe that evening.
'If you'd come earlier, I'd have gladly given you lunch,' he says, beaming. Do I believe him? 'I've just had a very good bottle of claret, some delicious gorgonzola dolce, two types of saucisson.' That would have been nice.
You can get almost anything in India, where he lives the other nine months of the year, he explains, except for good wine, good cheese and good bread. 'I'm a real foodie, as you can probably tell,' he booms, his generous belly wobbling as he laughs, and leads me out into the garden with a cup of coffee in each hand and a blue Indian tablecloth slung over his shoulder.
As India celebrates 70 years of independence, Dalrymple's latest book – Koh-i-noor: The History of the World's Most Infamous Diamond (which has, he says, been flying off the shelves in India), is coming out in the UK. Using newly discovered Persian sources, it fills in the gaps in the journey of one of the most mythologised jewels in the world, from Indian prehistory to the crown of Queen Elizabeth the Queen Mother, where it remains today, controversially to some.
Dalrymple first went to India in 1984 as a student. It just clicked for him, he says: 'My life has changed like a right angle from that point.'
He has since written 11 books to critical acclaim, publishing his first, In Xanadu, at just 22. As a result his name has become synonymous with India, which is remarkable given he grew up on the shores of the Firth of Forth. There was never a question in his mind that he would be anything other than a writer. 'I was given one great blessing in life in that I have only one talent,' he says.
We move on to the topic of Indian independence and former British rule. 'The Indians think less fondly of the British than the British think they think,' he says. 'We go there talking of ties of brotherhood forged by the Raj, and the Indians are rather surprised. Like the Germans turning up in Israel and expecting a warm embrace.'
The comparison stuns me into silence and he keeps talking, explaining that India has always been the richest place in the world, except during the period of European colonial rule. 'Whatever else we may have done for India in terms of bringing them cricket, the law and democracy, the fact is that we arrived in the richest country in the world and left it one of the very poorest; a basket case.'
But Dalrymple is optimistic about India's future, despite it being held back by 'wickedly corrupt politicians'. (Its economy is growing at a staggering pace and is forecast to overtake Britain's by 2020.) He has seen Delhi go from a population of 1 million to 26 million. 'This is a country which is developing, people are educating themselves. They are fantastically brilliant people. Wherever they go in the world they take over the hospitals and run the banks. There's a huge pool of unbelievable talent which will sooner or later find its proper place in the world.'
India has shaped Dalrymple almost as much as he has shaped our impressions of India. He has been a foreign correspondent for the Sunday Times and the Spectator, a prolific historian and travel writer, a photographer, and a co-founder of the Jaipur Literature Festival. 'India has in a sense facilitated all my different enthusiasms, given room for them and stimulated them,' he says.
He is in fact one 16th Bengali and one 16th Mughal, something he was delighted to discover some years after he first fell in love with India. He wonders whether this might explain the sense of homecoming he experiences every time he returns. 'Everything that preceded India was superseded by it, and I will die there I suspect. It is home,' he says.
Koh-i-Noor: The History of the World's Most Infamous Diamond, by William Dalrymple and Anita Anand, is published by Bloomsbury