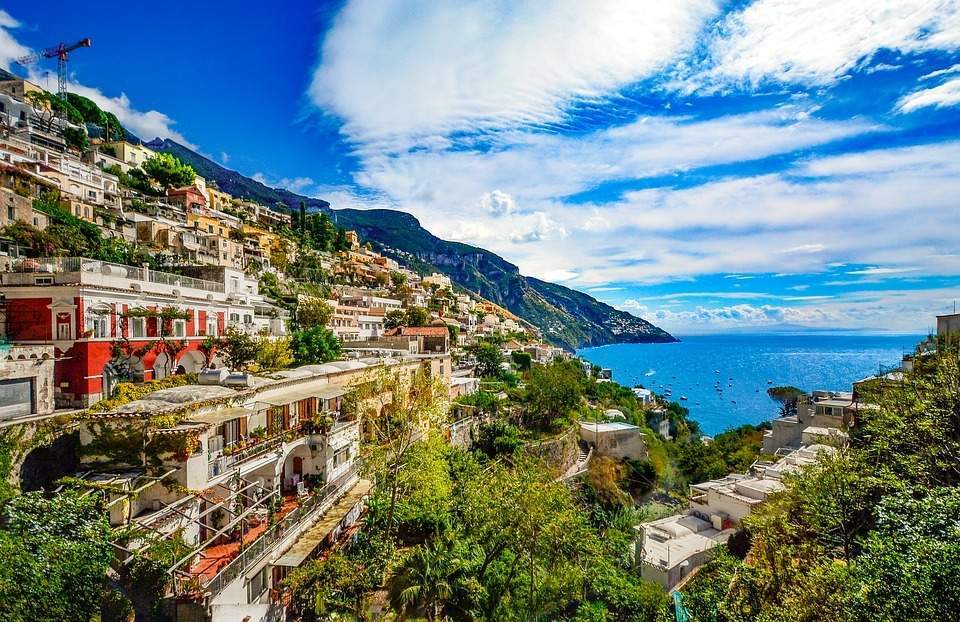 Imaginative hotels along a famous stretch of Italian coastline make a perfect setting for a honeymoon – once you get there, writes Olenka Hamilton
Full of hope as we embark on our married life, we land in Naples and head to Hertz to fetch our hire car, where we collect a ticket and wait eagerly in line. 'How long have you been waiting?' I ask a man hovering near me, just in case there's time for me to pop to the loo and buy a snack. 'Since 9am,' he replies, a distant look in his eyes. It's midday.
Meanwhile, the Monastero Santa Rosa, our hotel for the next few nights, beckons, just an hour's drive away. We wait, we shuffle around, go to the loo, buy snacks, google 'Hertz compensation' and furiously dial numbers which ring nowhere in something like a Kafkaesque frenzy.
Some time later that day – our wedding now a foggy memory – we get the keys to our white Fiat Panda and set off along the winding vertiginous roads for Conca dei Marini, a little fishing village above the Gulf of Salerno. There, like a beacon right on the cliff edge, gleams the white stone Monastero Santa Rosa, a 17th-century monastery which has been meticulously converted into an exclusive hotel with just 20 rooms.
Inside, the atmosphere, which is airy and intimate, encourages you to glide not walk, and to never speak above a whisper. Our spirits rise. The staff gets wind that we are honeymooners, and we are upgraded to the palatial Rosa Suite, which is on two levels. It is supposedly the choice suite of the hotel's American owner and is just below the luxurious and cavernous spa, which used to be the monastery's old cistern.
We immediately regret not having brought more people with us on this trip, and a few extra suitcases of clothes and hats for Edwardian outfit changes throughout the day. The suite's ground floor is a vast open-plan dining and living room, with a separate bar area and views out to sea. Upstairs, our bed is sprinkled in rose petals and next door tea lights float in a bath big enough for three, which looks out over tiered gardens. Alarmed by the romance of it, I strip off and head straight to the infinity pool, where the water falls as though into the sea and the sky all at once.
A kindly waiter brings me a Caprese and a glass of white Furore, the local wine, and I settle into an afternoon of sunbathing. At some point, my husband appears fully clothed and covered in factor 50 and plonks himself in the shade of two umbrellas. If the staff are amused by this display, they are far too polite to show it. 'It's too hot for me too,' says our waiter, who resembles a bronzed Adonis with his Neapolitan glow. I catch his eye, but he remains deadpan.
Made for walking
Since marriage is all about compromise, the following day, after a divine breakfast of sfogliata – the local ricotta and plum pastry – I agree to one of the many 'self-guided' walks along the shaded ancient cliffsides that the Amalfi coast is so famous for. We set off into the hills along the 'path of the gods' ispectn the direction of Amalfi, where we find lemon grove after lemon grove, the most beautiful and sweet-smelling flowers and the spectacular views we were promised.
Half an hour into our three-hour scenic 'stroll', we in our espadrilles and jeans are no longer mocking fellow pedestrians in full hiking gear, laden with poles and energy drinks. Let's just say my calves haven't been quite the same since taking the practically vertical staircase of more than 1,000 steps down to Amalfi. If, however, you do find you can still walk at this point, St Andrew's Cathedral, with its Arabic mosaics and beautifully preserved basilica, is a marvel.
After that unforeseen workout, a feast at the hotel's Michelin-starred Il Refettorio, overseen by chef Christoph Bob, is very welcome. We start with a goat's cheese granola, followed by fresh lobster and rich veal ravioli in a light broth, and finish with petits fours and some pleasingly medicinal Santa Rosa house liqueur. Satisfied, we roll upstairs, clumsily brush the petals aside and fall instantly asleep.
By rickety boat from picturesque Positano, we head to Capri to stay at the Capri Palace, a colossus in the heart of the upmarket and tranquil district of Anacapri. With its whitewashed walls and Doric columns, marble floors and collection of contemporary art, this hotel is vast, light and brash and the service like clockwork. Our suite, the Magritte, comes with its own pool, which is covered in its entirety by a mosaic of Magritte's painting The Son of Man.
We head out to the Villa San Michele, the enchanting former home of maverick Swedish doctor Axel Munthe, who built it in 1885 on the ruins of an ancient chapel. The house has been turned into the most unusual museum, filled with fragments of Roman paving, columns and artefacts, including the head of Medusa and a marble bust of the Emperor Tiberius, all collected on the island by Munthe himself.
The gardens are full of camellias, rose bushes and cypress trees. It's a peaceful and enriching way to spend an afternoon.
Rising standards
'Can I take you on a bread experience?' asks our waiter at L'Olivo, one of three restaurants in the hotel, and the only restaurant with two Michelin stars on the island. It's our last night and we're game for anything, so we embark on a journey through the evolution of the loaf, before eating several courses of duck done multiple ways.
We sit on generous sofas, sinking deeper by the course, and note the number of waiters, each wielding a bottle or manning a trolley laden with everything from cheese and herbs to liqueurs and jars of flying saucers, all of which end up in front of us at some point.
After this final flurry, we head back the next day via Sorrento to Conca de Marini to collect our cursed white Panda, reinvigorated, and in plenty of time to take on Hertz before flying home.
Olenka Hamilton is a staff writer at Spear's 
This article first appeared in issue 68 of Spear's magazine, available on newsstands now. Click here to buy and subscribe.