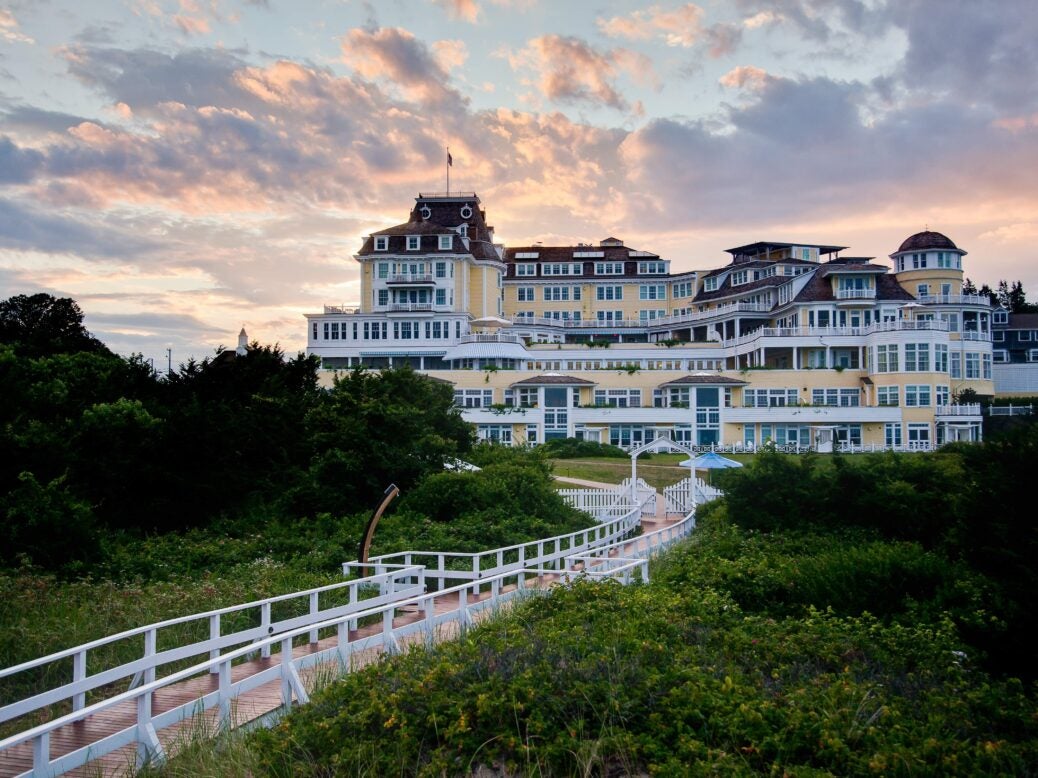 A grand hotel heroically saved from oblivion offers a different order of old-money East Coast elegance, writes Andrew Harris
A hotel no-tipping policy is unusual enough anywhere: in the US such behaviour runs the risk of being called before the House Un-American Activities Committee. But it's another one of Ocean House's quite radical interpretations of customer satisfaction that's exercising my attention, as I focus on the 25mph speed limit in my SL 550 Roadster. A whole range of top-end Mercedes are available to guests on a first-come, first-served basis.
Ocean House, which sits on a bluff in the town of Watch Hill at the most westerly point of Rhode Island, was originally built in 1868, a grand dame of East Coast seaside culture. Cruising around Watch Hill's perfect lawns and mansions, it's apparent that this is a place of whispered wealth, one that likes to keep its stylish, old-school head down. The Hamptons it is not.
Ructions erupted in 2004 when the hotel, dilapidated and no longer functional, was bought by a developer with McMansions on his mind. Acquiescing to an arriviste incursion, however, was never an option. The 1916 Douglas Fairbanks movie American Aristocrats was filmed in Ocean House, for goodness sakes. The little town was now in desperate need of a hero.
Chuck Royce, small-cap bigwig fund manager and long-standing member of the community, was the one to step up. He bought the building back, and the difficult decision was eventually taken to rebuild entirely. This was accomplished at an eventual cost of $146 million, though with an admirable respect for its heritage, 5,000 artefacts salvaged, and the imposing front and side profiles of the building re-emerging exactly as before. Since 2010 it sits there once more, a giant luxury liner berthed on the beach, statuesque and stately, reborn in contemporary homage to an earlier era of privilege.
While still very much the expansive grand hotel, its 159 rooms are now condensed into 49 much larger rooms and 18 signature suites, with 24-hour valet service. Community concerns mean there is just a lap pool, but the Atlantic, visible from every room, is  just a stroll across the private beach. Virtually every other form of recreational indulgence is catered for, from squash courts to croquet, a gym, a spa, an old-fashioned ice cream parlour, even a small cinema with a popcorn machine, as well as business and conference facilities.
One of Ocean House's most notable gravitational pulls remains gastronomic. The principal restaurant, Coast, enjoys the same spectacular seascape perspectives as Taylor Swift will from her new house, visible just along the headland. But the dramatic ocean views are merely an amuse bouche. It's the refined New England cooking of chef Jennifer Backman that makes driving down this Rhode Island road less travelled a diversion worth taking. The young Watch Hill cuisinier could be one to watch (which you can actually do, at one of the six seats next to her open kitchen).
The overhyped concept of farm to table cuisine genuinely does exist at Ocean House, courtesy of their own full-time food forager. His work is oriented towards building bonds with the small scale, often organic, suppliers throughout the hotel's New England hinterland, although he isn't averse to a bit of actual foraging either. The attentive interventions of the highly knowledgeable sommelier Jonathon — and his 8,000 friends in the cellar — allows all of this to coalesce into a thoroughly memorable gastronomic experience.
Nonchalantly deliberating between an S 550 Sedan, and an E 400 Cabriolet, in front of the dramatic porticoed hotel entrance, it's difficult not to be fired with admiration for Chuck Royce's achievement. To the local community, he really must seem like a hero. They might have a point.
Related
Luxury travel by design: Niquesa knows no limit
Review: The Mark Hotel, New York
A capital tour through Washington DC