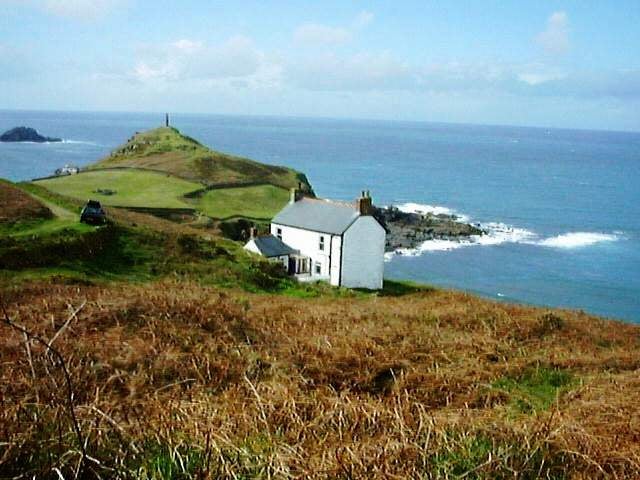 The problem of living in a country idyll is everyone wants to go there – even if it is to rent a place designed to remind City slickers of home
They are easily spotted because they are alien within their own landscape. They are spruce, and re-pointed, and they have freshly painted grey window frames. It's a sea of grey to match the grey sea across the fields.
The worst of them have a holiday cottage logo and website address on them, which I think should be banned. It tells you that you are not inhabiting a real village. It looks like one, but it's Centerparcs for people of moderate taste who want the world, from Kensington to Azerbaijan, to look exactly the same.
When you live in west Cornwall you expect to see the self-hating hybrid, the holiday cottage, sitting primly and lucratively on its plot. You walk down a perfectly normal rookery, with its faded stones and bright flowers, or down to a small cove, and here is a cottage that is simply the stone equivalent of a cashmere-neutrals-wearing, St John's Wood-inhabiting baby. That is, something unnatural.
It preens, for it has clean windows and is stripped of anything interesting, or even human, for human is hard to wipe off. Cleanliness is the prayer here, as if the holiday cottage were an operating theatre, not a home: no spiders, no kittens, no dogs. It will not have a proper garden, for plants are uncontrollable, and expensive to maintain.
No wonder the locals are angry; their forebears, who were fishermen and tin miners, did not expect their homes to become elements in a holiday park for people who wish in their hearts that they had stayed at home.
It's too late, though. It's taken the whole of Padstow already, and it's growing stronger, like a murderous design troll eating a duchy and regurgitating it in cashmere, and grey, with a statement piece of furniture. It's come for some of the hotels, and too many of the pubs. The Lamorna Wink and the Godolphin Arms are lost, completely. (The former looks like a plank of varnished wood. The latter has floor-to-ceiling windows). The Old Success in Sennen hangs on, and so does the Ship in Mousehole, but we will see.
If it has an interior design god, it's Peter Jones. I suppose I should be thankful it's not Cath Kidston, with its fancy florals and memories of 1950s housewives abusing prescription drugs, but I'm not sure this isn't worse. Black and white photographs of pebbles have gone the way of the postwar consensus and are shunned, and that is a straw to grasp at. At least Cath Kidston has a mad heart, even if it is upholstered. But this is just generic. Here they are, thousands of tiny John Lewises in what used to be some of the prettiest houses in the West, all designed to fit around a kitchen utensil drawer.
They have an inspirational restaurant god too – or they used to. A few years ago, Selfridges put a pop-up restaurant on its flat roof called Vintage Salt. It was based on a fake Cornish fishing village and decorated with piles of rope and beach-huts and fake boulders.
What is the point of a fake boulder, which is more expensive, and rarer, than a real boulder? Why must middle-class Londoners drag their aesthetic of a place they don't understand around like another limb? Yet most of Cornwall looks like Vintage Salt now, and Vintage never looked like Cornwall at all. It looked like a Londoner's idea of Cornwall – that is, something they made up after spending too much in Peter Jones.
Will no one think of the owners? My friends own a handsome farmhouse near Marazion. It has been expensively renovated to withstand the winter storms. Do they enjoy this beautiful house? No. They cower in it, because the rental company that manages it has told them it has to be very clean and very generic, so no trace of them must ever be found: no books, no rugs, no grandfather clocks. They sit in their own expensive holiday home like thieves, fretting that the kitchen cupboards bear traces of crumbs. It's a not a cause to self-immolate for, but it is interesting.
I would rather stay in a shabby grand star hotel that has not been renovated since 1952. They attract interesting people, and they do not all look the same. There is a bonkers one at Tintagel.
There is an apogee of the holiday cottage – there always is – in Mousehole. I am not allowed to view it, as I have complained in these pages before, because I am not rich or awful enough. It is one half of a fisherman's cottage a few yards from the harbour. It is £950,000, and that is not a price. It's a prayer, and an insult, and it is ruining the duchy. It does have a nice bath, though.
Photo credit: Geograph
Related….
Alan Greenspan: 'The system is eventually going to unwind'
1% is a fair price to pay for a soft Brexit
The straw between hurricanes: postcard from Montenegro
Lloyd Dorfman on UHNWs: 'You don't see a huge number giving'
Revealed: the top HNW advisers working in art, wine and classic cars in 2018