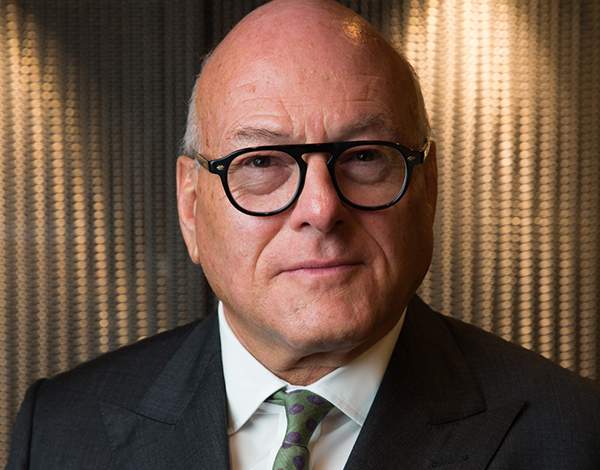 Sir Lloyd Dorfman used his business acumen to make a success of the £10 National Theatre tickets scheme.  Now he says far more HNWs need to embrace philanthropy, writes David Dawkins
Sir Lloyd Dorfman meets me in a small room in a building bearing his name and sits down on a comically small, low sofa. Wearing Bond-villain spectacles and a double-breasted suit, he's a big man – knees high, socks exposed, he tells me: 'YCDBSOYA,' or 'You can't do business sitting on your ass.' It's a personal mantra of one of his business heroes, Tesco founder Jack Cohen.
'I actually knew Jack Cohen – he was a wonderful, wonderful man,' says Dorfman. Holding his tie between thumb and forefinger, he adds: 'He used to have this thing when he met you. He used to put his hands in his pocket and give you this tie pin with the letters "YCDBSOYA" on it. For people to know that Tesco, the biggest supermarket chain, began with this guy, a Jewish guy from a market a stall back in 19-whatever-it-was, and it became this huge business…' He ends there.
Self-made men and big business – it's a theme that runs through our conversation. Dorfman is of course the larger-than-life big-British-business entrepreneur and philanthropist who founded Travelex from a small bureau de change in Southampton Row in 1976. Today known as Travelex Group, the business he sold in 2014 (alongside private equity backer Apax) for a reported £1 billion is the world's largest retailer of foreign exchange. Dorfman sits at number 191 (up from 220 last year) in the Sunday Times Rich List, with wealth of £720 million. His latest business interests include the click and collect company Doddle, a solution for the last leg of the online delivery process, which is currently posting mixed results.
Dorfman was appointed CBE in 2008 for services to business and charity, and ten years later was knighted, also for services to philanthropy and the arts. But there's no sense from meeting him that he's settled into the final act or moved away from the business limelight. He's not a cardigan-and-slippers kind of guy, and there's a real sense that philanthropy and business have become one and the same.
I ask about hallmarks to his approach which cross over between giving and winning, between philanthropy and business. 'If you think of me as an entrepreneur, this runs across all the things we do,' he says, adding: 'I have always been drawn to the creative process for whatever reason… it's in my DNA. So an entrepreneur is somebody who creates businesses. Performing arts – you create something out of nothing. This is a sort of recurring theme across what I do.'
The building in which we sit, the Dorfman Theatre (formerly the Cottesloe) on the east side of the National Theatre, was renamed in 2013 after a £70 million project and a £10 million donation from the man himself. But perhaps the most far-reaching and nationally loved philanthropic act across the arts is the £10-a-ticket scheme that has brought a new audience to the National Theatre for the likes of The History Boys, War Horse and The White Guard.
Can an act of charity really help change the national mood towards the arts? When Dorfman stepped up and took on the National Theatre's £10-a-ticket scheme after a big City bank got nervous over the Iraq war in 2003, he could not have known just how successful it would be. With an estimated three million 'Travelex tickets' having been sold, Dorfman has played a part in changing the national dialogue towards theatre. Although it emerged in October that Travelex's backing of the scheme would end in 2019, it has made theatre accessible to a new audience, becoming the pinprick to the London theatre bubble that can, at times, ostracise people who might otherwise be inclined to give it a go.
'We are profoundly grateful for the support Travelex has given to the NT over the past 15 years,' says Rufus Norris, director of the National Theatre. 'The impact of this scheme can't be overstated. Its genius is its simplicity: by making affordable tickets available to everyone, it has allowed both existing and new audiences to try something new. In tandem, it has allowed us to be bolder in our programming.'
Back in 2010, Nicholas Hytner, the National Theatre's director at the time, said the £10 scheme had been emblematic of a new kind of National Theatre, citing Dorfman's 'far-sighted spirit and vision' and stating that the scheme was the beginning of a relationship between the philanthropist and the director that might not have been.
'It was at this dinner party,' says Dorfman, 'the beginning of my whole journey with the National,' he says, gesturing at the roof above his head. Hytner was just about to take over from Trevor Nunn as the director of the National – and he had a plan.
Talks progressed and Dorfman recalls the 'folklore background to the sponsorship', but there were just too many concerns at the time. The Sars epidemic had rocked foreign travel and hurt Travelex, and the Iraq war was 'ominous'. He expands: 'We decided to freeze recruitment, freeze salaries, the world was about to go to war, so I put a stop to the whole sponsorship thing.'
He remembers telling the devastated Hytner and the team at the National: 'I said, "Guys, you know, look, I'm really sorry, but it looks like the world is about to go to war here – how can I possibly justify sponsorship? I'm really sorry but we are battening down the hatches and I'm afraid we are going to have to leave it for now."'
Fast-forward six weeks to 4 o'clock one Friday afternoon. Dorfman was sitting at his desk and the phone (which I like to imagine is red and massive) rings. 'My secretary says the National Theatre is on the phone – can I take a call from Nick Hytner?' He took the call.
'Six weeks later, Nick came on and said, "Look, Lloyd, of course, I've understood how you felt about the Iraq war and everything, but," he said, "I just wondered, with the way the war seems to be coming to an end, is there any way you might change your mind?" And he said, "I'll be frank with you, we are having to go to print next week, on our tickets and our programmes, this is the last call." I said, "Give me half an hour."' And that's how the story starts. It is a journey that has covered more than 70 productions, with more than three million tickets sold.
Of course, not everyone was happy when the name changed in 2013. Writing in the Guardian, Michael Billington argued that although Dorfman's involvement was 'extremely generous', the name change set a 'dubious precedent' at a time when, 'the Tories are anxious to shift the balance of arts funding from the public to the private sector'. Billington concluded: 'My own instinct is that philanthropy should be an altruistic gesture that neither asks, nor even expects, anything tangible in return.'
Dorfman, who spoke to friends and family and thought long and hard about whether or not to accept the honour, tells Spear's that philanthropy is a 'privilege and a pleasure' and not about what you get in return. Talking to him, the sense of pride in his philanthropic endeavours shines through – he is also chairman of the Prince's Trust International, having joined the charity's council in 2007. I ask if his philanthropy is born from a need to help the vulnerable: 'Look, I don't think it is a question of the way the country has gone, but, inevitably there are vulnerable people in greater need than others.' He adds: 'If you are fortunate enough to make some money to actually help vulnerable people, it's important that you do it.'
Out of nowhere, his chest swells and the breast buttons on his jacket brace. 'Can I also say,' his finger thumps a copy of Spear's on the table, 'bearing in mind the readership of your magazine – over the last 20 years a lot of people have made a lot of money. Sometimes I feel some people lack the spirit of giving and a spirit of wanting to help. It's something that they see as one of the benefits and one of the responsibilities they have with having made money. And I am not convinced that everybody sees it that way.' Pointing out across the Thames: 'You see all of the different charities around town and you see the same names and people doing stuff [in business], but you don't see a huge number giving.'
Photo credit: Stevebidmead @Pixabay
Despite sounding combative, Dorfman finishes his judgement of Spear's readers with a sympathetic smile and a shrug. The conversation moves on to other projects and his supporting investment in the first building project in Westminster Abbey for 275 years. On the very idea of church restoration, he adds: 'I'm Jewish, so it's not an obvious thing. My wife originally said, "What are you going to see Westminster Abbey for?" And I came back and I said, "Look, it's a really amazing project, this is our national church, and seat of the coronation for kings and queens.'''
But there's an elephant in the room. In the midst of a toxic row in the Labour Party over anti-semitism, Dorfman talks of the 'great tradition of philanthropy within the Jewish community'. He adds: 'It's worth calling out what an important role this very small community of 270,000 Jews in this country have played in supporting every aspect of philanthropy in this country.'
Back to Westminster Abbey and the giving of £500,000 towards the creation of the Queen's Diamond Jubilee Gallery in its Triforium, which is the first major addition to the Abbey since the 18th century. Dorfman talks of the 30 donors who supported the £26 million project: 'There were something like five Jewish families involved, and one of
my fellow Jewish donors said, "Lloyd, you know I think this is a really special thing for us to support because it is a way of saying thank you to this country that opened its arms to our forefathers."'
In 2011 the entrepreneur received the Prince of Wales Medal for Arts Philanthropy, awarded to recognise inspirational philanthropists who capture the imagination of the wider society through their support of the arts.
What advice does he offer the young business leaders of tomorrow? 'I didn't go to university,' says Dorfman, who credits his success to a 'combination of persistence and self-belief'. 'So don't get hung up about that. You don't have to go to university to be successful at anything you do. The barriers have never been lower.'
However, there's a real sense that his legacy is really the keystone principle for UHNWs and philanthropy. In short, an awareness of what you have, a quiet confidence in what you've achieved, and a willingness to offer a little something back once you've got enough to give.
David Dawkins is a senior researcher at Spear's
Related…
Interview: Guy Hands, reign of Terra
Interview: David Ross on what the Nevill Holt opera house means for the people 
Interview: Nigel Lawson on the dark side of globalisation 
Interview: Yanis Varoufakis on the end of Europe — and capitalism