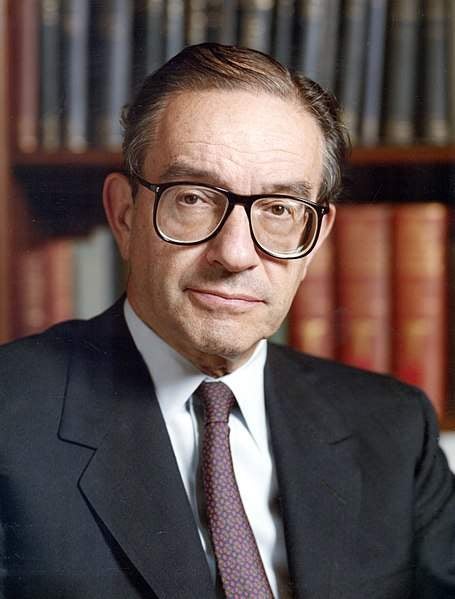 In a wide ranging discussion with Mark Carney and Economist political editor Adrian Wooldridge, Alan Greenspan, 92, claims the US is becoming complacent after so many years in the ascendancy, reports Arun Kakar 
Former Federal Reserve chairman Alan Greenspan has said that the US must look abroad to solve current problems with its welfare state, arguing that the current imbalance between entitlements and savings in the country was creating a system which is on track to 'unwind'.
Speaking via video link at an event hosted by the Policy Exchange, Greenspan was joined by Bank of England Governor Mark Carney and the Economist's political editor Adrian Wooldridge in a wide ranging discussion on American Capitalism. Carney asked the questions but was restricted from taking any himself. The event was held in conjunction with the release of Wooldridge and Greenspan's new book, Capitalism in America, which argues that a toleration of 'creative destruction' – the 'Siamese twins of creation and destruction' – has been the key to US economic domination over the last century. It questions whether the US is becoming complacent after so many years in the ascendancy.
 White House photo by Shealah Craighead
Using the tech giants as an example, Wooldridge drew a historical parallel with the changes to the US economy at the end of the 19th century to highlight complacent attitudes in US industry today.  Like John Rockerfeller and Andrew Carnegie, the eminent tech entrepreneurs of today are becoming 'so market dominant that they're not as innovative as they could be'.
He told the audience: 'They're more concerned with eliminating competition, and you see a number of things going on.
'You see non-complete clauses where you see […] intellectual talent is captured and prevented from competing [and] you see them buying lots and lots of small companies.'
Wooldridge noted a change between the new Silicon Valley firms of the 1990s and today from a desire to 'create your own company' to today's environment of wanting to 'sell out to dominant companies'. He also pointed to the 'use of lawyers' as a factor, with firms such as Google employing large legal teams that he accused of being in the business of 'suppressing tech innovation'.
 White House photo by Shealah Craighead
Carney moved the discussion onto entitlements – another central issue in the book – pointing to a statistic that US entitlement spending has risen from around 5 per cent of GDP in 1960 to over 15 per cent today. It is argued by Greenspan that a growth in social benefits is linked to lower innovation and entrepreneurship, and that inflation could accelerate due to an increasing federal deficit caused partially caused by rising entitlement spending.
'We're basically creating a system which is eventually going to unwind,' said Greenspan, who argued that entitlements are slowing the rate of productivity growth, and suppressing GDP growth as a result. 'We're now borrowing savings from abroad to now have a net debt to foreigners of $4 trillion,' he added. 'That number was effectively zero a decade ago. There are statistical limits which get us to the point of asking "where do we get the savings to create the capital goods which will continue to enhance our economic output per hour?'"
 White House photo by Shealah Craighead
It was suggested by Greenspan that the US could follow the example of Sweden to solve the country's entitlements issue. Sweden is renowned for its high tax rate and sizable welfare state, which faced similar problems to the US of un-funded pension programs, but moved into a defined contribution system of welfare. It was hailed by Greenspan as a 'perfect example' of how to deal with the issue.
In an apparent swipe to the Trump Administration and its policy of lower taxes, the authors framed the issue of entitlements as a matter of 'political will'. 'Fundamentally the issue is not economics – the economics are unquestioned – it's political,' added Greenspan.
Arun Kakar writes for Spear's