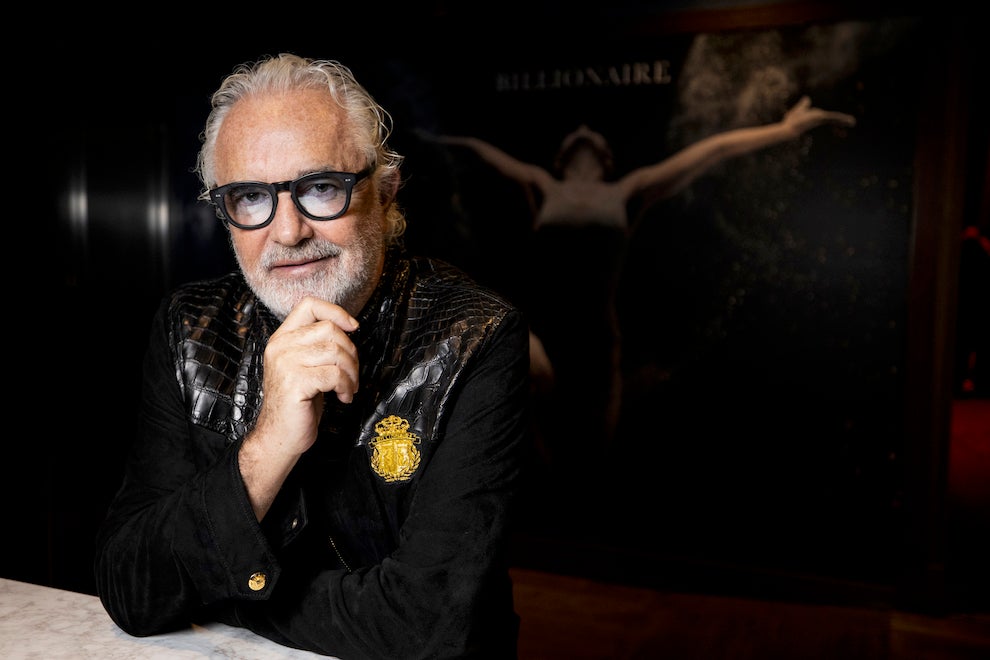 Former Formula One boss Flavio Briatore on managing people, showmanship… and an upcoming F1 comeback. As told to Rasika Sittamparam
I am 72 – I don't have so much time. When I think about the future, the future for me is tomorrow. I'm not going to plan for the next 20 years. My friends tell me that at my age, if you buy a banana, you need to buy it yellow and eat it immediately – forget about the green one. You don't have time to wait for it in the fridge for three weeks, as a lot can change in that time. If it's a business that comes with a 10-year plan, I'd say just forget it. For me, I go by the hour. I usually ask, how many hours do I need to do this? I have a lot of energy to do things now, but I might not have tomorrow. I don't want to engage in something I have neither the power nor the health to complete.
Driving Force
The most important moment in my life was the birth of my son Falco in 2010. The next most important is winning seven championships. I remember my first win with Michael Schumacher as champion. Our team, Benetton, was a T-shirt maker – and yet we won a championship in a very, very technical business. I remember Fernando Alonso's first championship with Renault. I also remember being disqualified from Formula One for allegedly being involved in what they call the 'Crashgate' scandal in 2008 at the Singapore Grand Prix. I appealed to the High Court in Paris and the judges found that I was completely not guilty – they paid me the damages. At that moment, there was a lot of jealousy around me and some people were very happy when I was disqualified. When you're in the public eye and you are involved in big business, everyone judges you. It's quite normal.
Build Your Team
Whatever business you're doing, you're creating a team and you're managing people. All our [F1 championship] wins were economical – we won despite having a much lower budget compared to our competitors such as Ferrari and McLaren. To be successful you must understand exactly who you are working with. You need to pay your staff very well, you have to understand that people have children, have mortgages, they need to see the dentist and the doctor. This is my philosophy of managing people and that's why many of my staff, under the Majestas group, have been working with me for decades. I love my son Falco – he's only 12, but if he's not good at managing people I won't put the livelihoods of the 1,200 people under my company at risk by handing over the business to him. I want my son to understand this responsibility I have as a business owner.
Billionaire in London
Billionaire, which I'm planning to bring to London, is not a club. It's like a night of Cirque du Soleil paired with incredible food, good-looking women and men, special acts and a great atmosphere. Nowadays, we buy everything from Amazon, but the energy that Billionaire offers can't be bought from Amazon.
I named the concept 'Billionaire' 30 years ago because I was born very poor and I wanted to give people the experience of what it's like to be a billionaire for one night. The average price is €400-€500, but what we give is much more than what you pay for. I've had a string of successes with this concept around the world… Three years ago I opened Billionaire in Riyadh; in 2021 it became the first place in Saudi Arabia which was authorised to allow stage entertainment with tables where men and women were allowed to mix.
The Return?
Looking back, Formula One is my biggest success in life, 100 per cent. I demonstrated that it's possible to win in a very difficult environment using the right management skills, by choosing the right driver and by choosing the right company to partner with. I'm looking into Formula One again, but at the moment nothing is official. I might do something completely different.