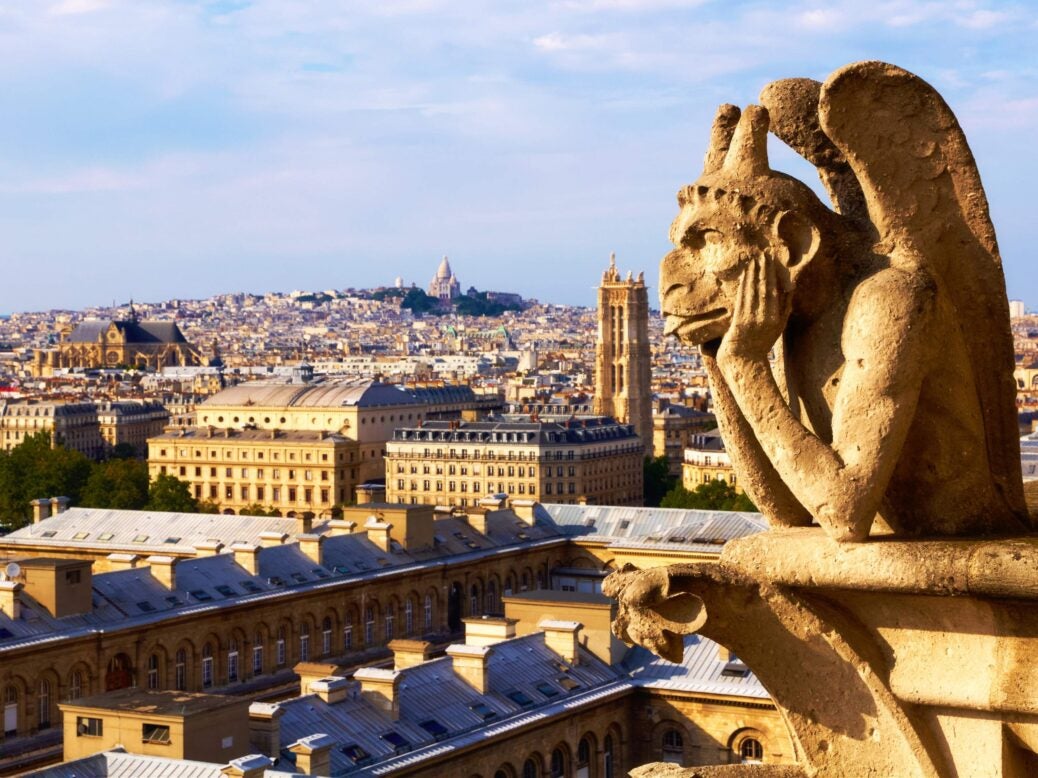 Christopher Jackson visits Paris and finds smashed storefronts on the Champs-Élysées. Why, then, is the city so upbeat?
As you walk down the Avenue Montaigne, away from the Eiffel Tower, famous brands surround you. Dior proclaims its motto in Tracey Emin-ish electric lettering: The most important thing is to enjoy dancing; there's a branch of Chanel and Guerlain. Paris seems unchanged – unchallengeable.
But turn north on to the Champs-Élysées and something's up. In the first glister of the morning, you could be mistaken for thinking they might be spider webs: on every other storefront, the windows are smashed in – crystallised bursts of anger obscuring the luxury displays. Every Saturday since October, tens of thousands of protesters – the 'Gilets Jaunes' – have come here to protest tax reforms instituted by the administration of Emmanuel Macron.
I'm heading to a business around the corner, to meet the director-general of Christie's Paris, Edouard Boccon-Gibod. Urbane and confident, he admits the protests have been difficult – although not quite what you might expect from the apocalyptic images rerunning on the BBC and CNN.
'For sure, the Gilet Jaunes have had an impact,' he says. 'You see that with the hotels and with the Champs-Élysées closed every Saturday now.' Has it affected Christie's? 'My fear is not for my particular business but a global loss of attractiveness for Paris. It's quite annoying – especially while we're working so hard to make sure Paris is as attractive as London or New York. That's why the mayor is upset by the riots – because of what's at stake when every TV station in the world is broadcasting images of fire in Paris.'
Boccon-Gibod points out that the demonstrations have affected Paris more than France, and that there are many other streets in Paris besides the Champs-Élysées: 'I spoke to a guy who owns three or four restaurants in Paris: fully booked, every night, for the past two or three weeks. They've never been so crowded.' And the French economy – partly because Macron pledged €10 billion in the wake of the protests – also reaped the benefits of an increase in spending in Q1 of 2019.
Even so, there's no doubt that Paris's image has been damaged and foreign investor sentiment has been affected. Given that the whole affair comes down to taxation, I head round the corner to see one of Paris's top experts, Michaël Khayat, a founding partner at Arkwood SCP Paris. He sets out the context of the crisis – namely, Macron's attempt, following on from manifesto promises, to address what had been the bewildering complexity of the French tax regime.
'It used to be that you were taxed separately on dividend, capital gains, on shares,' he says. 'It was a complicated regime of rebates – and with taxes and social taxes charged at different rates. We had reached a point where it was difficult even for us as professionals to understand how things worked. Things kept changing every two years.' To this complexity was added absurdity. The system was also capable of acting retroactively on companies: 'You could do something in May and then be taxed in November or December according to a regime that didn't exist in May.'
Fuelling inequality
If reform there was to the good, how did Macron become unstuck? Khayat explains the context for the gasoline tax. 'The problem is it's very technical: there are lots of slices of taxes. It's not a question of globally reducing taxes. It's a question of determining who will pay less tax – and less tax on one side needs to be compensated on the other.'
He continues: 'When Macron arrived he switched the wealth tax to a real estate wealth tax and he reduced the taxation on financial income, dividend and interest.' The wealth tax wasn't raising much and was deemed inherently political; the hope was that the perennial attractiveness of French property – the ski chalet, the Nice villa – would render everything more efficient. Khayat comes to the crucial point: 'All this was financed by technical changes in small taxes, including the one on gas [petrol and diesel], and that was the first spark of the yellow jacket movement.'
Here, perhaps, is Emanuel Macron the ex-Rothschild banker who cannot quite understand the financial predicaments of those lower down the food chain. It was, after all, a mere increase of pennies per litre.
Paul Stephenson, assistant professor at the Department of Political Science at Maastricht University and author of a collection of poems – The Days That Followed Paris – inspired by his time in Paris during the 2016 terror attacks, tells me: 'The policy measure to raise fuel prices was meant as a means to meet environmental targets. It was a positively intended measure, but the distributional effect is rather uneven. It affects poorer citizens excessively.'
That night I head out into the city. I visit Notre Dame and decide for once not to go in. It turns out to be a mistake. Three days later, back in the UK, I will watch the flames bring down the spire. The following day, François-Henri Pinault – chairman of Kering, the parent company of Gucci – pledges €100 million to rebuild it. Paris has been through much: the fire looked like it wanted to be a metaphor for something. What it might all mean depends on who you talk to. Was it a symbol of a city in flames? A sign of a place of endless spiritual renewal? What direction should Paris take?
A few days before the fire, I had visited the laboratory in Mitry-Mory of the Carpenters Workshop, a design business. Julien Lombrail and Loic Le Gaillard set up the enterprise in Chelsea in 2006, moving to Mayfair in 2008 and later expanding beyond London. Despite its success in Britain – and with the Venice Biennale show Dysfunctional running until November 2019 – it's still a quintessentially French business, a leading French designer.
Le Gaillard doesn't offer a ringing endorsement of the French regime, however: 'The French authorities make life extraordinarily complicated through tax, employment laws and lack of flexibility. They do everything possible to squeeze even small business like a lemon: we're taxed here, at the gallery, and at the personal level.'
When we tour the workshop, this creative spirit is everywhere evident. It's space of endless invention and wit. What kind of world will this generation of Parisians, which will one day have its share of grandparents, leave behind? Only a comparable spirit of invention – shot through with a lightness of touch hitherto absent from the Macron administration – can prevent a le Pen problem in 2022.
Photo credit: Wikimedia Commons
This article first appeared in issue 69 of Spear's magazine, available on newsstands now. Click here to buy and subscribe.
Read more: