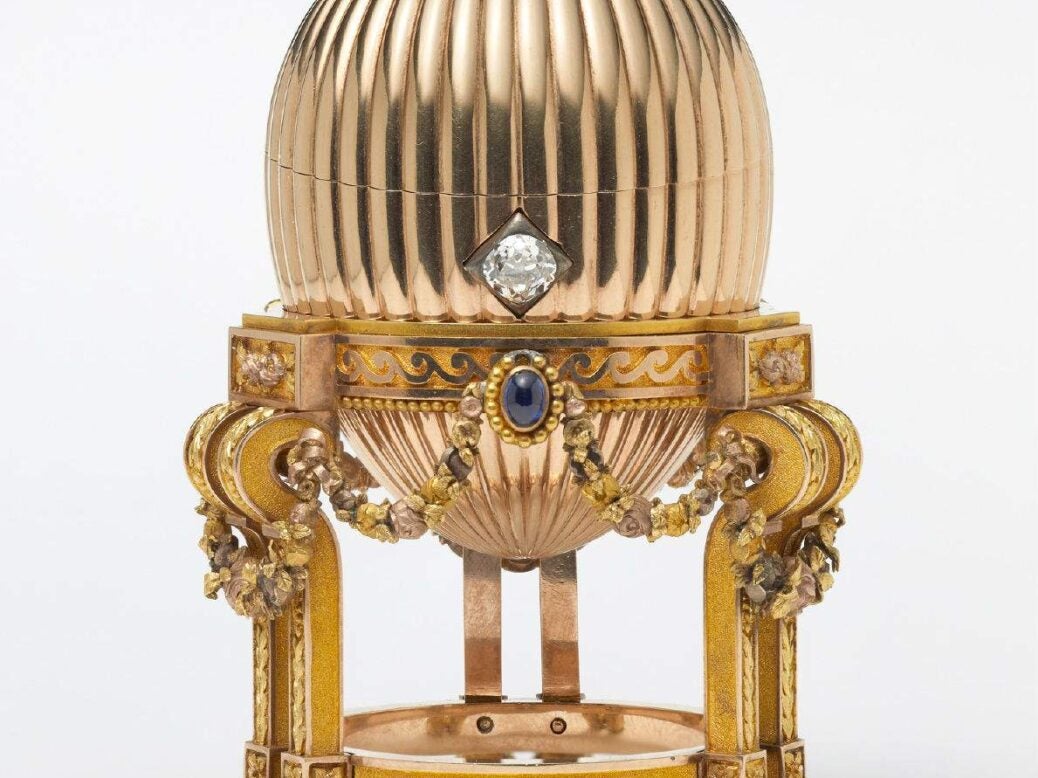 From imperial St Petersburg to Mayfair and North Wales, the legend of Fabergé has captivated generations of aesthetes, writes Olenka Hamilton
Wartski has a customer who lives in a modest bedsit, diverting every penny he owns towards building his Fabergé collection. 'He is a joy to deal with,' says managing director Kieran McCarthy – even if his payments come in meagre and protracted instalments.
Since Morris Wartski opened his first shop in Bangor, North Wales in 1865, Wartski has – aside from being a jeweller of choice to the British royal family – become the port of call for Fabergé enthusiasts around the world. And clearly these enthusiasts come in all shapes and sizes, but more on that later.
Firstly, to clarify: in the context of Wartski, by Fabergé we mean those objects, jewellery and silverware made under Peter Carl Fabergé, produced before 1918, before the Russian revolution, when the firm was nationalised. Appointed imperial goldsmith in 1885, Fabergé had workshops in Moscow and St Petersburg which employed more than 500 craftsmen, as well as branches in Kiev, Odessa and London, the last of which sold more than 10,000 objects between 1903 and 1915 and counted King Edward VII and Queen Alexandra among its clients. His most famous works are the Imperial Easter eggs made for Tsar Nicholas II's wife and mother. Anything produced after that period is simply not Fabergé, insists McCarthy. I ask him what he thinks of the revived Fabergé, which opened in 2009, and he is unequivocal: 'We don't approve.'
In 1963, Ian Fleming reportedly described Wartski – which features in his James Bond book The Property of a Lady, immortalising the former chairman Kenneth Snowman – as
'a restrained show of modern and antique jewellery [that] gave no hint that these were the greatest Fabergé dealers in the world'.
The same modesty emanates from the staff today, as does the high level of scholarship and enthusiasm which has meant that while most of the traditional small jewellers have foundered over the decades, Wartski – 'a utopia which is half-dealership, half-museum', says McCarthy – has survived and prevailed, evidenced by its imminent move from 14 Grafton Street to new premises at 60 St James's Street. Designed by British architects Waldo Works, who are responsible for Selfridges and Fortnum & Mason, the new Wartski will be bigger and better. 'The interior display will be something like a cathedral,' says McCarthy, cryptically. We wait…
These are not items you buy on a whim, and not just because of the expense – the typical price range is £20,000 to £200,000 for an item – but because 'becoming a collector is
a journey', explains McCarthy: 'It becomes intoxicating. You can buy the best yacht out there, but you can't just turn up and buy the greatest Fabergé object ever made because
you won't find it. It becomes a hunt.'
Values continue to soar as the objects become scarcer due largely to their increased 'museumification', mostly in the past 20 years, observes McCarthy, a board member of the Fabergé museum in St Petersburg, which has acquired more than 4,000 Fabergé items since opening in 2013. The Imperial Easter eggs have practically disappeared from the market, with only three left in private hands, two of which are unlikely ever to be sold. One – the Nécessaire Egg, last seen when it was sold by Wartski in 1952 to 'A Stranger' – remains lost. 'We plug away,' says McCarthy, who sold the Third Imperial Easter Egg in 2014 for an undisclosed sum believed to be $33 million. The egg was found by an American who bought it for its weight in gold ($14,000) without the slightest idea of what it was.
'The lure of Fabergé at auction shows no sign of diminishing,' says Sophie Law, a consultant in Bonhams' Russian department who has recently written a novel – Olga's Egg – inspired by the 2014 discovery of the Third Imperial Egg. 'Within the field of Russian art, Fabergé has the most international appeal, attracting bidders from all around the world. Most Fabergé pieces are portable, eminently collectable, and every item has a story to tell.'
Aside from the fact that every piece is unique, such is the variety of forms and materials used that Fabergé truly is a collector's dream. 'You can establish a collection in three or four objects, and the dynamic will produce a great effect. These are princely objects, completely unrepeatable,' says McCarthy.
There has been a particular surge in Russian interest in the pieces, aligned with the rise in Russian patriotism. McCarthy shows me a charming cloisonné enamelled silver gilt case with a patriotic scene depicting the painting The Bogatyrs by Viktor Vasnetsov on its lid, which would appeal to a Russian audience. There is also keen interest in all Fabergé items from the Middle East, America, Europe, Japan and South Africa. China is yet to catch on.
These are not just beautiful works of art, but also items of cultural history. And they are functional, just not always in the most obvious way. Some of the picture frames incorporate hidden messages – just one example of the ingenuity that so appealed to his customers. Another is the decorative bellpush used for summoning servants. One customer collects nothing else. 'These were super high-status cutting-edge objects. It proved your house was electrified. It was the Alexa of its day,' McCarthy explains. Today, Wartski will fit your bellpush with wireless bells that reach 200m. (Once a relay was arranged for a customer who lived in a castle with walls so thick the signal wouldn't pass through them.) Another customer looks for nothing but hatpins.
It is easy to forget that these objects, although often fashioned to emulate a Renaissance style, were the pinnacle of modernity, internationally renowned and at the zenith among high-end brands such as Cartier and Boucheron. It might seem a hard act for the new Fabergé to follow. 'Our motto is if Carl Fabergé were still alive, what would he be doing,' says Josina von dem Bussche-Kessell, from the company. 'We know he was avant-garde. Our customers are young and fashion forward. Today he would not be doing what he was doing 100 years ago. There is a place for the historic pieces as much as the modern.'
That the new brand has been well received is largely testament to the internationally acknowledged genius of Carl Fabergé. 'Fabergé was a product of his time and he died at his peak. Call it the James Dean effect,' says McCarthy.
Web wartski.com
Wartski will open at 60 James's Street in September. Sophie Law's novel Olga's Egg will be published by Fabergé in the autumn
Olenka Hamilton is staff writer at Spear's
This article first appeared in the July/August 2018 edition of Spear's. Find a copy at WH Smith travel stores and select news agents, or subscribe here: https://www.spearswms.com/subscribe/