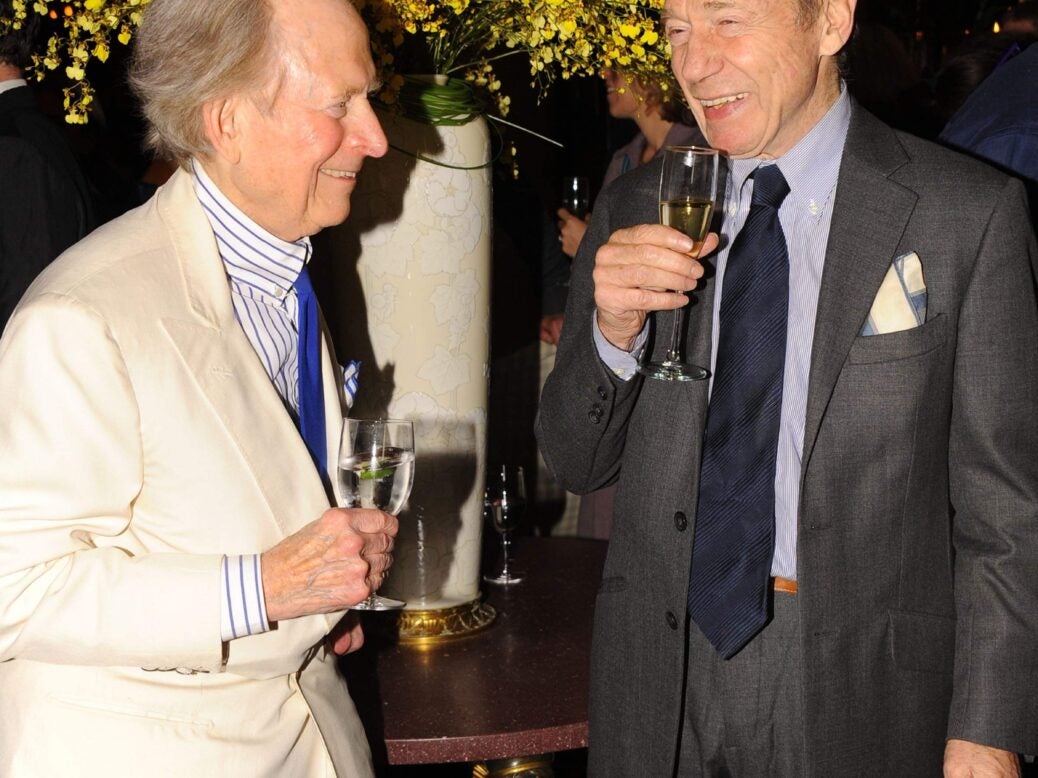 Spear's arts editor reveals why Tom Wolfe turned him into Peter Fallow, 'a disreputable tabloid hack' in The Bonfire of the Vanities, following an unexpected skewering over dinner by Christopher Hitchens

It was Clay Felker, the editor of New York magazine, who introduced me to Tom Wolfe. This was at the beginning of the Seventies, the magazine that Felker and Milton Glaser had conjured from the supplement to the defunct New York Herald Tribune was throwing off energy like a cyclotron and Wolfe was one of its marquee names. We hit it off.  He was at once as mannerly and as Out There as one of his white suits. I vividly recall walking with him through a party, I'm pretty sure at Harper's Magazine, certainly at a time when the bruises left by Radical Chic, his skewering of a party given by the conductor Leonard Bernstein for the Black Panthers, were still throbbing. Felker told me exultantly that one of the principal weapons in Wolfe's armory was 'mockery' and at the Harper's party I sensed waves of energy in the crowd, by no means entirely positive, but Wolfe was ever courteous, absolutely not puffed up by the self-regard of, say, a TV talking head, just an alert observer, and imperturbably bullet-proof.
I was still living in London but I was in and out of New York a fair amount and would spend frequent evenings with Wolfe, mostly in his apartment, growing familiar with such elements as the punchbag, that he indicated he sometimes used to keep in shape, the portrait by Richard Merkin, an artist/illustrator and a fellow dandy, and putting away – me, not Wolfe – much too much red wine.
I saw quite a bit of Wolfe when he came to London, wrote a profile of him for the Brit glossy, Harper's Queen, took him around somewhat and suggested he might find interesting raw material in the New Europe; an idea he politely turned down (I still think the idea had been a goodie). Then in the mid-Seventies I met Felker at a London party. I had just lost my studio in the Pheasantry on the Kings Road to a developer. Felker came up with an offer of a berth at the magazine and a ticket. A life changer. I moved to New York in a jiffy.
Wolfe's take-down of the art world, The Painted Word, had been published not long before. It was as witty and incandescently written as ever but Wolfe was stubbornly wrongheaded about contemporary art in my view and I was soon writing pieces which would make it clear that I was a supporter of just the art and the artists that he described as fatuous. This was not a subject that I ever remember coming up when we got together though. Why would it? I find it wholly normal that friends may have specific opinions with which I disagree, sometimes profoundly. Indeed this trait seems usual among writers, who incline to delight in getting close to individuals very different from themselves, especially when such an individual is intensely interesting. So I was not surprised when Christopher Hitchens asked me to introduce him to Tom Wolfe.
Hitchens was an acquaintance only but we had a number of mutual friends. He was an agile charmer, whose politics were chic left, Brit-style, which could hardly have been more different from Tom Wolfe's old school GK Chesterton/Hilaire Belloc-type conservatism but, for the reasons given above, this didn't seem to matter that much, since he was smart, entertaining and – as he let me know – a major fan of Wolfe's writing chops, the comic precision of his timing, his cool eye. So, after several reminders, I organized the dinner. We ate at Elaine's, the middle of the room, talked of this and that, nothing to write home about. Or that's what I had thought.
The Hitchens attack on Wolfe, 'WE TAKE TOM WOLFE TO DINNER', was the cover story in the January 1983 issue of the trenchantly progressive, San Francisco-based magazine Mother Jones, and another version came out in The Times Literary Supplement. The Mother Jones cover art showed Wolfe impaled with a fork and the Hitchens description of the dinner was equally cutting. I was beyond angered to learn I had been used to set up an ambush but it didn't occur to me that Wolfe would be that much put out. Private Eye had pelted me with stuff for years, as it had so many people I knew in media that such sniping was like a persistent weather pattern. Not for one moment did it occur to me that Wolfe might believe that I had a clue what Hitchens up to. Wrong.
We did get together for a dinner downtown. Tom and Sheila Wolfe, a few others. Tom Wolfe was angered in a way I had never before seen. I tried to minimize it. Very wrong.
Friendships are important to me and that with Tom Wolfe had been part of my New York experience. I wrote a letter. Felker and another then good friend spoke with Wolfe separately, telling him that I had been conned. He softened but not much, saying that I 'should have known better'. That apparently was that.
Hitchens closed his piece by indicating that Wolfe's box of literary tricks had been emptying and calls him out in his final sentence as 'the court jester whose time has come'. A few years after this barb The Bonfire of the Vanities began to be published in instalments in Rolling Stone and I heard on the journo bush telegraph that Jann Wenner had said that I was a target. When it came out in hardback though, I only saw a few bits and pieces of myself in the disreputable tabloid hack, Peter Fallow. (Okay, the wine drinking made the cut.) The book soon climbed to giddy heights, including a movie, and, at the request of the producer, I had a meal with Bruce Willis, who was playing the journalist, in that Vanities-appropriate boite, Mortimer's. But 'Peter Fallow' is, of course, a fiction.
In October 2013 I went to a party given by Andrew Solomon for Breakfast With Lucian, a book by the British newspaper editor, Geordie Greig, about his numerous breakfasts with the artist, Lucian Freud. Tom Wolfe was also there and Geordie, clearly as well-informed about New York as about London, was somewhat apprehensive. I approached Wolfe. We chatted. He was affable and it wasn't just the bulletproof courtesy of the Harper's party. 'The hatchet is buried,' he finally said. It was a cheerfully formal announcement. Thirty years went pfffttt!
Wolfe is gone. As is Christopher Hitchens, and as are Elaine's and Mortimer's. While I was rootling through these memories I found that a picture had been taken by Paul Bruinooge of the robust Patrick McMullan agency. Words and pictures can last. Those of Tom Wolfe most certainly will.
Anthony Haden-Guest is arts editor at Spear's
Related
How Philip Pearlstein led a revival in realist art
The rise of environmental activism — on canvas
David Hockney on being a rebel in art