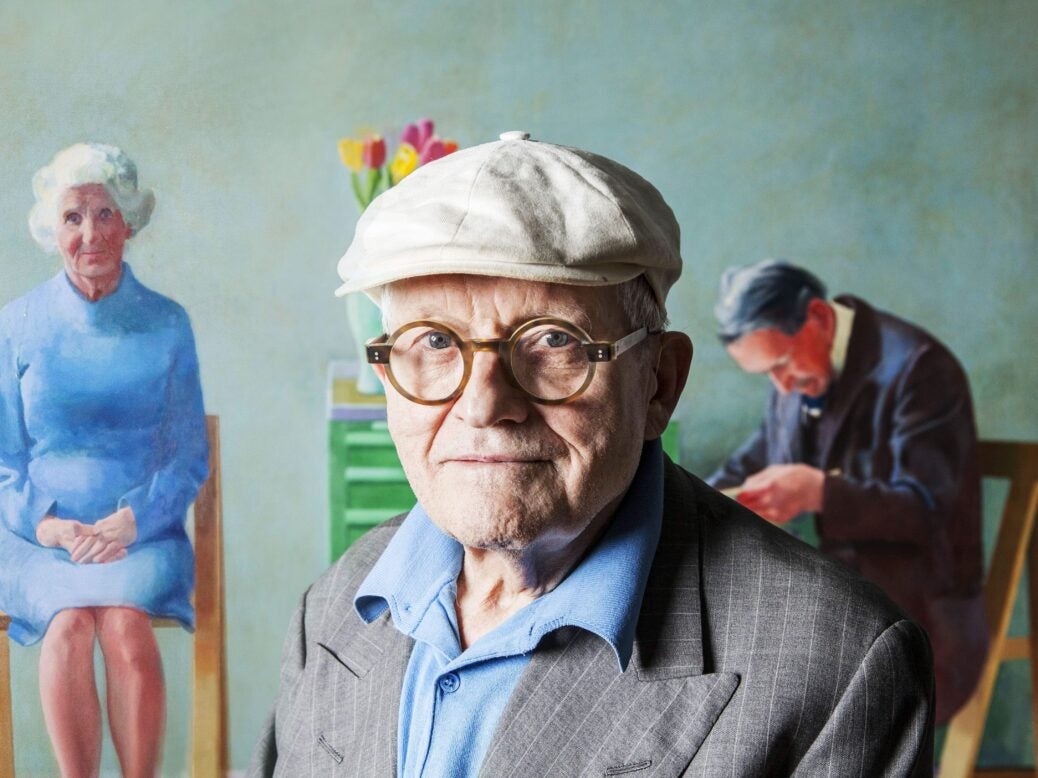 David Hockney might have turned 80, but don't expect him to consider retirement any time soon, writes Anthony Haden-Guest
'There are writers who have written themselves out at 40, and there are writers who have written themselves in,' Kenneth Tynan, former drama critic on The Observer, observed in his diaries. 'There is no third kind.'
That could equally be said of visual artists, among whom lowered energy, flagging invention, a recycling of hits and an inability to process the new, are perhaps easier to spot. That is why the five-year career is not a rare art-world phenomenon, but neither is late, surprising growth – which brings me directly to David Hockney, the enfant terrible of the British pop movement in his twenties who's now into his eighties.
The artist, in paint-spattered tan pants, red shirt and grey cardigan, is sitting opposite me in his Los Angeles house in the Hollywood Hills. His art on view includes a couple of paintings of an artist friend, Bing McGilvray, one on the far wall, another on an easel, in Hockney's words 'wearing a yellow shirt and looking like a refrigerator repairman'. A photograph of two cigarette ends on the floor celebrated the habit which has left Hockney unscathed and of which he is proud. He's leafing through the makings of a survey of his life's work, which has now been published as a jumbo volume by Taschen.
Hockney says he likes 'living in the now' and usually avoids dwelling on the past, but right now he is clearly having a great time, looking over early material and marvelling at what the publishing house has come up with. 'That's the last thing I did at Bradford,' he says, flicking through the book. 'And that's the first I did at the Royal College of Art. Or the second one? That was owned by Cecil Beaton for years…'
Hockney was still studying when he first visited New York, and he returned there after he left college, but he had already been seduced by the California dream. An uncloseted gay 26-year-old, he painted Domestic Scene, Los Angeles, which shows two men sharing a shower, in 1963, before he even got across the pond. He was on a plane heading stateside the following year and tells me of seeing the sun glimmering on the swimming pools as the plane descended.
He acquired a driving licence, a car, and a studio (all within a week) and made some of the work through which we are now looking. 'Iowa,' he says. 'The Rocky Mountains… Colorado… That's The Splash, and then there's A Bigger Splash… That's Christopher Isherwood with Don Bachardy… It doesn't fall off, this book.' This is not a question.
The paintings we are looking at communicate sensation and they embrace life. 'There's not much anger in my work,' Hockney says. 'I always enjoyed looking. And I still do.'
Does he know where they are now? 'No, I don't. I mean I know where some of them are. Not all of them.' He hits on another piece that denoted a moment. 'This is where I started with the Polaroids in 1982,' he says.
Oh, yes, the Polaroids. If one had to single out a defining characteristic of Hockney's work it would, I think, be his talent for drawing. But if one could pick another it would be that he has continually been ready to make use of hi-tech advances in picture-making. And he has been serious about it from the beginning, refusing to sell those first Polaroids until he could be sure the images would not degrade or fade.
The fax, for instance, an innovation seemingly destined for routine business transactions, spelled fresh opportunity. Hockney was having breakfast in Malibu during the furious hurricane season of the late Eighties when a mighty wave dashed the window. He got its picture, of course, and sent it out as a fax to a circle of recipients. A 144-page fax, by the way.
Hockney's thinking in this area has the radical elegance of his art and it resulted in perhaps his most controversial project, Secret Knowledge: Rediscovering the Lost Techniques of the Old Masters. This book, undertaken in conjunction with Charles M Falco, a physicist and professor of optical science at the University of California, sets out to demonstrate that European artists used optical devices, such as mirrors, camera lucidas and camera obscuras, to introduce three-dimensional perspective into their work, and that this had begun as early as 1420. 'That was when Brunelleschi made the first perspective,' Hockney says. 'It was a drawing of the Florence Baptistery.'
Hockney's approach to the enigma went beyond investigative journalism and into forensics, CSI-style. He fabricated a panel the size of Brunelleschi's now-lost breakthrough work on in September 2000. 'We projected the baptistery on to this panel with a 5in-diameter concave mirror,' he says. 'And that was how he did it. It automatically makes a perspective picture. That's how perspective was born. I'm sure that was how it happened.'
But note the title: Secret Knowledge. No such early optical devices are known to have survived, nor have references to their use been found in such mines of gossip of the period as Giorgio Vasari's Lives of the Artists, but Hockney and Falco supported their thesis by studying the composition of specific paintings by artists they believe used these devices. Vermeer, for one. Tim Jenison, an inventor, painted a Vermeer to prove it.
Penn and Teller, the American magician entertainers, made a movie about this enterprise, Tim's Vermeer, so the Hockney/Falco thesis has been supported. But, this being the academic world, it has also been shredded. Which leaves Hockney unmoved. Three makers of early lenses were known to have been friends to Vermeer, he says. 'But art historians never mention it. They never mention it.' He adds: 'Art history seems to have a problem with technology. Yet it was the photography of paintings that made art history possible.'
Photography, of course, was an early example of hi-tech picture making, and here too Hockney is a contrarian. 'Everybody says that photography was invented at the beginning of the 19th century,' he says. 'Even a writer as intelligent as Susan Sontag wrote that. That's nonsense. Photography was invented centuries before.' He is, of course, talking about Brunelleschi, fiddling with a mirror in the Duomo Baptistery. He adds: 'The process to fix the camera's picture, that was the invention.'
Photography aside, Hockney is so taken with the picture-making potential of new tech that when he learned you could draw on an iPhone he bought one and got down to it.
He went on to make work using an iPad, and his show at Pace, New York a couple of years back was dominated by a video, shot on nine cameras, and shown on multiple screens.
In 2004 Hockney returned to the UK, specifically Bridlington in the East Riding of Yorkshire, and was soon at work painting that darker, wetter countryside. In due course he began to prepare for a show at the Royal Academy, painting the largest work, The Arrival of Spring, in sections. 'The reason they were done like this is I had a tiny studio in Bridlington,' he says. 'And I could only take small canvases upstairs.'
There are downers in every life, and Hockney has known a few. He has long been partially deaf – a condition which, these days, keeps him mostly housebound because he can't join in conversations when there's ambient noise around. He also had a minor stroke in 2012 and lost his speech for a while. However, not so long after, a fully recovered Hockney was back in Los Angeles.
A Bigger Picture, Hockney's 2012 show at the Royal Academy, was the institution's most successful show ever and a show of his portraits followed in 2016. The following year he had a show at the Getty in Los Angeles, called Happy Birthday, Mr Hockney. Ah, yes, that 80th birthday. He offers me a cigarette and gives me a sceptical look when I say (truthfully) that the reason I have never smoked is that I don't inhale correctly. 'I've smoked for 60-something years,' he says. 'And I just had an x-ray on Monday. I'm OK. I'm fine.'
Back to the image bank. 'This is the Grand Canyon… Yosemite… that's Zambia. It's not falling off, is it?'
This time it is a question. It has an answer. No, Mr Hockney. Absolutely not. So, to the question: How does being 80 affect his work? 'When I'm painting I'm 30,' he says.
Related
Meet Damian Elwes, the art world's inside man