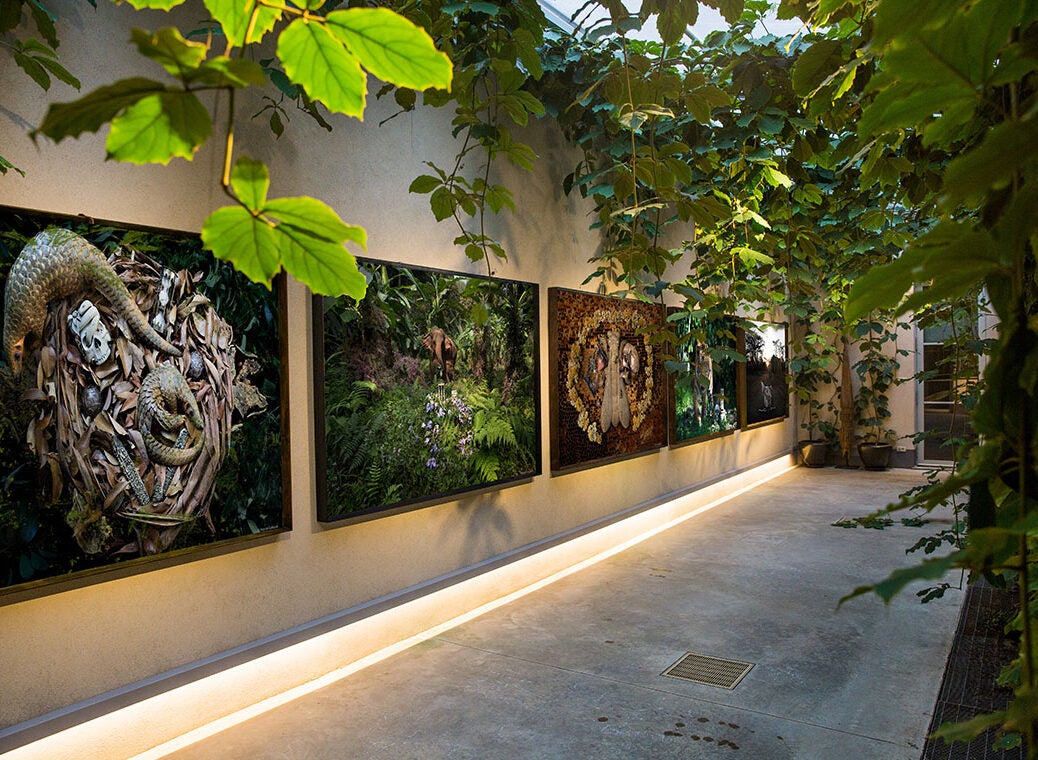 Despite the chorus line of rogues on the world's stage, it's the environment that is inspiring new political art, writes Anthony Haden-Guest
Thick, filthy air is one of Suzanne Nagy's main memories of growing up in that grand city, Budapest. 'I looked around and all I saw is this grey, heavy, terrible air,' she told me. 'You know the London fog?' As a London phenomenon this mostly survives in Sherlock Holmes movies, but in Hungary conditions were worsening. 'In those days the socialist countries had the highest level of pollution,' she says. 'I thought, "Is this the way we are all going to live?"'
Nagy's wish to go to art school after college was quashed by her father, Bela Czikos-Nagy, an economist, so she too became an economist, and got a job in export/import. But her wish to move to the US could have been a problem. Her father had helped dig the country out of a ruinous recession by creating what is now the national currency, the forint, so he was a heavyweight, but he was also a non-communist, and Suzanne worried that her leaving might undermine his position. The KGB officer she talked it over with was reassuring. 'He told me, "The country cannot afford to lose your father. So your father is not responsible for your actions."' She was cleared to go.
Nagy arrived in New York in the late Seventies, enrolled at the New York Art League in her late twenties, and got down to work. She had already written her manifesto. 'It was about our bad behaviour with the environment,' she says. 'It was all the things that I experienced in Hungary, all the things I learned as an economist. At the end I say that nature will forgive our behaviour because I expected that we would change our behaviour. This was the Seventies and I was very young and an optimist. But I have stayed with the subject. I am always looking for ways to extend the same issues… as an installation, as conceptual art… by learning much more.'
Several of her recent lightbox pieces were hanging in the gallery showing her work in Art Market Budapest, which I visited in September. This is a second-tier art fair, therefore free of international mega-gallery franchises, and I found it the more interesting for that. Each of her lightboxes displays the photograph of an industrial scene, glimmering through a coat of translucent amber, so they are instantly seductive, but it's a mixed message because the image alerts you that pure visual delight is not the intention here. Indeed. That smeary amber coating is epoxy, a resin, often derived from petroleum, which hardens. 'Why?' Nagy exclaims. 'Because it's a poison. I wanted to demonstrate how terrible is what we have done. The photograph is fine, but I put them into a poison and freeze them. And they become like glass.'
In 2000, Nagy decided to document 150 years of global industrial revolution. 'I started to travel and take photos of everything: New Jersey, Rhode Island, Martha's Vineyard, Miami, Vienna, Rome, five different places in Italy, a lot of places in Germany, Hong Kong. And since 2000 I have exhibited in 25 different places. I would look at what people did with rivers. This year I worked with car tyres. Pollution is everywhere. It's in our food, it's in our drink, in the air we breathe.
'But you can show the positives, not just the bad things. To show the bad things is OK, but the solutions are the big issue today. How do we sustain what we have now, rather than just bitching about the environment? Last year I exhibited in Rotterdam, which is the largest industrial port in Europe. Billions of photos I took! Not just of the pollution, but of the new systems they are building, which are beautiful, beautiful.'
Anne de Carbuccia is another activist artist who is very much on the global go-go-go. Her mother was American, her father a Corsican publisher, and she grew up in the South of France in a household where regular drop-ins included such of her father's writers as Alain Bombard, who crossed the Atlantic alone on a dinghy, procuring his own food and water, and Jacques Cousteau, the underwater explorer whose book The Silent World was one of the first bestsellers to sound an eco-warning.
De Carbuccia grew up, married a Milanese, and segued into making video art, portraits that people would install in their homes, as she brought up her son and daughters. 'When my two daughters left to go to boarding school, that was when I was really able to pack my bags and start travelling around the world,' she says.
Cousteau might as well have been her guide. She would visit a reef teeming with marine life but find a lifeless plastic garbage dump there on her next visit. 'Things have taken
a dramatic turn in the last five years, and that is where my sense of urgency has come out.'
She channelled that urgency into art. We met a couple of years ago during a show of her work in Manhattan, namely photographs of some of the world's most famous sites, such as Mount Everest, Cambodia's Plain of Jars and Terra dei Fuochi, the toxic mafia-controlled dump near Naples, all of which she had turned into installations with the addition of a skull and an hourglass. She calls them 'Time Shrines'.
De Carbuccia is now moving on – to the Amazon jungle in Peru. 'I'm working more and more in collaboration with other people, a lot of it with first nation people or tribes, the people who were here before we arrived. It could be the American Indians, it could be the Siberians who were there before the Russians arrived. More and more I'm creating collaborations to give them a voice as well. I'm going to the Amazon and I will be collaborating with different tribes down there. Deforestation has become one of the biggest problems that we have, and it's pretty ironic that we are actually destroying our biggest allies, which are trees.'
Nagy's documentary art continues also – such as a protest against the attempt to run a pipeline beneath the Standing Rock Indian reservation in North Dakota, a major threat to their water supply.
'I did a film about Standing Rock,' she says. 'On Thanksgiving Day they had one of their biggest protests, a non-violent protest, and kids came from all over the world, they called themselves "water protectors". It was beautiful. Everybody had a smartphone, and bicycles to get electricity for their smartphones. I think it's the beginning of something, not the end of something. And that's something I documented there, something which I will keep on documenting.'
Are environmental artists aware of each other? 'I don't think so,' de Carbuccia says. 'But I've produced over 60 images in the last two years so I have been completely in my world.'
She does see a shift. 'The generation just before me could still just show the importance and the beauty and the power of nature. Definitely I'm one of the new generation of environmental artists who deal with social and political aspects to the subjects I choose but can show you how beautiful nature is and how we are about to lose it. It's about time, it's about danger, it's about loss. In the world today a lot of people have forgotten how important and powerful nature is and need to be reminded of it.'
De Carbuccia feels we need to get on to a learning curve. 'Right now we have 65 million refugees,' she says. 'The UN is announcing that by the year 2050 we will have 750 million refugees on the planet, and most of them will be climate refugees. They will be running away from drought and the sea level rising. A lot of people think my work is harsh – you have no idea of the rage of artists coming behind me. Their work is going to have so much anger. My anger is contained, it's very much symbolized; their work is so much harsher.
'We as artists play a very important role right now. What's missing, even if you have amazing foundations saving elephants, is a general population that gets it. But if you expose them to something that's compelling, they will take the time to read the caption. And it's working.'
Related
David Hockney on being a rebel in art