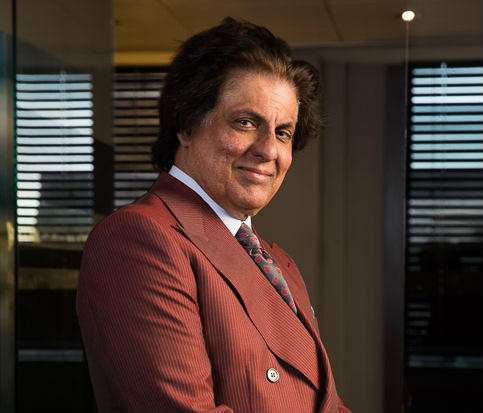 Entrepreneur Tej Kohli talks to Rasika Sittamparam about investing in AI and how it can contribute to the greater good
'This is bigger than anything else that has ever happened to this world,' Tej Kohli booms, pulling back a lock of hair that has escaped his dark mane.
The Delhi-born billionaire is known for big ideas – during a previous meeting with Spear's he disclosed his vision to end corneal blindness among the poorest people in the world through a charitable collaboration with the LV Prasad Eye Institute in Hyderabad.
While his interest in ophthalmology remains, machine learning is Kohli's current preoccupation. He announces this with a glint in his eyes.
'Artificial intelligence, in the next 3-5 years, if not sooner, will be worth $150 trillion,' he says, adding for comparison that the internet is worth $50 trillion. Despite the enormity of his valuation, he reminds us that futuristic projects require capital, a high-risk attitude and a lot of patience.
'You have to invest in things which are by no means certain,' he says. 'You know how much property is going to appreciate, more or less, while with [AI] you don't know what's really going to happen.'
Kohli wants to be at the forefront of the technologies he adopts. The companies he's investing in 'will be worth half a billion to a billion dollars in the next five years', he says. He is injecting millions of his own money in emerging technologies through his own firm Kohli Ventures and Cascade Global, a multi-family office that helps entrepreneurs fight 'the world's most pressing challenges' in AI, robotics and genomics.
He believes such technologies can help everything from increasing the efficiency of businesses by 70 per cent to improving global healthcare and even extending human lifespan. He gives his backing of Detraxi as an example – a US-based biotech firm that is pioneering research into artificial blood, which could help organ preservation worldwide.
'Just think about how big this is going to be,' he says excitedly. 'It will be profitable but also very helpful – fewer people will die due to a lack of blood.'
AI has the power to reduce poverty, he says, but it needs a globalised economy for a seamless function. The London-based Kohli is a 'strong believer' in globalisation.
'Home is where your dentist is – and he's in Costa Rica,' he jokes, adding that he feels very much at home in the UK, where his children are schooled. He is also one to go 'wherever the good deals' are.
So where next? 'Shenzhen is the hub of artificial intelligence,' he says. 'It could even become better than Silicon Valley in a few years.' However, Kohli is conscious that globalisation, AI and machine-powered automation have caused short-term despair among the poor. He links this to the rise of populist 'strongmen' such as Hungary's Viktor Orban and Turkey's Recep Tayyip Erdogan, who preach anti-globalist sentiment.
'It's created a vacuum, it's created disparity between the very rich like me and the not so rich.' Add an ageing demographic and the world's $250 trillion debt, and one has the recipe for further inequality.
Still, Kohli is optimistic. 'Overall we are moving in the right direction, but there is some pain in the short run.' Part of his confidence is fuelled by his faith in the next generation: he recently channelled €20 million into the burgeoning esports sphere, a virtual sports industry for video gamers.
'I'm a big fan of youth – they have very good ideas. When I see young, smart people, I feel very encouraged that we're going to be OK.' This outlook is part of a forward-looking belief system embraced by technophiles.
'Artificial intelligence is very expensive when you bring it into existing businesses – it's disruptive and in the short run it might even take you back profitability-wise. But younger people are much more open to it – they accept it, they understand it,' he concludes. 'They know it's the only way to be competitive.'
Photography by David Harrison
This article first appeared in issue 68 of Spear's magazine, available on newsstands now. Click here to buy and subscribe.