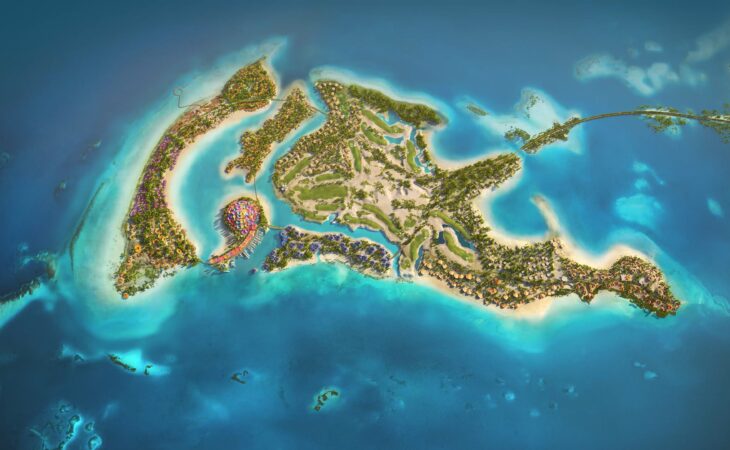 From our Partners: The Red Sea Project prides itself on being the world's most ambitious regenerative tourism venture
Some lead with the numbers: 10,810 square miles; an archipelago of more than 90 islands; 120 miles of coastline; 8,000 hotel rooms; 70,000 jobs.
For others, it's the architecture. When Foster + Partners released renderings of its 11-hotel concept, Coral Bloom, earlier this year, the colorful, playful designs were immediately splashed across every high-end design blog on the planet.
In John Pagano's opinion, the headline story predates any of the above. "You'll just have to visit," The Red Sea Development Company (TRSDC) chief executive finally concedes. "I never do it justice, trying to describe the beauty of the place."
Not that it will stop him from trying. Pagano calls the Saudi west coast region he has been tasked with transforming into the world's most ambitious luxury tourism destination "one of the world's last hidden treasures." The Red Sea Project boasts the fourth largest coral reef system on the planet. And, unspoiled by outside interference, incredibly diverse – and fragile – flora and fauna ecosystems.
"It poses a pretty simple question," says Pagano. "How do we not screw this up?"
The answer is to do something completely new across an unimaginable scale: regenerative – as opposed to sustainable – development, producing a net positive conservation benefit of 30%. Furthermore, amid all the nosebleed numbers, there's one figure notable for its modesty: visitors will be capped at a million annually. If that still sounds high, remember we're talking about an area nearly the size of Belgium, albeit powered entirely by renewable energy.
"Sustainable means all you're doing is slowing down disaster," says Pagano. "What we want to do is reverse it."
After more than three decades working in large-scale development, the Italian chief executive has set upon an entirely new approach. "It's something I've never seen done before," he concedes. "Instead of starting with architects and engineers, the first people we brought in were scientists."
Conservation value
TRSDC partnered with King Abdullah University of Science and Technology to conduct an unprecedented marine spatial planning exercise, breaking the area down into tens of thousands of squares and assigning each with a conservation value. Results were then fed into a specially developed software program to measure developmental impact. These results provided a guiding force behind the shape of the final masterplan.
"We ended up preserving over 75% of the islands," says Pagano. "A number have been designated as critical conservation areas, where visitors will be unable to venture alone. Quite a few would have made incredibly good resorts, I can tell you.
"But that would have been the antithesis of what we're trying to do here. We've seen over recent decades – and especially in the context of the pandemic – what happens when developers take the natural habitat for granted. Do so at your peril. We have to be willing to pay a bit more, compromise, make sacrifices. Place natural capital on the balance sheet and treat it with the same value as we do our financial capital. If it helps save the planet, that's a price worth paying."
The first resorts open at the end of next year, with the remainder of the 16 hotels scheduled for phase one, including those on Coral Bloom, due for completion in 2023. Talk of travel corridors and self-quarantine should be long-silenced by then, but Pagano is adamant that our experience of the pandemic will have left a lasting legacy – and a positive one at that.
"It's caused us all to take pause and reflect on what's important; to think about how we do things," he says. "People are realizing we can make different choices; we're not hostages to the past and the status quo.
"I believe there will be a lot more focus on responsible tourism, valuing places that are doing the right things. Yes, we could build millions of additional square feet of development, but that would destroy the very things that make us unique. People are going to be looking for places that are not overcrowded, where they can be in touch with nature."
Marine biology
As he extols the virtues of capping visitor numbers and limiting development, Pagano certainly doesn't sound like your prototypical land developer. He chats enthusiastically about carbon sequestration studies; the wilding of lab-grown coral; a competition around brine disposal; optimizing coral spawning patterns. At one point he mentions that 18 or so PhDs are working under his chief environmental officer. The results of these projects and more will be made publicly available to aid efforts to save the world's reef systems.  Is this really a luxury tourism destination, or the world's most well-funded marine-biology research lab?
"There's always scope for tension between development and the environment," the CEO concedes. "Keeping that as a separate function helps ensure we stay true to our vision."
That vision also dictates decision making around external partners. There are investment opportunities aplenty, but land is not for sale; participation comes in the form of joint ventures, with expertise and shared values prioritized over capital. "One rogue developer would screw it up for everybody and we're not prepared to take that risk," Pagano explains. "We're good at developing and running resorts, but there is a lot of scope for bringing in external specialists across areas like mobility, logistics, and utilities."
Discussions with hotel operators are also ongoing, with 11 as yet unnamed brands already signed – "Some of the biggest names in the luxury end of the spectrum," is all Pagano will reveal. Tourism accounts for just over 3% of Saudi GDP, compared to a global average north of 10%, so the room to grow is significant. In his conversations with foreign partners, does the chief executive come up against any misconceptions about operating in the Kingdom?
"The international investment community is intrigued, but they're also waiting for proof of concept," Pagano replies. "There's an understandable reticence, which is why it's so important we're now seeing tangible process: this is not just an idea; it's real and it's happening."
Interestingly, those closer to home sometimes need educating. "I take Saudis up to the site and they can't believe what they're looking at," he laughs. "It's not just the international community that doesn't fully appreciate the natural wonders of this country."
Saudi Vision 2030
Saudi buy-in and involvement is a cornerstone of the regenerative philosophy. TRSDC is owned by Saudi Arabia's sovereign wealth fund PIF and marks a key component in Saudi Vision 2030, a strategic framework geared toward diversifying the economy, developing public services and reducing oil dependence. In both development and delivery, the CEO has been keen to build and showcase local talent.
"This is a once in a lifetime opportunity for everyone involved," he explains. "I didn't want to take the usual approach of hiring countless consultants in from overseas, working together until delivery, then everybody disappears. I wanted the knowledge we gain from this unique project to stay in the country. It's about building a legacy."
More than 50% of Pagano's staff are Saudi nationals. An elite graduate program offering 30 places had 16,000 applications in its first iteration and over 20,000 this time around. The first 30 are now all full-time employees. "To be part of something like this will change the course of their lives," Pagano says proudly.
TRSDC is working with the country's Human Resources Development Fund establishing vocational programs, with 1,600 people set to undergo training. Twelve thousand applications were received for 120 scholarship places on the University of Prince Mugrin's hospitality management degree course, accredited with Ecole Hôtelière de Lausanne.
The enthusiasm is striking and reflects changing attitudes towards travel and tourism in the country. "It was a worry: 'How will they embrace it?'," Pagano acknowledges. "But when I got here and actually met the people, my decision to take the role was driven as much by their enthusiasm as anything else. I've done big before and size isn't enough; to be part of something that's genuinely transformative for so many people, that's what's so exciting."
The fondness clearly travels both ways. In January, Pagano was announced as CEO of Amaala, another Saudi tourism giga-project. He will perform the role alongside current responsibilities and lessons learned from one will feed back into the other.
"We have to avoid manufacturing something that's not rooted in reality," he says. "It's about creating authenticity and that comes through the engagement and involvement of local communities, showcasing history and heritage. Saudis are so hospitable, taking care of guests comes as second nature. They are what will truly bring this project to life."
To learn more, visit theredsea.sa
[Visit The Red Sea Development Project Hub Page Here]
Main image: Aerial View of Shurayrah Island / ©The Red Sea Project