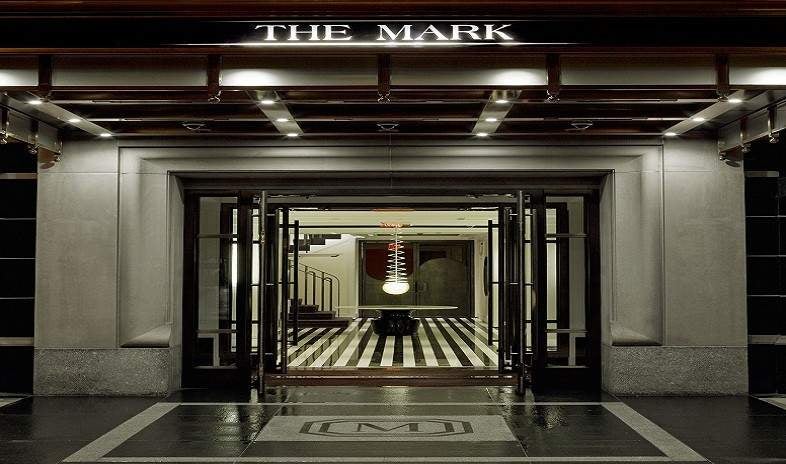 Christopher Jackson visits the legendary Mark hotel and finds it awash with celebrities
I attended the Mark Hotel on the eve of the Met Gala – that annual pageant of the stars, to which I was categorically not invited. Even so, I almost feel I was: a stone's throw from the Metropolitan Museum, it is clearly a prime hotel at which to array oneself in a silly hat and head downstairs to be seen.
In fact every hotel along the Upper East Side – the Mark is at 25 East 77th Street, just off Madison –was crammed with chattering women from the entertainment industry. The men were absent – giving the place the look, at least to the casual spectator, of some vast convention of the #MeToo movement. I spotted an actress who I had last seen in The Affair being cheated on by Dominic West: in dark moments, I can persuade myself that she gave me a stare because I was out of place.
The building, constructed in 1927, is Renaissance Revival: it has a snazzy black and white floor as if a zebra had died and then its aesthetic somehow spread itself along the lobby. It was redesigned in 2009 by Jacques Grange. In 2015, it unveiled its Penthouse Suite – also designed by Grange. At over 10,000 square feet, that's the largest hotel suite in the US: it contains five bedrooms, six bathrooms, a great room, library, formal dining room, gourmet kitchen and four fireplaces —all overlooking Central Park.
Outside and beyond, New York: after a week there, one begins to crave a city with a little less glass, more parks and greater opportunities for peace. Once you get to know the city a little, one discovers pockets of this: the park itself, with its chugging joggers; St. Patrick's Cathedral, dwarfed from the outside by the surrounding towers, but full of large shadows within; and the Frick Collection – a few blocks from the Mark – where you can find Vermeer's Officer and a Laughing Girl, arguably his greatest picture.
When I was there, Manhattan had skipped the spring and gone straight from winter to summer: here heat gets trapped in between the high buildings, and hovers along the concrete to become the very element one walks through.
Happily, the Mark itself is a good point from which to explore the city from the aerial perspective. Guests are also able to take a helicopter ride over Manhattan: the Statue of Liberty, the Brooklyn Bridge, the Chrysler and Empire State Buildings all come into view as you circle back towards Central Park.
It's this view from the heights that helps one understand New York: it is an image of taut living and compacted power. Down at street level, you know there are art deco touches giving this architecture its occasional beauty. But each one of these buildings represents an achievement: any business which is doing well enough to afford the rents on 6th Avenue is a phenomenon in itself. And to see all this concentrated together is some sight.
'Money doesn't talk it swears,' Bob Dylan once sang. And New York, that most raucous of cities, is a testament to that.  And its very size and contention makes it all the more important that you stay in the right hotel. The Mark is certainly that: a refuge from the enormity, agreeably spacious and with fine, attentive service as well.
Christopher Jackson is deputy editor of Spear's