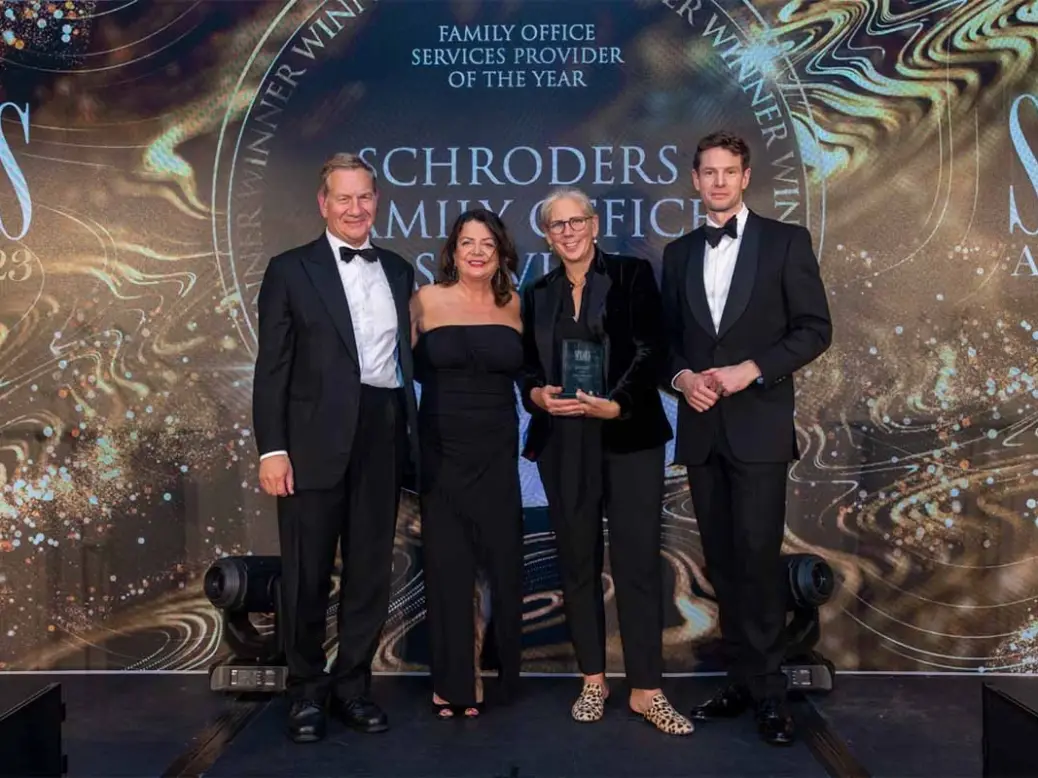 Schroders Family Office Service was crowned Family Office Services Provider of the Year, in association with AP Executive, at the Spear's Awards 2023.
'The firm has a long heritage, a new platform – and a lot of talent,' said Spear's editor-in-chief Edwin Smith, introducing the winner on stage at The Landmark London. Schroders Family Office Service was up against an impressive shortlist of finalists.
Read on to discover more about the winner and the other esteemed nominees
Family Office Services Provider of the Year winner
Schroders Family Office Service
Innovation is central to Schroders' culture, a stance reflected in the firm's engagement with many of the latest developments in technology, finance and renewable infrastructure.
At the forefront of this movement is the Schroders Family Office Service team, which has led the way by developing a toolkit that consolidates reporting across a family's entire asset base in a standardised and secure digital form. The technology is offered as standard to all family office clients and, where appropriate, is available to high-net-worth clients across UK wealth management. 
The firm remains 43 per cent controlled by the Schroder family and the company prides itself on being a family-owned business. 'This anchor shareholding provides us with stability and allows our management team to take a very long-term strategic view,' the team says.
Family Office Services Provider of the Year finalists
Evelyn Partners
Emerging in 2022 from a merger between Tilney and Smith & Williamson, Evelyn Partners' client base includes newly-formed, small family offices, as well as larger, well-established, multi-generational family offices.
[See also: From Switzerland to Singapore, a global arms race to attract family offices (and their tax dollars) is hotting up]
Evelyn Partners are, they say, their clients' virtual family office, managing day-to-day financial admin, including payroll for domestic staff.
To help educate the next generation of UHNWs, the firm hosts family dinners over which topics including pensions, wills and prenups are discussed.
Highvern
Independent since 2016, Highvern has enjoyed a post-pandemic surge in growth with an ever-expanding pipeline of new work. With a client base straddling several jurisdictions, from the Channel Islands to Australia and the USA, as well as a large proportion from Hong Kong and the Middle East, the firm continues to build out of the London and Ireland offices, and its new centres in Guernsey, Switzerland and the Cayman Islands.
Highvern says the cross-collaboration between offices has led to cross-border solutions for clients and very high levels of client satisfaction.
Embracing new technology is also helping the firm to provide innovative solutions to families looking to manage their wealth.
JTC Private Office
Since its launch in 2018, JTC Private Office has become synonymous with client service excellence. From the outset, the firm set itself the mission that the JTC Private Office logo would be known as a hallmark of excellence – 'our clients expect the best, and this is what we deliver'.
Building on JTC's 35 years of experience in private client services, JTC Private Office provides additional bespoke services for ultra-high-net-worth individuals and families.
Stonehage Fleming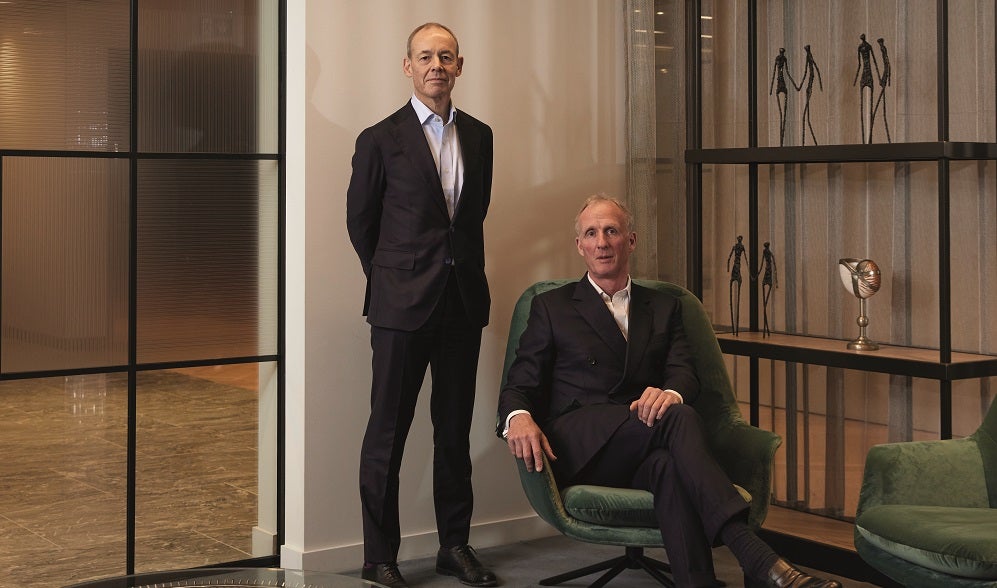 Stonehage Fleming is adviser to many of the world's leading families and wealth creators, managing and protecting their wealth, often across several geographies and generations.
The Flemings manage the wealth of the world's leading families and have themselves faced all the challenges an affluent family might expect.
Today Stonehage Fleming – which was formed by the 2014 merger of Fleming & Partners with Stonehage – advises on £60 billion of client assets, while structuring and managing £16.3 billion of client money.
Stonehage Fleming has a headcount of 900 across 14 global offices, led by outposts in London and South Africa.
As well as advising on a broad range of areas including wealth, trusts and philanthropy, the crux of Stonehage Fleming's service is its assist families in managing themselves and their succession.
Ocorian
Already a global leader in corporate and fiduciary services, fund administration and capital markets, Ocorian continued its strong growth with the acquisition of Trust Corporation International (TCI), one of Guernsey's leading fiduciaries. Ocorian now operates out of 20 key global jurisdictions, including Bermuda, Cayman, Guernsey, Ireland, Jersey, Luxembourg and Mauritius.
[See also: Family office investors favouring 'passion assets' in volatile times]
With highly regarded experts in trusts and foundations, succession planning, philanthropy, regulatory and tax compliance, and fiduciary services, Ocorian understands what matters to its clients.
The team aims to build a trusted and close relationship with its clients, which explains why some of its extensive international network of HNW and UHNW families and individuals have been with the group for over 50 years.
Raffles Family Wealth Trust
Headquartered in Hong Kong and with branch offices throughout Asia's financial centres, including Singapore, Shanghai, Beijing and Taipei, Raffles Family Office (RFO) offers a full suite of investment management services for ultra-high-net-worth individuals.
Raffles Family Wealth Trust is a boutique advisory business focused on serving the needs of legacy families to preserve their financial fortunes and enhance their true family wealth across generations.
Services include integrated multigenerational family strategy, strategic family wealth management, merger-and-acquisition transaction support, family business strategy (including listing and sale), family office reviews, offshore presence and service provision, education and training, as well as access to a global set of like-minded families interested in pursuing co-investment opportunities.
Taylor Wessing Private Wealth
Taylor Wessing's understanding of the responsibility of managing vast wealth within the context of complex family structures is perhaps best illustrated by its role in guiding The Roald Dahl Story Company and its shareholders in the sale of the business to streaming giant Netflix, Inc.
Taylor Wessing's client base includes UHNWs with a broad portfolio of business interests and investments, as well as single and multi-family offices with a global footprint.
The Spear's Awards are the premier awards event for the world of private wealth. Having been established more than a decade ago, they recognise entrepreneurs, philanthropists and leading figures from the private client industry, in fields from wealth management and private banking to law, property, tax and more.

Previous award winners include telecoms entrepreneur Strive Masiyiwa; Sir Richard Branson; Peter Lürssen of superyacht builder Lürssen; Travelex founder and philanthropist Sir Lloyd Dorfman; Goldman Sachs Private Wealth Management team; high-profile family lawyer Catherine Bedford; and the key lawyer behind the 'Wagatha Christie' case, Paul Lunt.

This year's awards received hundreds of submissions, which were assessed by the Spear's Research Unit and by a carefully selected judging panel of industry experts.
The 2023 Spear's Awards are presented in association with:
St. James's Place Private Clients
Drinks provided by: Blackeye Gin
To find our more about The Spear's Awards, click here.