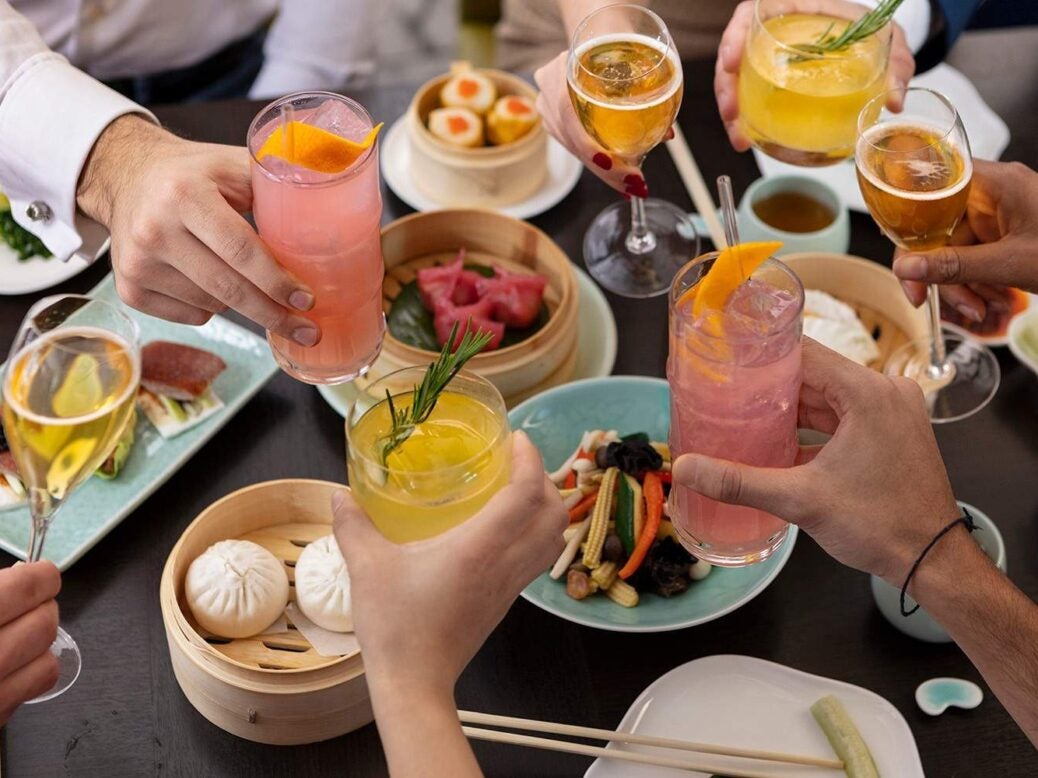 Arun Kakar heads to the City branch of London's cool Cantonese chain and finds a refreshingly different take on brunch  
Those familiar with Yauatcha will be aware of the windows of its flagship Soho branch: its shelves are elegantly stocked with everything from mooncakes to handmade chocolate, and it is famed for a particular brand of coolness, which entails shiny interiors, sleekly dressed staff and an attention to cleanliness to the microbial level.
Launched in 2004 by Wagamama and Hakkasan founder Alan Yau in 2004, it sits somewhere between the two. It can't lay claim to the extravagances of Hakkasan (then again, few places can) but its reputation has comfortably settled into a high-class city mainstay. And like most city mainstays, Yauatcha now offers a brunch menu. Here, it is in the form of 'Weekend Yum Cha', a menu that pays homage to the popular Cantonese pastime of the same name.
Spear's is no brunch fanatic, but admits to the appeal with the idea of blocking out a late morning/early afternoon for a catch-up.  The best brunch spots are neither brief nor entail too much effort. It is the weekend, after all.
My dining partner and I are at Yauatcha's less familiar City outpost in Broadgate Circle, an area that sits between intimidatingly sized buildings such as BlackRock and UBS. It's comparatively desolate on the Saturday afternoon we arrive on when compared to its weekday bustle: there's no commuting rush here, no sense of urgency spilling out of Liverpool Street. The result makes for a surprisingly relaxing part of the city.
Welcomed with a cocktail (we both go for the exceptional lychee Ginger Collins), we're immediately ingratiated with the easy atmosphere of our surroundings — this shares the same airy coolness as the Soho flagship and might feel a tad calmer for it too.
We're probably at peak brunch in London right now, we both acknowledge, and as a result of this we're taking the day with a dose of scepticism. When you can brunch on a boat to the sounds of UK garage, or atop the skyline views of the city, it becomes difficult to separate the novelty from the quality.
Yauatcha belongs in this latter category. A glancing look at the menu might make one question the 'br' of the brunch – there are four courses here – but it is a series of dishes that deliver a wholly satisfying afternoon.
First, the selection of dim sum is divine. The seafood black truffle dumpling is sumptuous, fresh and moreish. The scallop Shui mai is delicate and tasty, fresh and cooked within a second of perfection. It's exceeded still by the king crab dumpling, a dense morsel that is sweet and rich. The flavours are deceptively complex because they are so direct in taste and small in size – it's an ideal way to ready the appetite for the ensuing waves of dishes to come.
Next, it's a selection of Bao buns: Berkshire pork belly with pickled cucumber and almond alongside steamed chicken with mushroom, water chestnut and salted egg. The pork belly here takes the show and is one of the best things we eat all afternoon. Impossibly tender, salty and sticky, it easily avoids the trap of over-thickness that can often be the case with Bao. The bun doesn't overrule things here.
This might sound a lot of food – and it is – but we have our main course to come yet. We choose to share a rib eye beef in black bean sauce along with a Kung Pao chicken. Our chicken is exceedingly spicy (fortunately we both relish this) and exceeds our expectations of this classical dish. A brilliant juggling of salty, sweet, and peppery, it is fragrant without being overpowering, and retains a freshness amid the spice. The rib eye beef is again an expectation-exceeder.
A Cantonese staple, it contains all of the familiarity we've come to expect of the classic dish but like the Kung Pao, it is packs that inherent quality that makes it a cut above. And it's that sentiment that is perhaps what sums up our afternoon – familiarity with excellence.
Nothing we eat during our afternoon comes as alien to our tastebuds, but everything is of such a high standard, so polished in quality and execution that we can enjoy them anew. By the way, this is all accompanied by a bottle of delicious 2017 Dados Verdejo, an excellent connecting thread of a white wine that ties together all of our dishes.
By the time dessert arrives – petit gateau, yuzu chocolate bun accompanied by a belvedere espresso with macaron – we're just about ready to burst. Grateful that we forewent breakfast and already contemplating forgoing dinner, we slowly work our way through the deliciously indulgent chocolate bun and our deceptively strong espressos. Weekend afternoons don't come smoother than this.
By the end of our meal, our scepticism is dashed. This is an afternoon that, if anything, reinforces the Yauatcha brand of refined, tasty and very artful grub. It's keeping true to these values (in a way that a lot of brunch menus don't) and demands that you take a sizeable chunk out of your day in order to enjoy it. In an area of the city that moves at a million miles an hour, this is a welcome departure.
Arun Kakar writes for Spear's
Read more