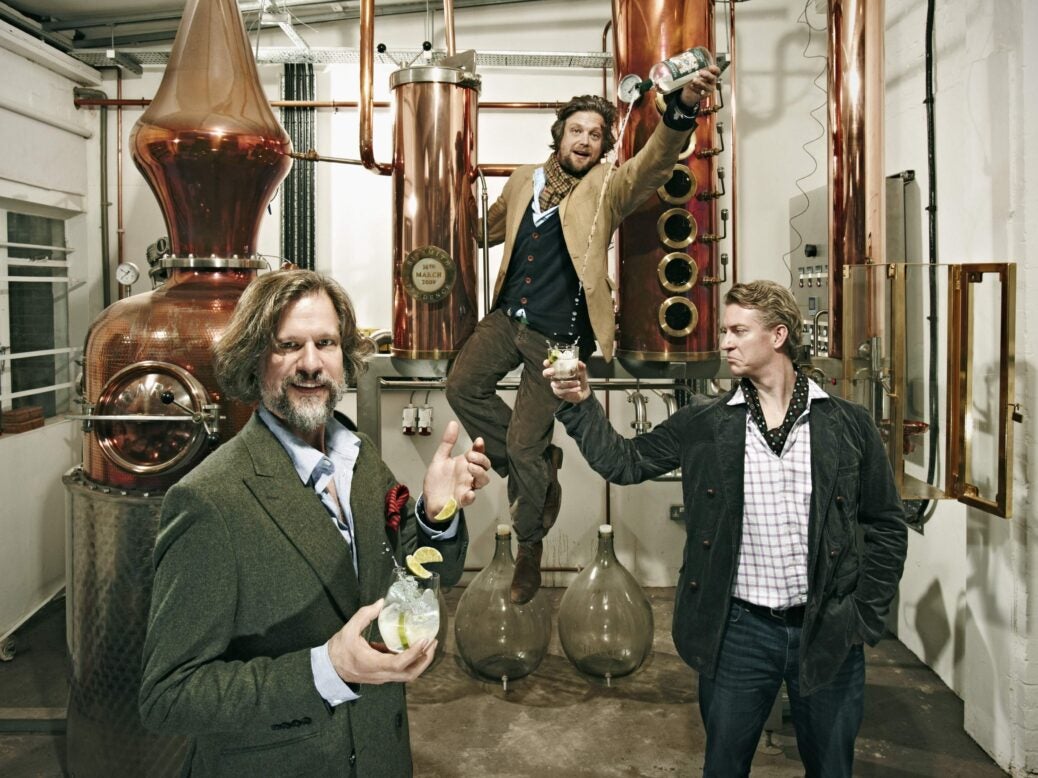 The trio behind Sipsmith kick-started the modern-day gin craze, but despite cashing in they have no intention of just walking away, writes William Sitwell
Ten years on, my old pals at Sipsmith have grown up. At the gates of their gin distillery in Chiswick, heralded by a smart green sign hanging over the entrance, there is a smart little reception office where the elegant female Freddie asks me to sign in on an iPad, I'm given a lanyard and badge – all Sipsmith green – and then I'm made to wait behind the firmly closed main gates.
A few minutes later, co-founder Sam Galsworthy comes to retrieve me. We walk though the parking lot and into the distillery. Signs hanging above instruct you not to step from the painted path, and a low wall around the distilling area is a further admonishment against the idea of deviating. To the right there is a slick and beautiful bar, then behind a glass wall there's the lab. There's a meeting room and then an open-plan office, the desks laminated in fake oak. Everywhere you look there is serious, earnest endeavour.
I cast my mind back to 2009, which feels almost like another century now. Back then I remember vividly my first visit to the Sipsmith distillery. It was in a rickety garage in a quiet residential street in Hammersmith. Inside were founders Galsworthy and Fairfax Hall and their eccentric master distiller, Jared Brown. The boys were celebrating the arrival of their distilling licence and the installation of Prudence, their still. The licence was granted somewhat reluctantly by HM Customs and Excise, which had no idea that it was within its remit and basically wrote its approval on a piece of A4.
Prudence was made in Germany and was the first copper pot still to be launched in the capital for 200 years. This was the start of the early-21st century gin craze and Sipsmith were the pioneers. Yes, there was Tanqueray and Gordon's and Plymouth, but no one was hand-crafting gin in small batches, without compromise. Today, when Galsworthy tells strangers he makes gin, they roll their eyes. Retailers won't take calls from people pitching a new brand. We have reached peak gin. But when he points out that he was there at the start, they're impressed.
Sipsmith's production capacity is now around 3,500 bottles a day, and you can sip it in bars all around the world. Galsworthy is still the epitome of smart casual slickness, although there are flecks of grey in his blond bouffant.
'Yes, we have grown up,' he admits. And more corporate? 'No!' he protests. 'But we have introduced some much-needed structures and procedural processes and as a result we are more confident of our daily practices and the future of the brand going forward.'
Which, I ponder, is rather corporate language, but then Galsworthy always did speak a little like that.
That grown-up talk is probably necessary, given who his customers are – major retail brands – and they can now confidently welcome the likes of health and safety spot checks. It wasn't thus in the old shed. But they cling on to their small business values – the head of HR is called the 'Minister of Culture' – and they work hard to have very jolly away days for their 70 staff. ('We graft together and we laugh together,' he says.)
In December 2016, Sipsmith announced that it was being bought by the Japanese spirits conglomerate Beam Suntory. But while the three boys are on an earn-out they have no intention to leave the business, and remain totally hands-on. The new owners 'don't want to crush the butterfly', says Galsworthy. 'They have been nothing but supportive and have a track record in acquiring founder-led businesses.'
To keep their culture, they remain determined always to hire from outside the drinks industry, and Brown never wavers in his commitment to 'one-shot' gin. 'That means we never add alcohol after distillation,' says Galsworthy, 'and we don't make compound gin [favoured alcohol] or concentrate gin [water is added to a high ABV distilled spirit].'
Looking around his business now, Galsworthy says: 'I would have laughed if someone suggested we could have achieved this. I can't tell you the number of naysayers among my family and friends.' Ten years ago he was selling bottles from the back of a moped. Now they have a team of eight distillers. 'We all pinch ourselves at what has happened in gin, and even though I remember so many people coming to the old distillery and asking how we made it, where we got the stills from, how we got our licence, I champion all gin makers,' he says. 'The rising tides lift all boats.'
As for that other liquid gin has spawned, Galsworthy is also magnanimous. 'Fever-Tree are much bigger than us,' he laughs, 'and I feel fantastic that I contributed towards their success. If we are global, they are super-global.'
Meanwhile, he maintains that he and his team are 'always innovating, always restless and experimental'. (They also have six months' stock sitting in Europe, to cope with any Brexit-related turmoil.) They have launched ready-to-drink Sipsmith and tonic in cans, relentlessly experiment with new avours (lemon drizzle, anyone?) with their collection of subscribers, and have just launched a simple cocktail recipe book.
'I never get bored,' says Galsworthy. One can only drink a toast to what they have achieved in just ten years.
Related
How Caravan took over London: William Sitwell meets the founders
William Sitwell meets Simon Rogan: 'I don't think people fear my arrival in the kitchen anymore'
William Sitwell meets Carlo Distefano, the most influential restaurateur you've never heard of