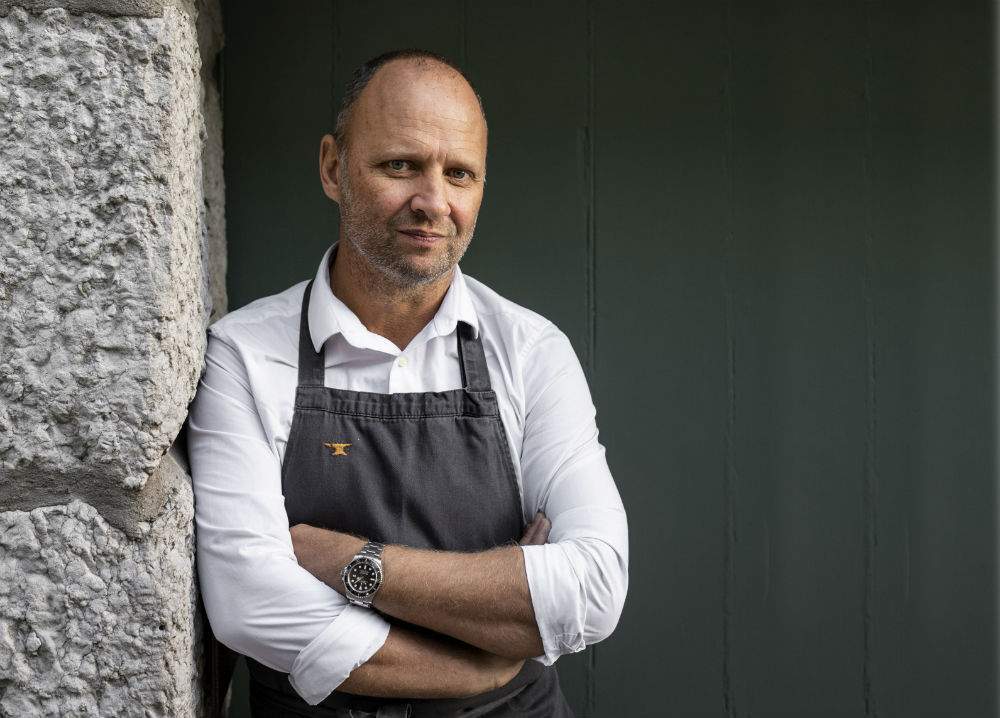 Not content with wowing the world from a Cumbrian Village, a newly chilled Simon Rogan is building a global empire, writes Wiliam Sitwell
Gazing out to sea on the Sussex coast, chef Simon Rogan is a man happily getting used to feeling calm and settled. It is 17 years since he opened L'Enclume, his fine-dining restaurant in the village of Cartmel in Cumbria.
His ambitious and mesmerising 20-course tasting menu won him a Michelin star in 2005 and a long list of accolades ever since; a second star came in 2013. He has subsequently built an empire which now includes restaurants in London, an outpost in Hong Kong and a farm.
Dividing his time mainly between his Sussex home, London and Cartmel, with occasional forays to Hong Kong, he travels by train ('I have a car in each place') and is happy to say: 'I live in beautiful places.' But home is on the Sussex coast, where 'I'm far enough away so I can't drop into one of my restaurants, so it's where I can get my sanity back. Here I'm away from all the madness.'
Taking the train is all part of his strategy to remain calm. 'The roads are not kind,' he says, 'and when you get somewhere after a long journey you can be in a bad mood. I like to arrive ready and excited.'
Happy talk
Rogan, 51, is allowing himself 'a bit of glory'. He's happy with the teams he has employed, happy with his operations board, happy within himself. 'I'm a very different Simon Rogan to the one nine years ago. I'm more chilled-out. I don't think people fear my arrival in the kitchen anymore.'
Back then, as he worked to maintain standards at L'Enclume and expand the business – a more casual dining option in Cumbria (Rogan & Co), Roganic in Marylebone, the farm and more – he was, in his own words, 'part of the old school'.
He is honest enough to admit that this meant 'a lot of intimidation… I shouted a lot, partly out of a fear of making mistakes. I didn't like the pressure I was putting on my wife. But I mellowed. I realised that worse things can happen than someone overcooking a piece of fish. I didn't like the way I was, so I changed, and partly I suppose because you just can't behave like that these days. Maybe it all began when I started farming. When I found myself weeding and sowing and watering, I thought that this can't be a bad life.'
Last December Rogan launched Aulis Hong Kong. Based on his Soho place Aulis London, it's a tiny, high-end offering catering for just 12 guests who must surrender to the whims of the chefs and a 15-course tasting menu. Some locals dismissed the idea. 'They said it wouldn't work,' he says, 'and people said we couldn't carry out our ethos of serving organic produce.'
Using local contacts and fixers, he managed to find farmers near the border with China. 'Suddenly we found masses of local organic produce,' he says. 'We bought brassicas and carrots, turnips and kohlrabi…'
And he's had no trouble filling those few spaces at his place, which (along with Roganic Hong Kong, a more casual dining offering) is located in the Causeway Bay area of the city. 'People in Hong Kong seem to love all things British, and while I'm very aware that in that city you can very quickly become last week's news, I'm a little surprised at how well it's done.'
As Rogan sits in his seat en route to Hong Kong, he must ponder how far he has travelled from his childhood on the south coast. His mother had an admin job at BT and his father was a veg salesman at the markets in Southampton.
'We were a working-class family,' he says. 'But what inspired me was the perk of my dad's job, which was to bring back big bags that were filled with fruits and vegetables that I'd never heard of.'
He would often cook for his parents and soon caught the cheffing bug. After an apprenticeship at a Hampshire hotel, various jobs under the likes of Marco Pierre White and John Burton-Race and then two years at a three-Michelin-starred restaurant in Paris, he did what most people might have thought was insane, launching a fine-dining concept in an unknown village in the Lake District. Perhaps it's down to his upbringing that he never really feels comfortable dining in very fancy restaurants.
'Of course, I dine in my restaurants to test out new dishes and ideas and to see that everything is working, but I wouldn't choose to eat in a posh place. I like casual restaurants or ethnic places where I can eat things that I couldn't cook myself.'
Rogan has new ventures in the pipeline but says he wouldn't want to expand the business to a size that meant he couldn't regularly do a service in any of his establishments. Steadily, he is becoming a titan of the British dining scene. He looks back out at the sea.
'I'm quite chilled at the moment,' he says again. I believe him.
Web simonrogan.co.uk