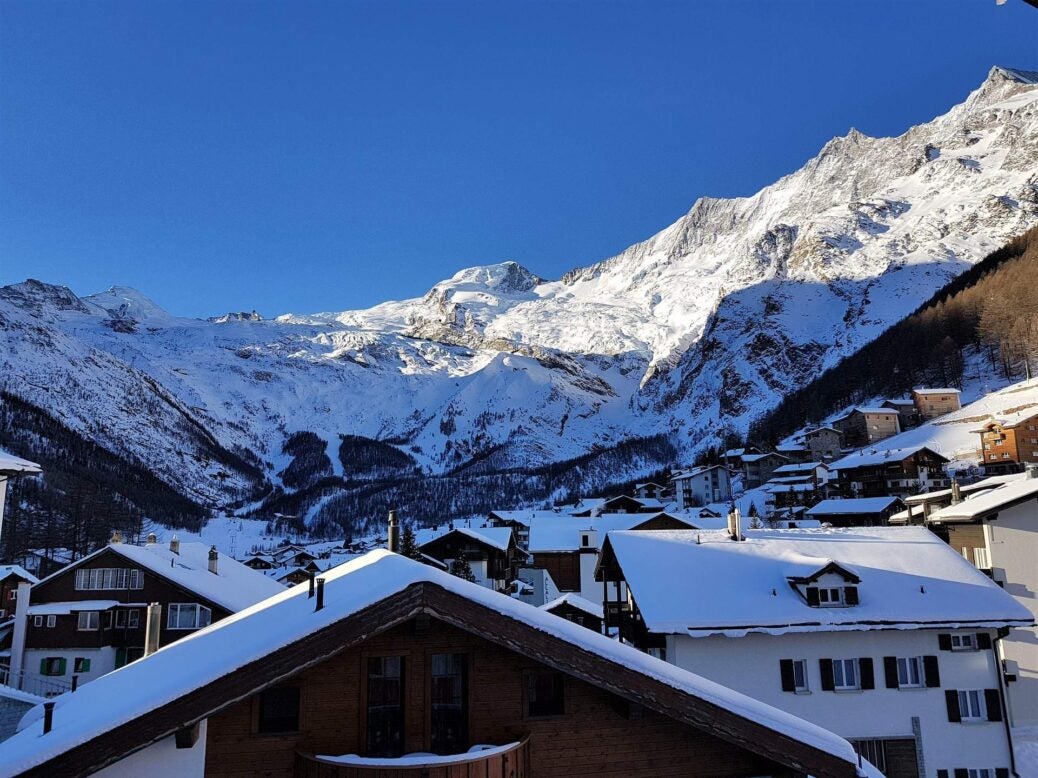 Swiss resort Saas Fee's elevation appeals to buyers wary of global warming – and its facilities are on the rise too, writes Catherine Moye
The Alps' white winter mantle is shrinking. The European Geosciences Union has said that if greenhouse gas emissions persist, the Alps could lose 70 per cent of their snow cover by 2099. However, wise money continues to invest in Alpine property – it's just shifting to higher-altitude, snow-sure resorts. That has drawn Saas Fee, an obscure 14th-century Swiss village, into the spotlight.
Never previously a high-society destination, Saas Fee sits in a valley surrounded by dramatic, adamantine peaks. Last year, chalet prices here rose sharply by 14.3 per cent, compared to 7.4 per cent annual growth in St Moritz (the next fastest climber in the Swiss Alps).
Saas Fee's rising popularity is not just founded on the deep glacial ice that keeps ski season open from August to April. The introduction of WinterCARD gold in 2016 also helped. This CHF222 (£180) season-long lift pass covers not only Saas Fee but also neighbouring ski areas, and offers discounts on a variety of facilities in the resort. The influx of new tourists helped increase visitors by 15 per cent.
'Saas Fee was our best seller last winter,' says Simon Malster, managing director of Investors in Property and a leading authority on Alpine ski property. 'The increased number of visitors precipitated something of a local arms race, as the owners of bars, shops and restaurants rapidly improved their establishments to attract more of these new faces. Saas Fee now boasts some great bars near the lifts for lively après ski, along with sophisticated restaurants and shops, which add to its appeal.'
The shift upmarket has also increased the sophistication and scope of buying options. Two tired old hotels are undergoing major redevelopment as chalet apartments, with purchase permits allocated to foreign buyers.
'People want prime locations, and most of the former hotels are in one,' says Malster. At CHF9,300 (£7,600) per square metre, chalets here remain competitively priced compared to other Swiss resorts such as Verbier (CHF12,300), Zermatt (CHF11,300) and St Moritz (CHF15,400).
Like most resorts, it also now offers many 'dual season' attractions, such as climbing, hiking and mountain biking. That has drawn the millennial 'Generation Activity', who often put owning an Alpine chalet at the top of their second-homes wish-list.
The small village of Andermatt was another spot largely overlooked by the international jet set – until 2013, when Egyptian construction magnate Samih Sawiris turned the local Swiss military base into a luxury village, and reopened the 18th-century Grand Hotel Bellevue as a five-star Chedi hotel. The Swiss government also lifted restrictions limiting sales to foreigners. Jeremy Rollason of Savills Alpine Homes says investment in Andermatt is closer to CHF1.8 billion.
Right now, Alpine-village quaint mixed with five-star luxury is seemingly potential chalet-buyers' main guiding criterion. That, and a majestic view of surrounding mountains with one's awe-struck breath misting the window.
Read more