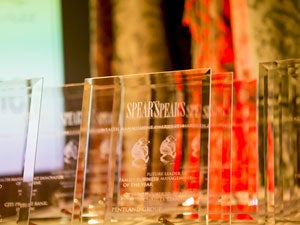 The nominees for the private client world's most anticipated awards have been announced
The winners of the 2019 Spear's Wealth Management Awards, the private client Oscars, will be announced on 14 November.
Now in their 12th year, the awards are being held at Skinners' Hall in the City and will be presented by Sky News economics editor Ed Conway, who returns to the event for a fourth consecutive year.
The nominees have been selected on the basis of a year's worth of research that has been carried out to produce the market-leading Spear's Indices. The 2019 Spear's Wealth Management Awards will recognise leading figures in categories including: Wealth Management, Tax advisers, Family Law, Reputation Lawyers, Philanthropy Advisers and Family Office Services Providers. There will also be special awards to recognise the Spear's Philanthropist of the Year, who last year was named as Guy Hands, and Entrepreneur of the Year. The coveted Outstanding Achievement Award, which was won by Cerno Capital's Nick Hornby last year, will once again be bestowed upon a truly exceptional individual.
Spear's editor-at-large William Cash, who chaired the rigorous final selection process with a trusted panel of judges, is thrilled by the calibre of the shortlisted professionals for the prestigious awards. 'The quality of talent and client service in evidence clearly shows that our advisers have achieved notable success, despite what many perceive to be a particularly challenging year,' Cash said. 'The private client industry, once again, showcases a cornucopia of talent that will help London retain its position as the global financial capital of the world.'
Alec Marsh, editor of Spear's, added: 'I would like to congratulate each of the nominees, and once again thank the expert judges, who joined us in our judging day at Ten Trinity Square, for their time and insight. I would also like to thank everyone who took time to enter the awards and our partners for the night.'
Without further ado, here are the nominees for the 2019 Spear's Wealth Management Awards:
Private Banker of the Year
Etienne  d'Arenberg, Mirabaud
Rennie Hoare, C. Hoare & Co
Jeremy Knowland, Citi Private Bank
Giles Pascoe, Goldman Sachs
Private Bank of the Year (UK)
C. Hoare & Co
Coutts Private Banking
Hampden & Co
HSBC Private Banking UK
Private Bank of the Year (International)
Goldman Sachs
Lombard Odier
Nedbank Private Wealth
UBS
Outstanding Achievement Award
To be announced on the night
Future Leader in Private Client
Rebecca Bettany, JTC Private Office
Craig Hughes, Menzies
Robert Szechenyi, Rathbones
Sophie Ward, HSBC Private Banking
High-Net-Worth Asset Manager of the Year
Tim Bailey, Cazenove Capital
Josh Matthews, MASECO Private Wealth
Gillian Piggot, Advanta Wealth
Petronella West, Investment Quorum
Ultra-High-Net-Worth Asset Manager of the Year
Alexander Bowden, Smith & Williamson
Kate Leppard, Cazenove Capital
Duncan MacIntyre, Lombard Odier
Khaled Said, Capital Generation Partners
Private Client Accountant of the Year
Mark Davies, Mark Davies & Associates
Nicola Roberts, Deloitte
Wendy Walton, BDO
Suzanne Willis, Blick Rothenberg
Property Adviser of the Year
Daniel Daggers, Knight Frank
Richard & Sophie Rogerson, RFR Property
Roarie Scarisbrick, Property Vision
Caroline Takla, The Collection
Family Office Services Provider of the Year
KPMG
Owl Private Office
Smith & Williamson
Stonehage Fleming
Philanthropist of the Year
To be announced on the night
Philanthropy Adviser of the Year
Cath Dovey, Beacon Collaborative
Rennie Hoare, C. Hoare & Co
Alana Petraske, Withers
Lawyer of the Year: Tax & Trusts
Russell Cohen, Farrer & Co
Simon Rylatt, Boodle Hatfield
Camilla Wallace, Wedlake Bell
Simon Weil, BDB Pitmans
Lawyer of the Year: Family
Debbie Chism, Stewarts
Claire Gordon, Farrer & Co
Jane Keir, Kingsley Napley
Julian Lipson, Withers
Lawyer of the Year: Reputation
Hanna Basha, Payne Hicks Beach
Mike Brookes, Lee & Thompson
John Kelly, Harbottle & Lewis
Mark Thomson, Atkins Thomson
Entrepreneur of the Year
To be announced on the night
For more information, visit: wma.spearswms.com
Read more