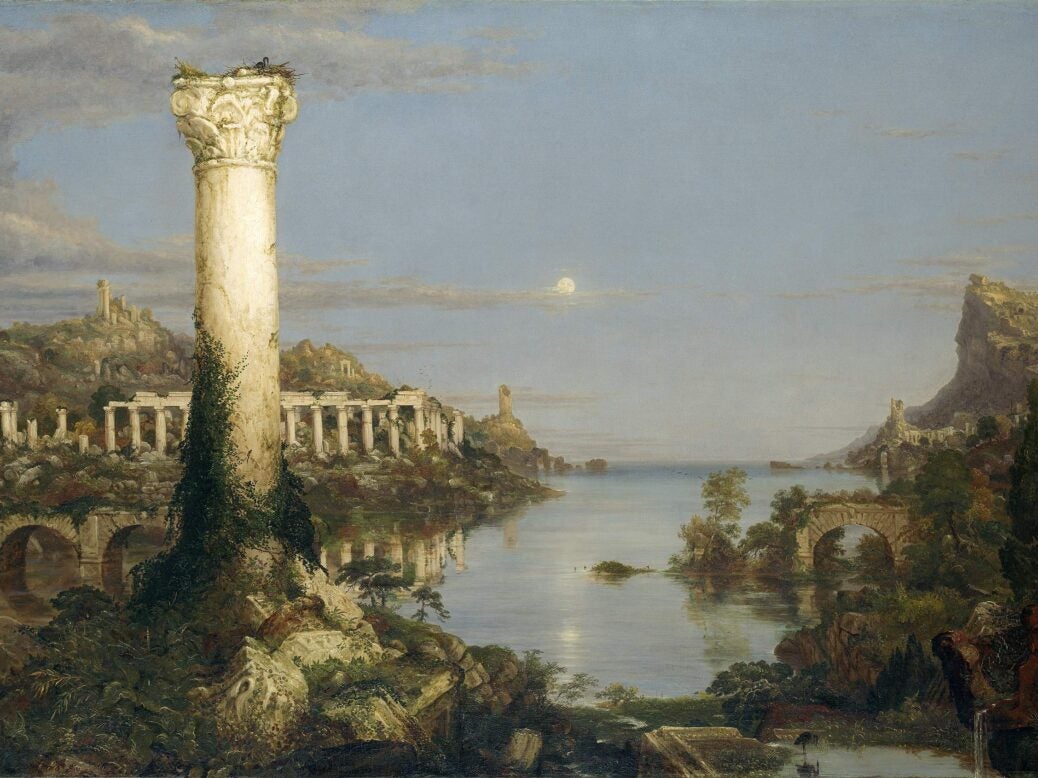 Christopher Jackson heads to the National Gallery and is educated in the work of an artist who should be better known
Thomas Cole was born in 1801 and died in 1848: those are the hard facts, but in between there was time for other things. Born in Lancashire, where like Blake he found employment as an engraver, he moved to America at the age of 21, exchanging the tension of the Industrial Revolution for what must have seemed an enormous Arcadia.
It was the sort of wrench which a career can be built upon: Cole was in the ideal position to consider the cycle of history having observed two disparate stages of it up close. But it was also in some respects a binary revelation – and thus a simplistic one. It might be said that Cole would miss a place in the front ranks because he mistook his own journey for the movement of history.
Belshazzar's Feast, John Martin, 1820 © Yale Center for British Art, New Haven
But there were other influences too: one of these, represented here in the first room in the shape of his Belshazzar's Feast (1820), was John Martin (1789-1854). You have to go to the Tate Britain to see more – and you may want to after seeing this picture here. This is a picture, painted by an Englishman, to a scale which must have struck Cole as American: the feast is interrupted not in the confined space which Rembrandt shows in the galleries upstairs, but in a palace whose enormity recedes towards an MC Escher-esque infinity.
But when Cole returned to London from 1829 to 1832 and there again from 1841 to 1842, he encountered two artists who were each, in their different ways, thinking not in terms of enormity –Martin was always accused of garishness – but forensically, about the condition of time and the nature of light. These were, of course, JMW Turner and John Constable.
Snow Storm: Hannibal and his Army Crossing the Alps, Joseph Mallord William Turner exhibited 1812 © Tate 2018
Each of these artists is a continent, but are represented here principally by two works: Turner's Snow Storm: Hannibal and his Army Crossing the Alps (1812) – which Cole saw in Turner's studio and praised for its 'powerful effects of chiaroscuro' – and Constable's magnificent grief-stricken Hadleigh Castle (1829).
Hadleigh Castle, John Constable, c. 1828-9
On the evidence put forward in this exhibition, Cole learned more from Constable than he did from Turner. In Hadleigh Castle, the central tower – usually said to be an emblem of the painter's heartbreak at his wife's death – was suggestive of what the evolutionary biologist Stephen Jay Gould would call 'deep time': Cole had become interested not in the sort of time that makes you late for a meeting, but in the kind which unpicks a civilisation.
And he would weave what he had learned from Constable – and the Claudes he had seen on the Grand Tour – into a series of five pictures called The Course of Empire, which arguably still constitutes his principal claim to our attention.
The Course of Empire: The Savage State, Thomas Cole, about 1834 © Collection of the New-York Historical Society, New York/Digital image created by Oppenheimer Editions
These show the same landscape in five different phases: the savage state, arcadia, consummation, destruction and desolation. In producing these canvases, Cole provides an interesting artistic counterpart to the work of geologist Charles Lyell, whose Principles of Geology – published in 1830, three years before Cole had begun his series – definitively proved that the biblical age of the earth was wrong.
Hung along the far wall of the penultimate room of this exhibition, they are impressive: although there is perhaps just a sense of grandiosity, as if they intend to establish too obviously an enormous reputation. The Turners and the Constable appear to come from some deeper need of enquiry. Oskar Fischel, in his huge 1948 work on Raphael, outlined the difference between his subject and Lives of the Artists author Giorgio Vasari: true inspiration, he wrote, doesn't feel the need to step back and write a catalogue.
And there is something in these slightly at odds with real creativity: a sense of listiness, which is probably why Turner has a wing of the Tate to himself and Cole doesn't. Even so, they are very grand, and if the conception is a trifle simplistic – phases of history are useful in textbooks but a violation of the pulse of life as it is experienced – it is nevertheless seen through diligently.
The Course of Empire: The Consummation of Empire, Thomas Cole, 1835-6 © Collection of the New-York Historical Society, New York/Digital image created by Oppenheimer Editions
Besides, we do see development within each canvas – hints of a more complex thought. There is a soldier, for instance, walking through Arcadia, hinting at the conquest to come. And the gaudiness of Consummation, in its unreal and photographic pinks and greens, is already tipping into a Nero-like excess: it tells us that every pageant conceals the end of all pageantry.
But perhaps Cole's best work is The Oxbow (1836) which shows in the foreground all the ruggedness of Connecticut if left untouched. The river itself calls to mind the reverse panels of Piero Della Francesca's Diptych of Federico da Montefeltro and Battista Sforza (1467-72) in the Uffizi: the silvery question mark of the River Connecticut could almost be the Cesano. But beyond it, a dichotomy is established: we find squared-off fields – enclosures which denote the presence of agriculture.
View from Mount Holyoke, Northampton, Massachusetts, after a Thunderstorm – The Oxbow, Thomas Cole 1836 © The Metropolitan Museum of Art, photo by Juan Trujillo
But it's that question-mark which provides the clue: it is a mysterious picture because we don't know which side of the river we'd rather live on. Furthermore every artist lives on one side of that river or the other: Byron is in the woods; Pope is in the open fields. But even here, the central idea is binary – just as Cole's experience of life, divided between Europe and America, was split in two. Neither Turner nor Constable ever invites such simplifications.
Even so, it is possible to have a major exhibition about a merely good artist: and that is what this is. It is, above all else, a marvellous story: of an artist at the outset of the Victorian era, fronting up to history's processes.
Christopher Jackson is deputy editor of Spear's
Related
Review: Monet and Architecture, National Gallery
'All is harmony, all is beauty' — an interview with National Gallery director Gabriele Finaldi
Review: Murillo – The self portraits at the National Gallery