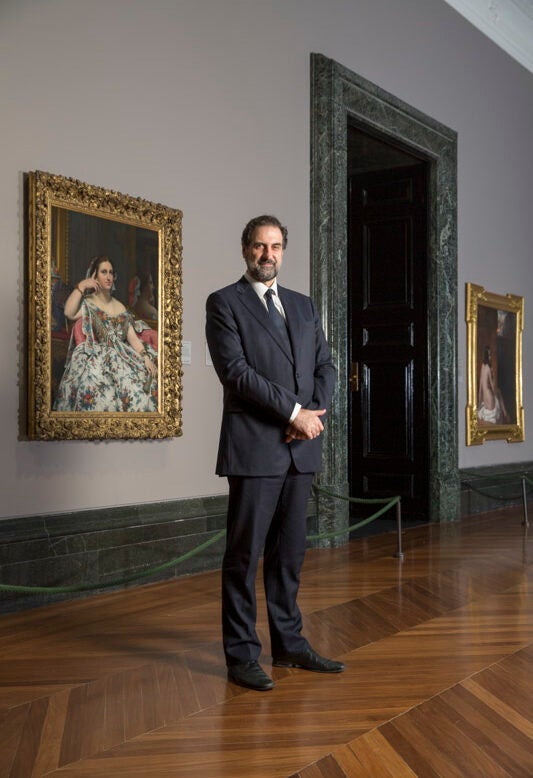 A tour of the National Gallery with its impressive director, Gabriele Finaldi, reveals much about the passion and generosity that enables such institutions to survive and prosper, writes Christopher Jackson
If you ask Gabriele Finaldi, the director of the National Gallery since 2015, to name his favourite painting in the collection over which he presides, you get a surprising answer. It turns out to be not a prime candidate like the Velázquez Rokeby Venus – though he has interesting things to say about that – or the Leonardo Virgin on the Rocks, but a picture by a little-known artist called Johann Liss (1595–1631). It's called The Fall of Phaeton and was probably painted around 1624.
'It's a picture I know well,' says Finaldi, squinting up at it. 'Liss died young in the 1631 plague – he's obviously exceptionally talented. He paints as if with butter, and has such a facility for showing quivering flesh – flesh which is alive. I was pleased Sir Denis Mahon left this one to the National Gallery.'
Sir Denis Mahon did more than just give the Liss: on his death in 2011, he left 25 paintings to the National Gallery, amounting to a room's worth of Guercinos and Renis. You're most likely to have seen them on your way to Caravaggio's Supper at Emmaus (1601). 'In the 1930s,' explains Finaldi, 'Mahon started collecting Italian baroque when the museums weren't interested in this kind of painting. He always said that he collected these works with a view to them coming to the National Gallery.'
It's an apt time to discuss art and philanthropy, in the wake of the sale of Leonardo's Salvator Mundi (c. 1500) to Prince Badr bin Abdullah bin Mohammed bin Farhan al-Saud for $450.3 million – an almost comically unaffordable price for a public institution. Finaldi is clear that the only way for the gallery to grow is for the wealthy to give more.
'The gallery opened in 1824 as a public gallery,' says Finaldi, leading me towards the Wohl rooms. 'There was a sense of public ownership and people participating in the great National Gallery project. The government put up some money but at exactly the same moment a private collector called George Beaumont steps in and says, "If you open up a gallery, I will give you my pictures."'
Beaumont did – the Beaumont gift includes Rembrandt's The Lamentation over the Dead Christ (c. 1635) and Claude's Landscape with Narcissus and Echo (1644). This set a tone. Ever since, the gallery has turned to individuals to enlarge itself. 'A collection that doesn't acquire inevitably becomes static – it's part of our constitution actually that we should acquire pictures,' he explains.
Finaldi grew up in Catford in south London, the son of a Neapolitan father and a half-Polish, half-English mother. We pass the first picture in the gallery which he came to know: this is Ingres's Madame Moitessier (1856), which was included as an illustration in an academic essay by his mother. 'My mother developed my passion for art,' he says. 'My father was a teacher of French and was more interested in music than in art.' Clearly, it was a cultured family.
After studying at the Courtauld Institute, and a ten-year spell as a curator at the National Gallery, Finaldi took up a position at the Prado as deputy director for collections and research, before returning here to take up his current position. So what is the direction of the gallery at the moment? Finaldi observes how the collection has evolved: 'In the 1980s and Nineties we bought a lot of German Renaissance pictures because we really didn't have those. More recently we have Scandinavian pictures.' There is also talk of expansion, and a commitment to new technologies such as mobile phone services.
But first and foremost, Finaldi is an art historian. His enthusiasm before the pictures – quiet and insistent – is catching: his erudition is an advertisement for the transcendent possibilities of painting. And, of course, that's crucial: art and culture don't traditionally score as highly as they might in lists of charitable causes. Listening to Finaldi talk, that's particularly a pity. Picture after picture is permitted new life in his company – what you thought you knew turns out to have been insufficient.
As we go from Singer Sargent to Van Gogh, Finaldi reveals how the entire gallery is a symbol of generosity proliferating across time. Happily, the benevolence continues today. For instance, he explains how for years the gallery had wished to display Bernardo Bellotto in the collection. Moments later, we are standing in front of The Fortress of Königstein from the North (1756-58).
Finaldi describes the picture: 'We get a strong sense of its physical mass and the big shadows on the sides of buildings – the trees and the landscape leading up to the base of this rocky outcrop and this cool northern sky.' His voice trails off in admiration.
We're only looking at this on account of another kindness. The picture came to the National Gallery as part of an unexpected legacy left by a certain Madeline Swallow. 'Something like a third of the pictures on show are the result of legacies,' Finaldi explains.
But of course the value of the gallery isn't just at the level of the individual painting: Finaldi plainly loves it as a space. Before Seurat's Bathers at Asnières (1884), we talk
of Seurat's palate and strictness of canvas organisation. It was bought by the Courtauld Fund, set up in 1924, kick-starting the Impressionist part of the collection. 'It's not just the money – it's often the vision of an individual which chimes with something which the gallery is looking to do,' he says.
When I speak of the similarity with Piero della Francesca's Baptism, Finaldi says: 'There are these lovely rhymes across the gallery: [the Piero] is beautifully, geometrically designed with a high-key palate. Here you've got a secular equivalent about five centuries later. The gallery is a wonderful place to see artists in dialogue across time.'
And if there are these rhymes and indeed half-rhymes across the gallery, the National Gallery is also a pleasant space in which to explore them. At the Louvre, one is always toiling to get where one needs to be – the National Gallery is comparatively navigable.
'The great thing you remember about the gallery is that it's free,' Finaldi says. 'A lot of people talk about coming to the gallery just for 15 or 20 minutes just after lunch – and for many people that's been a significant experience.' At the Prado, he adds, things were different: 'We used to joke that you'd visit the Prado twice in your life: once with your mum and dad, and once with your own kids.'
Visitors can grow and mature with the National Gallery: 'I think of my own childhood, coming when I was still at primary school; here I am 40 years later, still learning. Many people value that so much that they give back.'
As we walk from room to room, we keep coming back towards art, and how it can alter your view of the world. In a sense the other benefactors of the gallery are the great artists of the past.
For instance, Finaldi describes in detail the life-size intimacy of Zurbarán's A Cup of Water and a Rose (c. 1630): 'You don't do it, but you can certainly imagine yourself reaching into the space and having a physical contact with the object.' Visitors only get to see this postcard favourite today thanks to the heirs of arguably Finaldi's most illustrious predecessor, Sir Kenneth Clark, who owned it, and the George Beaumont Group, which stumped up the money.
Before Velázquez's Christ in the House of Martha and Mary (1618), Finaldi opens up for me the precocious ambition of the work: 'We've got an interior space and the suggestion of another space which inevitably, maybe subconsciously, makes us think about things beyond  the immediately visible.' Of the Rokeby Venus (1647-51), he says: 'She's exposing herself for the viewer's delectation while at the same time remaining in control.'
In 2024, the gallery will celebrate its bicentenary: 'We're already beginning to think about what might be suitable,' Finaldi says. 'That might be a sound archive of people's impressions and memories of the gallery – but we'll also have some very significant exhibitions.'
I sense with regret that our time is nearly up, and most of the gallery's contents have gone undiscussed. After casually converting me to Rubens ('There's simply so much going on in his pictures: it's the sheer richness of the contents') and explaining Raphael's Julius II ('He's introspective: his eyes are open but he's clearly thinking through internally something that's happened to him recently'), Finaldi escorts me towards the Sainsbury wing, where many of my own favourites hang.
We pause before passing the staircase: 'When you step into the Sainsbury wing,' Finaldi says, 'the name draws to your attention an astonishing act of generosity: the Sainsbury brothers stepped into what was obviously a very difficult situation where the government and the gallery hadn't succeeded in bringing together the right sort of project for the new wing. The Sainsburys say, "We will do it and work with the National Gallery to do an amazing thing for the country."'
They certainly did. Finaldi escorts me past the Wilton Diptych ('a very rare survival, and there must have been tonnes of it, but it's insanely beautiful') and we reach one of the gallery's treasures, Piero's Baptism, which is now hanging next to Uccello's Battle of San Romano. 'We've come on quite a journey,' he says. 'This is not a world which is far away from [Impressionism]. It's something we feel is somehow familiar – it's embedded in our memory and it's become a common visual reference for us. It is the sort of perfect world where all is harmony, all is beauty.'
Of course, one might say the same about the National Gallery itself – and long may it continue. Finaldi is, of course, a custodian of that hope. When I ask how he wants the gallery to be in 100 years' time, he replies: 'I hope it will be much the same.' So do I.
Christopher Jackson is deputy editor of Spear's
Related
How Philip Pearlstein led a revival in realist art
Review: Known Unknowns, Saatchi Gallery
Review: The Court of Redonda, Heong Gallery