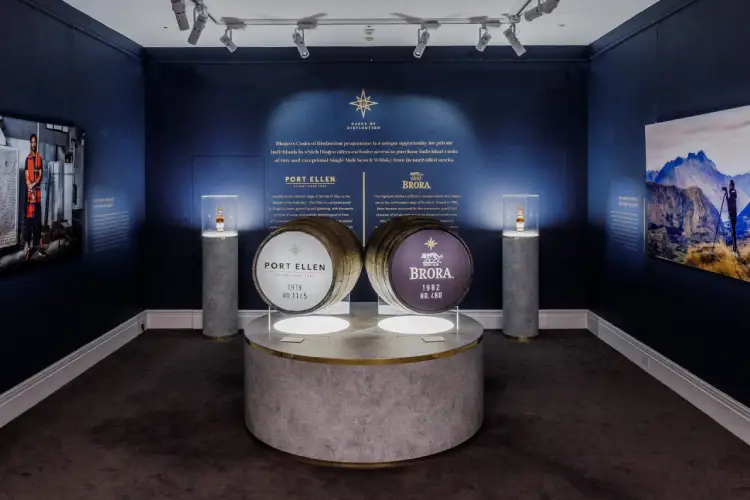 Two casks of single malt Scotch sold for £875,000-a-piece at Sotheby's on Tuesday.
Both casks, from the 'ghost distilleries' of Port Ellen and Brora, are part of Diageo's Casks of Distinction portfolio, which is made up of outstanding whisky from amongst the millions of barrels the company has maturing across Scotland.
Single Malt Whisky is a hot investment. The first half of 2021 saw 85,000 bottles of fine whisky traded on the secondary market, worth more than £36 million. They predict the second half will have seen value of sales up almost 30 per cent on 2019.
Knight Frank's Luxury Investment Index also noted that rare whisky has done better than other fine collectibles such as wine, art or jewellery, rising 564 per cent in the last decade.
Sotheby's highest grossing whisky auctions:
The Ultimate Whisky Collection (Part I), 2019
Total sale: £7.6 million
What was sold: 391 lots, including a bottle of Macallan 1926 60-year-old Scotch whisky which set a new world record after fetching £1.5m.
Distiller's One of One Auction
Total sale: £3.1 million
What was sold: 42 whiskies, including a four-bottle set of Glenfiddich from the 1950s that eventually sold for just over £1 million.
Whisky of Distinction | Port Ellen & Brora
Total sale: £2.9 million
What was sold: 79 lots, including two casks of single malt whisky from the 'ghost distilleries' – Port Ellen and Brora
Whisky from Port Ellen and Brora is incredibly rare. Both distilleries closed in 1983 following a slump in demand, but appreciation for the flavours created there grew over the following decades. By 2017, demand for the whisky had convinced Diageo to resurrect the 'ghost' distilleries, and after a £35 million injection Brora re-opened in 2021 with Port Ellen expected to return to production in 2023.
The 23-year ageing process for any whisky to be considered a 'cask of distinction' will protect the value of both casks sold this week, however. In-fact, the buyers have the option of leaving their casks to mature for a further five years, giving them the chance to experience the changing flavour profiles of their whiskies.
Each cask owner will also be given a unique artistic experience as part of the sale. The owner of the Port Ellen will collaborate with designer Ini Archibong to create a unique Murano glasswork, that captures the whisky's essence. "This art piece represents the precious nature of the liquid inside the cask,' said Archibong. 'Unified and juxtaposed with our most precious resource – water – they represent the heart and soul of Islay and her people.'
Meanwhile, the owner of the Brora will join acclaimed photographer Trey Ratcliff on his first expedition through Scotland. Aswell as finding out how Ratcliff captures his photos, the cask owner will be able to choose one photograph for the trip to have converted into a print and used as the label on their bottles of whisky.
For information on how to invest in single-malt, visit Spear's top whisky advisors index