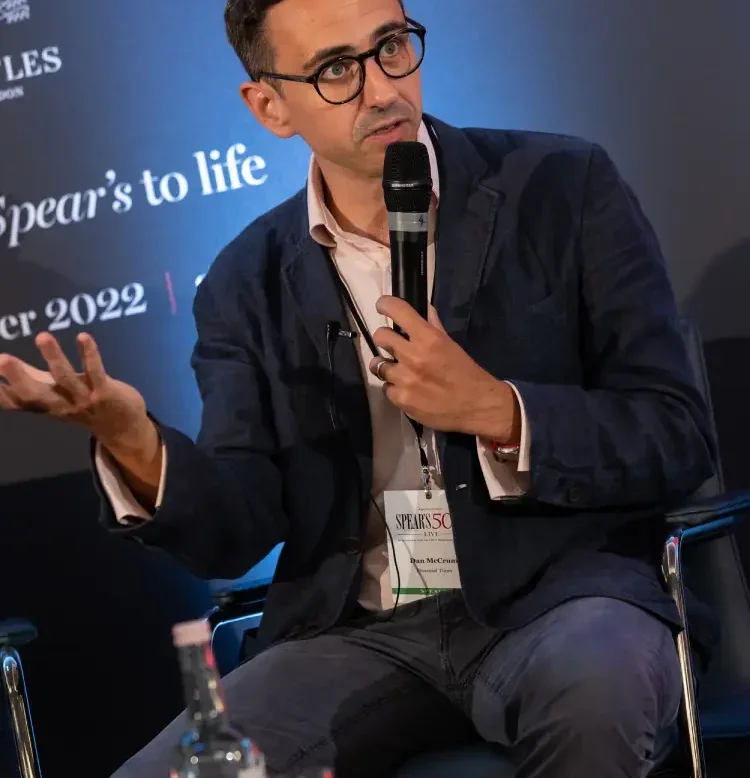 Fraudulent schemes reach critical mass when legitimate businesses start working with them said Dan McCrum, as the journalist who brought down Wirecard addressed the audience at Spear's 500 Live
'People say "surely EY wouldn't be auditing these guys if they were dodgy?" 
It isn't in investors interest to ask difficult questions, added McCrum who made it his business to get to know short-sellers.  
'Some of these guys are a bit odd,' he explained, adding that Wirecard had weaponised the fact they were strange characters by painting them as obsessed with profiting from the firm's collapse. 
'But all short-sellers do is they look for lies, which is what I do as a journalist,' he said. 'And the fact that Wirecard was listed in a reverse takeover raised questions for me.' 
McCrum spent years pursuing his suspicions but faced continued blocking from lawyers and white collar fixers hired to keep the company's reputation intact. 
His breakthrough came in late 2019 when a dispatch from a brave whistleblower helped reveal that many of Wirecard's sales figures have been plucked from thin air. 
McCrum explained how he published three articles that would allege fraud and ultimately lead Wirecard to take legal action against the FT. 'When I then heard SoftBank was investing a billion dollars in Wirecard, I started to wonder, has the world gone mad…' 
'The next few months were tough,' he explained. 'Whenever [my wife and I] wanted to have a conversation we habitually put our phones in the other room. 
When asked if he was scared, McCrum replied, 'If something happened to a journalist there would be a lot more attention than some esoteric financial crime, but I would never stand too close to the edge [at a] tube station.' 
In a recent Spear's review of his book Money Men which details his experience of the scandal, Robert Jackman writes: it's easy to forgive McCrum (who was at one point subject to a fruitless criminal investigation in Germany) the occasional bit of score-settling. Rather amusingly, much of it comes at the expense of his employer. When his former editor umms and aahs about caving to Wirecard's legal threats, McCrum delights in reprinting a text from his courageous whistleblower: 'Tell the FT to grow some f **king balls.' 
Jackman concludes his review remarking that 'perhaps one day this story will make it to the silver screen.' Two months later Netflix announced the release of 'Skandal', a documentary on the Wirecard case that McCrum has been closely involved with. Skandal will be released in the UK on the 16th September. 
Spear's 500 Live 2022 in association with The OWO Residences by Raffles was held at The Carlton Tower Jumeirah in Knightsbridge. The annual event brings the world of Spear's to life with a programme of panel discussions, keynotes and interviews with leading figures from the worlds of finance, economics, wealth management, law, tax, philanthropy, education, luxury and more.  
The event was sponsored by Butterfield Mortgages, CAF, Finance Malta, IQEQ, MOXO, the Oeno Group, RAK ICC and the Royal Mint. 
Dan McCrum's book 'Money Men' can be purchased online and at all good bookstores.