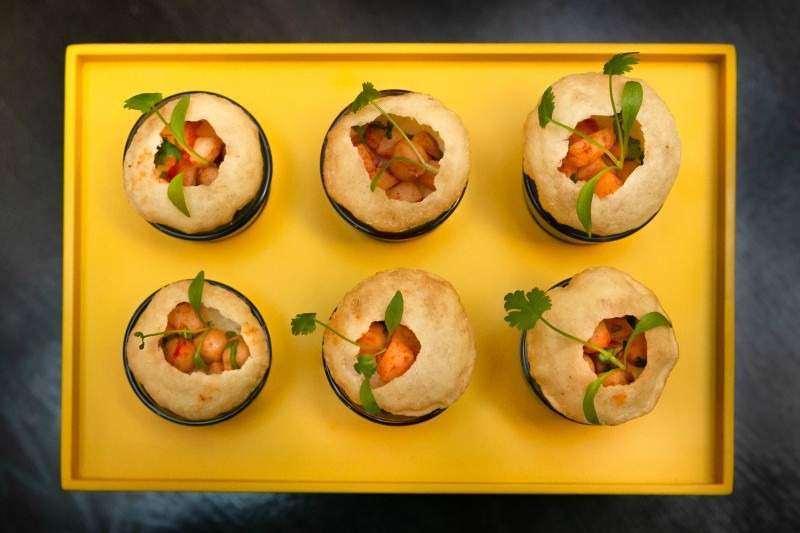 Chef Rajesh Parmar of Taj Hotels' Thai Pavilion fame has now opened a restaurant that serves street food in style, writes Rasika Sittamparam
The Great Marlborough Street Magistrates Court in Soho may have once tried the likes of Mick Jagger, John Lennon and even Oscar Wilde – and for that, you might have decided to saunter across the road from Liberty to examine the magnificent Grade II-listed building. Next time you're there, look closely. Open the door, yes, and find yourself completely transported, not back in time, but into what looks like the interiors of a modern Mumbai apartment.
This is Soho Wala, the creation of chef Rajesh Parmar, who has years of experience as executive chef at Taj Hotels' Thai Pavilion restaurant under his belt. Indian-born Parmar has moved on to cuisine that is closer to home, and is introducing authentic Mumbai street food instead, in a colourful, unstuffy atmosphere that only covers 50.
Once somewhat comfortably seated, expect bright orange-red-yellow miniature trolleys to arrive at your table, carrying six shot glasses with pastry-like parcels on top. Did you order something called Pani Puri, possibly with vodka and spice-induced shots? Great. This will be a painfully pleasant challenge: pop the entire potato-filled parcel into your mouth and wash it down with the potent green juice. 'Oh my god,' my dining partner lets out a muffled exclamation as the mixture of crumbly wheat shells, sweet-spicy potato, mint, tamarind and vodka travels down his throat. I'm experiencing the same boozy and fiery sensation, but have managed to move on to the next Pani Puri. It takes a while to get through the rest on the trolley (you have to race with your partner, it's the rule), but we are left with tears in our eyes, both from the spice-exertion and laughter.
Parmar has done it – the element of play is most definitely here, and it's what one would expect from the bustling streets of Mumbai anyway with the dizzying variety of street snacks on offer. Next, we try ordering Kurkure Bhaji and Mirchi Matchstick Chicken. Both arrive in miniature trolleys again, but this time, thankfully, without any booze. The former taste like jazzed up kale crisps, but with okra and lotus stems instead. The chicken is flavourful and is decorated with powdered spice and green chillies. One trolley empties while the other rapidly piles up with bones.
With appetisers done, we move on to the more serious dishes to test Parmar's gastronomic mettle. The Prawn Balchao from the clay oven is a delicious, albeit minuscule, treat. This features the arthropods in an unbelievably sweet, tangy and moreish marinade. The explosion of flavours enlarged my appetite for more – alas, I was reluctant to trade another dish's place for it in my stomach, out of sheer greed and the fear of missing out. The Hariyali Poussin arrives covered in jade-coloured spices and lemon slices stained bright red with chilli powder. The tenderly cooked chicken blends well with its coriander and mint coating – a bite of the extraordinarily buttery Choor Choor naan bread makes a perfect complement. I finish this with a refreshing swig of Cobra beer.
The Paneer Kofta was the last straw for me, as it arrived in gleaming orange gravy, topped with what looked like cream. These are in fact cottage cheese dumplings in a rich Tikka-like tomato sauce. I barely finish half of the Creme Egg-sized morsel while remembering my mother's explanation of how one slice of the paneer cheese is the equivalence of five glasses of milk. I hurriedly push the plate towards my partner instead.
Although I am at this point struggling to drink the rest of my Cobra, I desire for just a little more. I highly recommend my dessert, Vidhesi Chai, for its magical workings. This is Assam tea brûlée made with malai crème and vanilla ice cream and the crumbliest type of shortbread. I lick the dessert spoon before falling into Indian food stupor. Calling it a night,  I vow to return to further explore Parmar's playful menu, and of course, for the opportunity to show off again in a Pani Puri challenge on a night out in Soho.
Rasika Sittamparam is senior researcher and writer at Spear's