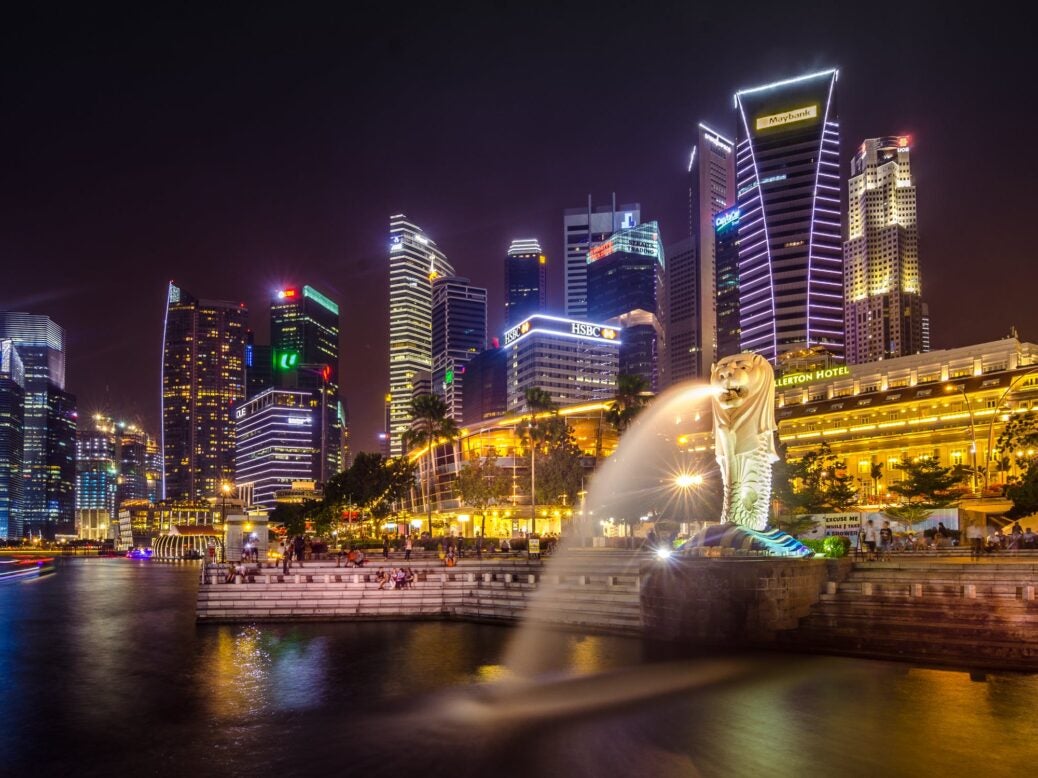 Singapore has eclipsed Hong Kong to become the new home of wealth in Asia. John Arlidge reports
Singapore Airlines flight 317 from London bumps through the last of the towering tropical rain clouds and banks hard right towards Changi airport, and that's when you see it: a vast gash in the lush, tropical green of the Lion City.
Changi is building a third runway and a new fifth terminal to enable it to handle 140 million passengers a year and overtake Heathrow, where the debate over a third runway has been going on for so long that Changi has built a second runway and three new terminals in that time. The centrepiece of the new development is the Jewel, a £951 million vertical 'city' that links the terminals. It has indoor gardens and rainforests; the tallest indoor waterfall in the world at 130 feet; 280 shops, restaurants and bars; a 'pod' hotel; and an open-to-all lounge.
It was completed in just four years. 'We don't hang around in Singapore,' says Lim Ching Kiat, managing director of development at Changi. Singapore is not hanging around anywhere you look, whether it is domestic investment, local brands expanding overseas for the first time, or Western brands plugging into the Lion City.
Two centuries after Stamford Raffles landed and founded what has become the modern city state, it is finally overtaking Hong Kong to become the crazy-rich business capital of Asia. 'When you look at Singapore now and ten years ago, the contrast is striking,' says Melissa Ow, the government executive charged with attracting visitors to Singapore.
Singapore Airlines, long considered the world's best carrier, is going the extra mile. Its new Airbus A350 has broken the record for the longest flight in the world: the 10,377- mile, 19-hour run from Singapore to New York. On its A380 superjumbos, it's raising the bar on luxury in the new Suites class. There are only six suites at the front of the upper deck, served by three cabin crew. They come with a tobacco brown Poltrona Frau leather seat and a separate 6ft 3in long bed that drops down from the wall.
You can have Malossol caviar and Krug for every meal, if you like. The iconic Raffles hotel, one of the few hotels synonymous with a city, will reopen in July after a $100 millionplus reinvention led by general manager Christian West beld. The Raffles group now has 13 properties across 11 countries. Next year the 14th Raffles – in Udaipur, India – will open on a 21-acre private island in Udai Sagar Lake. It will be followed by the Raffles Jaipur.
Fullerton Hotels and Resorts, behind the Fullerton and Fullerton Bay hotels, is leaving home, too, opening its first outpost outside Singapore by taking over and rebranding the Westin Sydney to become the Fullerton Hotel Sydney later this year. 'Both are housed in former General Post Office buildings,' points out Cavaliere Giovanni Viterale, the general manager of the original Singapore property.
Capella, another local brand behind the city's chicest resort on Sentosa Island, is moving into Sydney, Bangkok and the Maldives. The Las Vegas Sands Corporation, the US developer behind the three-skyscraper Marina Bay Sands resort and casino, is building a fourth tower, with 1,000 all-suite hotel rooms and a sky roof with a swimming pool. It is also creating a 15,000-seat indoor entertainment arena.
Venerable favourites the Mandarin Oriental and Shangri-La are enjoying stylish makeovers. As local names grow, global names are buying in. Earlier this year Sir James Dyson announced that he would move his company's headquarters from Wiltshire to the docklands district of Singapore. It's part of a £1 billion investment that will next year see him open the first automotive manufacturing plant for a generation in the city to make his new electric car. Rolls-Royce's biggest aero engines plant outside Derby, near Singapore's old airport at Seletar, is increasing production capacity – in part to meet Singapore Airlines' demand for new engines.
Google and Yahoo have opened their offices for South East Asia in Singapore. Alibaba has announced that it will open its first joint research hub outside China in the city. Facebook will build a $1.4 billion data centre there. Local tech entrepreneurs are behind Asia's largest driverless taxi trials.
Banks are also investing heavily. The financial services sector received record overseas investment last year, worth £4.73 billion (Hong Kong received £3.37 billion). Bankers are attracted by the rising number of crazy-rich Asians. Singapore is home to the third largest number of UHNWs (after London and Tokyo), and their number is rising by 3 per cent a year, GlobalData WealthInsight says.
With so much development, it's small wonder that GDP growth is outpacing Hong Kong, rising to US$57,714 per head, compared to Hong Kong's $46,194, according to the World Bank.
 State backing
What has transformed a city so dull it was nicknamed the Isle of Wight of Asia? Government investment is a big part of the story. Ministers are behind the massive airport expansion and the growth of the already huge port. The decisions to approve the Marina Bay Sands mega-casino and to host Formula One on the streets of downtown have also helped to add much-needed razzle-dazzle. Even though it's only a three-day event, F1 alone has generated almost £1 billion in additional tourism revenue over the past decade.
Geopolitics is a big – and growing – advantage. Being near China but, unlike Hong Kong, not part of China, with all the political risks that now entails, makes Singapore attractive. 'More and more people are worried about Beijing when they think of Hong Kong because Beijing is closing off to some extent. That's helping Singapore,' says famed investor Jim Rogers, who has moved to Singapore to run his investments. Tax is low. Corporation tax starts at 8.5 per cent. There is zero tax on capital gains and dividends. Investors pay no tax for the first five years after their investment.
The highly educated workforce, rule of law, the English language, low pollution compared to Hong Kong, and very low corruption also help. Singapore pays its ministers exceptionally high salaries – prime minister Lee Hsien Loong earns $1.6 million a year, officially more than any other government head – and prides itself on its freedom from graft.
'The mind of Singapore has changed,' says Loh Lik Peng, a former lawyer who is the city's best-known boutique hotelier, restaurateur and private club owner. 'Thirty years ago everyone wanted to be a professional – doctor, lawyer, accountant. That got you "the iron rice bowl", as they called it. Now all the young people talk about being an entrepreneur.'
Dyson agrees – and sees similarities between Britain and Singapore. Each is small, with a highly educated population. That means they lack the scale to compete in mass production; nor can they compete on price, because brainy workers are expensive. But both can win in hi-tech sectors, such as complex engineering, pharmaceuticals and financial services.
Call it the Singapore dream – and whatever you think about a city with an authoritarian government, little free expression and an aversion to chewing gum, it's becoming economic reality.
This article first appeared in issue 69 of Spear's magazine, available on newsstands now. Click here to buy and subscribe.
Read more: