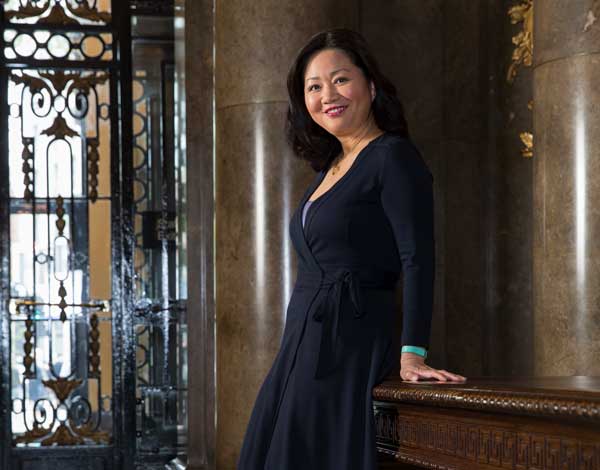 The chair of the Royal Commonwealth Society Linda Yueh explains how 53 democracies and 2.4 billion people can pull together. She tells Renu Sabherwal
I was deeply honoured to become chair of the Royal Commonwealth Society (RCS) a year ago. Accepting the role made complete sense to me, because I am intrigued by the diverse nature of the Commonwealth and how different countries manage growth prospects for their peoples.
I am also deeply invested in the Society's aims to create a fairer and more inclusive world through its youth-oriented programmes that empower, engage and inspire young people. One of the key values of the Commonwealth is that all 53 member states are democracies, and the charity is mandated to give voice to everyday people on important issues. We translate this voice into action through our key activities in the fields of literacy, gender equality, the environment and youth leadership. One example is the Queen's Commonwealth Essay Competition, the world's oldest schools writing competition, which culminates in an annual prizegiving at Buckingham Palace.
The competition encourages thousands of schoolchildren from more than 50 countries to explore the Commonwealth's values within their daily lives. This year's theme, 'A Connected Commonwealth', is championed by our inaugural vice-patron, the Duchess of Cornwall, who launched the 2019 competition during her travels to Ghana last year.
A more recent example is the Queen's Commonwealth Canopy, launched in 2015 with the vision of creating a pan-Commonwealth network of forest conservation projects that marks the Queen's service to the Commonwealth and conserves indigenous forests for future generations. With 43 countries now committed to protecting more than 8.5 million hectares of forest, the project is the first environmental initiative to which Her Majesty, the Society's patron, has given her name.
This royal patronage, and the Society's position as a trusted partner of Royal Households, is no more evident than in our annual delivery of the Commonwealth service at Westminster Abbey. This multi-faith service is attended by the Queen and members of the Royal Family, the UK prime minister, the Commonwealth secretary-general, high commissioners and ambassadors from the diplomatic corps, as well as more than 800 schoolchildren and young people. We have also been a key partner in the Queen's Young Leaders programme.
Adding values
As someone who has recently written about economic history, I know there are periods in history when it is even more important to talk about values, and I believe this is one of those times. People want to live in societies imbued with values, especially those of equality, justice, inclusiveness and protecting the environment. At a recent fundraising event, we heard from one of the Society's associate fellows, Kenneth Gyamerah, a schoolteacher from Ghana who spoke of the opportunity for young, rural Ghanaians to have their voices heard in a global competition and potential visit to Buckingham Palace.
It was this opportunity that spurred him to become an ambassador for the essay competition and to use it to promote literacy in remote communities. This is but a single example of how investment in human capital can create great change. In this uncertain and divided world, the work of the Society, and the Commonwealth more broadly, has never been more needed.
The special strength of this family of 2.4 billion people, 60 per cent of whom are under the age of 30, lies in the synthesis of its diversity, shared values and its respect for all states and peoples. For anyone who cares about these issues, supporting the RCS is a concrete way to effectuate change. An investment in the values of the Commonwealth, values we all share, is an investment in a safer, more prosperous and inclusive future.
Web: thercs.org
Read more: