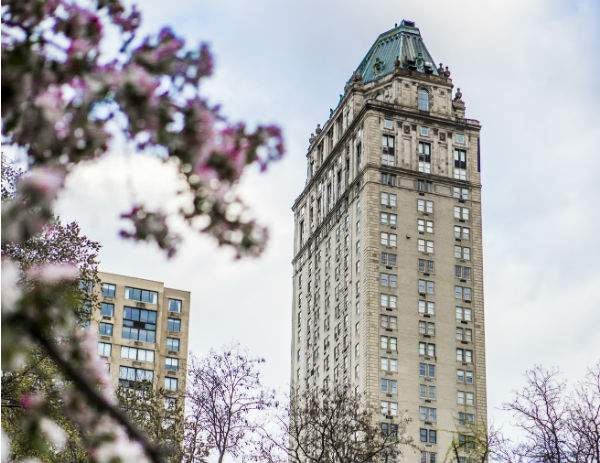 Christopher Jackson goes to the Pierre in New York – and finds it beyond his wildest expectations
The world of luxury is awash with cliché: 'sumptuous' décor, 'breath-taking' views. Yet once in a while one does find something like a catch in the breath as one enters a hotel room, and to be fair it usually does have something to do with the décor and the view.
On a few occasions, I've had this reaction – and it just so happens that it's usually been caused by the Taj chain: the fairytale look of the Falaknuma in Hyderabad, or the marvellous grandeur of the swimming-pool area at the Taj in Bombay. In each instance, the clichés felt as though they bore some justice within them.
And now I must add to this happy list, the Pierre in New York. My room was on the 21st floor. I accidentally asked the bellman to take me to the 22nd: 'No sir, you do not live on the 21st floor. Only one person lives there.' I am yet to discover which mysterious inhabitant does – the hotel's famous residents have included Elizabeth Taylor, Sumner Redstone, Mohamed al-Fayed, Yves St. Laurent, and Wall Street tycoon Martin Zweig.
But this mystery occupant of the 22nd floor is to be envied: as I entered my room, I uttered a gasp denoting the proximity of a 'breath-taking view'. The Pierre is located on the East side next to Central Park, and these corner apartments offer supreme prospects of the unfathomable cluster of New York skyscrapers to the north, and Central Park, that oasis so much needed in summer, to the west.
With its mesh of steel and glass, it is odd to describe Manhattan as beautiful but over time I have time that it is. It's an architecture born of necessity, and can be considered a brilliant answer to a specific problem: supreme economic power came to a small island, and the only way to build was up. What looks ludicrous in the City of London therefore has its justice here: it might even be called the beauty of power. Implicit in the Manhattan skyline is all the fun and good that can come with wealth.
The desirability of the location can hardly be stressed enough: in the morning, I went for a run in the park. It doesn't take too long to arrive in a certain wilderness. If you take Central Park out of the equation, it's a worryingly parkless city: New York would be unviable without this great rectangle of green in its midst. From Jacqueline Kennedy Onassis Reservoir, you can see the high rises growing up, and they can seem just another aspect of the ancient trees: a human endeavour to match natural enormity. And you know that somewhere behind you is America, in all its brutal strength and bipolar variety.
Once you're safely breakfasted – I had a regal eggs benedict and a New York Times which told of a strange parallel world where Donald Trump Jr. is president – you're just a short walk from the Frick Collection, with its Holbein portrait of Thomas More staring out at you, as if the Chancellor is faintly surprised to find himself in the New World. Just down from there is the Met, which was undergoing a slightly depressing refurbishment when I was there, with vacant patches on the walls where by rights one expected an El Greco.
The true scandal of the city is, of course, its coffee which is strangely weak and without true conviction – an incongruity when one considers how delightfully New Yorkers pronounce the world – quoi-fee, as if they long to possess the pure notion of it. And wherever you dine, the portions remain a conduit to a swift heart attack: if you ask for a burger you get something the size of a discus; a coke arrives with enough ice to make a Roman in August calm down for a moment.
But these aren't disappointments, they're quirks and the very breath of travel. In any case, it's easier to feed off the slightly crazy energy of the city when you know you have such a magnificent suite to return to. The Pierre is, in its elegance and calm, one of the finest hotels in the world – and the finest I've stayed at. It's as close to Bertie Wooster I shall ever get and, only insofar as I had to leave, not enough.
Christopher Jackson is deputy editor of Spear's