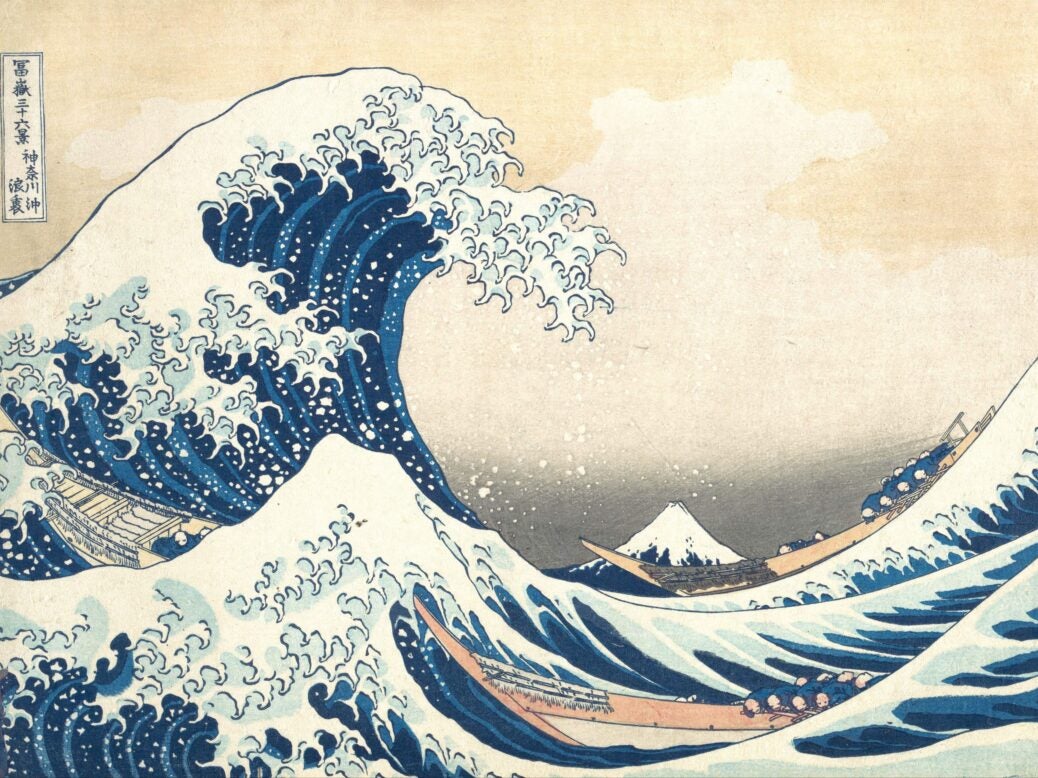 An important exhibition shows that Hokusai was much more than just the creator of the Great Wave, writes Christopher Jackson
Hokusai's The Great Wave off Kanagawa is an image so famous that it is difficult to look at afresh. There is a temptation to think of it as something beyond its subject matter: the British Museum has done just this, and placed it at the centre of its exhibition of the great Japanese artist (1760-1849). We are asked to consider its glory as pivotal – a thing crested towards, and then receded from.
It can bear this scrutiny. That great claw of water is a thing of animalistic ferocity – and the sea itself, riled into enormity, tells of the humbleness of the human predicament. Those boats are heading to fish market at Edo, and the fishermen pluckily strive not just to retain their morning's catch but for survival. They are also wrapped up in an interesting perspective: the remoteness of Mount Fuji and the wash of that spilled-tea sky give the drama its organised precision.
A great artist is rarely great just once: this exhibition shows that throughout his life Hokusai could make iconic images with ludicrous ease. His was no arbitrary gift: it sprang from philosophy, and a worldview whose coherence did not preclude the will
to explore the mystery of life. Much of Hokusai's work is an essay in the interwovenness of things as conceived in Nichiren Buddhism.
These views were deeply held – clung to, in fact, from the first room until the last. They led him into delightful insights: in Kirifuri Waterfall at Mount Kurokami in Shimotsuke Province (1832) the waterfall is a downwards grab of frothing Prussian blue, the plunge of the waters like a grasping hand; in Morning Glories and Frog (1833-34), the frog is camouflaged among flowers, animal life dependent on (and indistinguishable from) the plantlife which bore it; and in Red Fuji (c. 1830-32) the mountain doesn't just host the springtime creep of trees up slopes, it also seems animated, implicated in the ragged clouds: Hokusai knew that even monumentality isn't entirely static.
But Hokusai – or Old Man Crazy to Paint, as he eventually styled himself – held his views cheerfully, even playfully. He reminds us that the religious impulse should be essentially joyful – only then can it be creative and give rise to the freedom to investigate which is a prerequisite of genius. In Hokusai, one meets the sort of epiphanies one normally associates with Western art: an object is singled out, or a detail gratifyingly enlarged upon, and declared to be sacred.
It was this affinity, and exoticism, which made him so congenial to Monet and Whistler, and a range of Western artists destined to be his debtors. Take, for instance, the still life Watermelon and knife (1839) which calls to mind Velazquez in its quiet celebration of an everyday scene. But again the main impression is of untrammelled invention, and happy restlessness. For instance, Landscape with a Hundred Bridges, recalls the later intricacies of MC Escher: it is an impossible world of crossings and recrossings, suggestive of infinity. The world, we feel, doesn't look like this, but paradise might. In Hokusai's art, everything keeps coming back to joy.
In fact, this is one of the revelations of this exhibition: it is a record of not just a supreme craftsman but also a kindly personality. Hokusai transcends his era – and he did so not just by the supreme organisation of each image, and his eye for truth. He did it also with good humour, and a cheerful attitude to the passage of time.
'When I am 80 you will see real progress. At 90 I shall have cut my way deeply into the mystery of life itself. At 100, I shall be a marvellous artist,' he once said. And there he is in the penultimate room in self-portrait – big-eared, garrulous, a little
wobbly on his legs. That's how the immortals look – like us.
Sponsored by Mitsubishi Corporation, Hokusai: Beyond the Great Wave is at the British Museum until 13 August
Christopher Jackson is Head of Spear's Research Unit
Related
Michelangelo and Sebastiano unite at the National Gallery